The Tricky Business Of Eating Right
The Tricky Business Of Eating Right
Studies say eating red meat increases your risk of cancer, but a little dark chocolate a day is good for you. Ad campaigns praise high fructose corn syrup.
With so much information, how do you decide what's good for you?
Guests:
Allison Aubrey, NPR'S consumer health reporter
Mark Bittman, writes the blog Bitten for the New York Times, author of many cookbooks, most recently Food Matters
Food Matters
A Guide to Conscious Eating With More Than 75 Recipes
Hardcover, 326 pages |
purchase
Buy Featured Book
Title

Food Matters

Subtitle

A Guide to Conscious Eating With More Than 75 Recipes

Author

Mark Bittman
Your purchase helps support NPR programming. How?
Three Recipes For Cooking Around Food Myths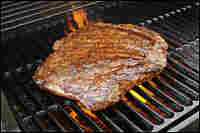 Thai Beef Salad
Makes: 4 servings
Time: 25 minutes

Classic and amazing, this is a dish I crave all the time, with just the right balance of meat to greens. Shrimp and squid are other good options (reduce the cooking time by half). It's also easy enough to take the salad in a vegetarian direction, either by substituting tofu slices (the recipe otherwise remains the same), or by adding 2 cups of cooked edamame or other beans when you toss the salad. Note that this is a perfect use for leftover grilled beef.
8 ounces skirt or flank steak, leftover or raw
6 cups torn salad greens (mixed greens are nice)
1 cup torn fresh herb leaves (mint, cilantro, Thai basil, or a combination)
1/4 cup minced red onion
1 medium cucumber, peeled if necessary, cut in half lengthwise, seeded, and diced
1 small fresh hot red chile, like Thai, or to taste, minced
Juice of 2 limes
1 tablespoon sesame oil
1 tablespoon fish sauce (nam pla, available at Asian markets) or soy sauce
1/2 teaspoon sugar
1 If you are beginning with raw meat, start a gas or charcoal grill or heat a broiler; the rack should be about 4 inches from the heat source. Grill or broil the beef until medium-rare, turning once or twice, 5 to 10 minutes, depending on the thickness; set it aside to cool.
2 Toss the lettuce with the herbs, onion, and cucumber. Combine all of the remaining ingredients with 1 tablespoon of water (the dressing will be thin) and use half of this mixture to toss the greens. Remove the greens to a platter, reserving the dressing.
3 Slice the beef thinly, reserving its juice; combine the juice with the remaining dressing. Lay the slices of beef over the salad, drizzle the dressing over all, and serve.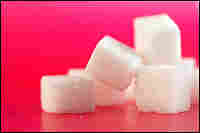 Fruit Crisp, with Apple or Nearly Anything Else
Makes: 8 servings
Time: About an hour

Crisps are the ultimate year-round dessert, since the only thing that changes is the fruit. In the fall, use apples and pears (maybe with a handful of fresh cranberries); in winter, try pineapple; in the spring, nothing beats rhubarb (you might want a little more sugar in this case), especially combined with strawberries; and in the summer, stone fruits and berries rule, alone or in combination.
6 cups sliced or chopped fruit (2 to 3 pounds), trimmed, peeled, pitted, and cored as necessary

1 teaspoon ground cinnamon (optional)

1/2 cup brown sugar, or to taste

5 tablespoons cold unsalted butter, cut into bits, plus butter for greasing the pan

1/2 cup rolled oats

1/2 cup whole wheat flour

1/4 cup chopped walnuts or pecans

1/4 cup shredded unsweetened coconut (optional)

Pinch salt
1 Heat the oven to 400°F. In a bowl, gently toss the fruit with half the cinnamon (if you're using it) and spread it in a lightly buttered 8-inch square or 9-inch round baking pan.
2 Combine all the other ingredients, including the remaining cinnamon, in the container of a food processor. Pulse a few times, then process a few seconds more until everything is well incorporated but not uniform; it should look crumbly. To mix the ingredients by hand, soften the butter slightly, toss together the dry ingredients, then work in the butter with your fingertips, a pastry blender, or a fork.
3 Crumble the topping over the fruit and bake 30 to 40 minutes, until the topping is browned and the fruit is tender and bubbling. Serve hot, warm, or at room temperature.
Roasted Fruit, Sweet or Savory: Without a crust this recipe becomes an easy fruit compote. Omit everything in the recipe, except the fruit, 2 tablespoons of the butter, and the salt. Then melt the butter along with the salt and whatever seasonings you choose. To go sweet, add some or all of the brown sugar if you like, and warm spices like the cinnamon; or use 1/2 teaspoon ground cardamom, nutmeg, or cloves; or tuck a split vanilla bean into the mixture. To take the fruit in a more savory direction, skip the sugar, increase the salt, and try ground cumin, cayenne, caraway, or even a pinch of saffron. Toss the fruit with the butter mixture, spread on the prepared pan, and cook as above, stirring once or twice.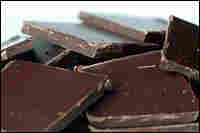 Chocolate Semolina Pudding with Raspberry Puree
Makes: 9 to 12 servings
Time: 1 hour

Somewhere between a cake and pudding, this lovely dessert is served warm, with a simple raspberry puree that balances its richness. Other fruits that work well here include stone fruits, but (except for cherries) they have to be peeled first. Figure on about a pound of fruit for just over a cup of puree.
4 tablespoons (1/2 stick) butter, plus butter for the pan
1/4 cup cocoa powder
1/3 cup (2 ounces) semisweet or bittersweet chocolate, chopped
1 cup whole-milk yogurt
3/4 cup sugar
1 cup semolina
1/2 teaspoon baking soda
1 teaspoon vanilla extract
1 pound fresh raspberries
Sugar (optional)
Freshly squeezed lemon juice (optional)
1 Preheat the oven to 375°F. Grease an 8- or 9-inch square baking pan. Put the butter in a skillet over medium-high heat. When the foam subsides, add cocoa powder and semisweet or bittersweet chocolate and stir until smooth. Remove from the heat.
2 Beat the yogurt and sugar together in a large bowl. Add the butter and chocolate, the semolina, the baking soda, and the vanilla; beat until thoroughly blended. Spread the batter in the prepared pan. Bake until the pudding is lightly browned, about 30 minutes.
3 Meanwhile, puree the raspberries in a blender or food processor. Depending on how flavorful they are, you may want to add a tablespoon of sugar or a squeeze of lemon juice to the mixture, but taste first to see if either is necessary. Then strain the puree, stirring and pressing the mixture through a sieve with a rubber spatula to leave any seeds behind; be sure to get all the puree from the underside of the strainer.
4 When the pudding is done, let it rest for a few minutes, then cut it into squares or rectangles and serve warm, on some of the puree, with a few whole berries on top.
In conjunction with Mark Bittman's interview on NPR's Talk of the Nation on Monday, April 13, Simon & Schuster grants permission to NPR.org to post these three recipes from Food Matters © 2009 by Mark Bittman