Harry Kalas, The Only Guy To Ever Call Baseball Correctly, Right?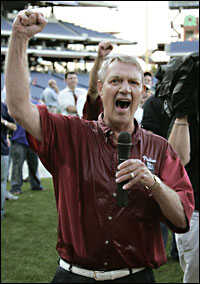 I listened to Harry Kalas a lot.
Growing up outside Philadelphia, I was a Phillies fan, and my father taught my sister and me to play softball in part by instructing us to hit the ball like Greg Luzinski.* I didn't think anyone played third base anywhere except for Mike Schmidt, and my first lesson in How Relief Pitchers Behave involved Tug McGraw smacking his glove against his thigh. Which usually meant "I am done with this inning," and also, "...uh, fortunately."
And it wasn't until I was older that I realized that everybody didn't call home runs by saying, "OUTta here, HOME run!" Because that was how Harry Kalas did it.
I wouldn't begin to guess how many Phillies games I watched that were called by Kalas, Richie Ashburn, and Andy Musser, but it was enough that it was actually difficult to get used to other announcers when I started watching other teams. They all sounded stupid to me. They didn't sound like baseball; they didn't sound like home.
This how sportscasters are; you get used to their tics and quirks. And if they're good enough and you know them long enough, you don't even think of them as being studied like the "back back back back back" guy, or the "GOOOOOOAL!" guy; you just think of them as calling games the way they actually happen.
Who wouldn't say "outta here"?
Even in recent years, upon wandering back to Philadelphia, I would catch games on TV and think, "Wow, Harry Kalas is still at it." And if the published reports are correct, he still was, until he collapsed in the booth. And I'm a little sadder, and there's a little less of the baseball of my childhood around. And that's too bad, because it means I'll never hear a game called quite right again.
*And, I should mention, by enthusiastically yelling, "Hit the ball, Drag Harry!" Which I always assumed was my father's use of the rather baffling nickname "Drag Harry," about which I never inquired. I did not learn until many years later, long after my softball years, that this chant was derived from a version of this joke. (This is unrelated to Harry Kalas, of course; it is simply...a very strange story about folklore.)