Elvis Perkins: Hopeful And Melancholy
Elvis Perkins: Hopeful And Melancholy
Set List
"I Heard Your Voice in Dresden"
"Hours Last Stand"
"Stay Zombie + Shampoo"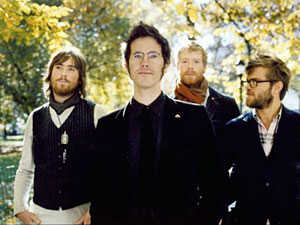 Soulful folk-pop singer-songwriter Elvis Perkins is often compared to the likes of Leonard Cohen and Bob Dylan, mostly for the way he crafts brooding, thoughtful melodies with a sophisticated pop sensibility.
After losing his father (actor Anthony Perkins) due to complications from AIDS — and his mother in one of the plane crashes on Sept. 11, 2001 — Perkins recorded his inspired and moving debut, Ash Wednesday. The disc was widely hailed for the way it juxtaposes elements of melancholy and hopefulness.
Perkins and his band Dearland — featuring multi-instrumentalists Brigham Brough, Wyndham Boylan-Garnett and Nick Kinsey — just released Elvis Perkins in Dearland, which exudes honesty and wisdom while employing delicately strummed guitars, sensitive vocals and the occasional frivolity of New Orleans-inspired brass.
Related NPR Stories
Web Resources