The Felice Brothers: Ramshackle Americana
Thursday's Pick
Song: "Run Chicken Run"
Artist: The Felice Brothers
CD: Yonder Is the Clock
Genre: Rock
The Catskill Mountains, in New York's Hudson River Valley, don't immediately spring to mind as a hotbed of musical creativity. But it's the languorous rolling hills and rambling back roads of the Catskills that spawned The Felice Brothers' joyously ragtag rock 'n' roll Americana.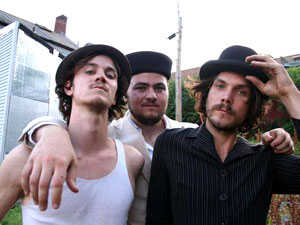 Led by three actual Felice brothers (Ian, James and Simone), along with longtime friends Greg Farley and Christmas Clapton, the band just released Yonder Is the Clock, a whimsical brew of country, rock and folk that has spawned lofty comparisons to Bob Dylan & The Band. The Felice Brothers' music sounds the way Dylan & The Band's cover to The Basement Tapes looks: pastoral, anachronistic, ramshackle.
The clamorous faux-zydeco of "Run Chicken Run" bursts with energy. Driven by accordions and violins, the song barely has time to catch its breath, as it captures the lyrical playfulness of Bruce Springsteen's "Blinded by the Light": "Well, down on Baker Street / That's where the women get down and really move their feet / To the line dance, the Cotton Eyed Joe / Virginia Rag, and the zydeco." The infectious call of the chorus lingers long after the song fades out, riding a blistering guitar solo and the din of a horn section.
Listen to yesterday's Song of the Day, and subscribe to the Song of the Day newsletter.
Related NPR Stories
Web Resources