Politics And 'Bo': Frenzy Surrounds New First Pet
Politics And 'Bo': Frenzy Surrounds New First Pet
Chip Somodevilla/Getty Images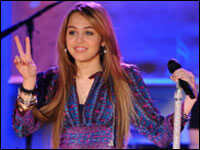 Bryan Bedder/Getty Images
Ethan Miller/Getty Images
Frederick M. Brown/Getty Images
The arrival of the first family's new dog, Bo, a Portuguese water dog; Oscar award-winning actor Jamie Foxx's recent comments on teen star Miley Cyrus; and John Madden's retirement are the topics of this week's Barbershop. Arsalan Iftikhar, Jimi Izrael, Nick Charles and NPR's Ken Rudin offer a humorous take on the latest headlines.
When Bo Makes A Tinkle In The Lincoln Room
The 6-month-old Portuguese water dog arrived at the White House on Tuesday this week, generating media frenzy. President's Obama daughters, Malia and Sasha, named the dog Bo, because their mother's father was nicknamed Diddley.
Bo is a present from Massachusetts Sen. Edward Kennedy.
"Obama had said early on, he was looking to get a shelter dog, so him and Kennedy are real cool, so it's looking like you know Obama was just talking that talk, but he knew which way he was going to go," says Barbershop regular Jimi Izrael, who writes for The Root and TV One Online.
But despite heavy media, the guys agree it came as a much needed break during a week filled with dramatic headlines.
'Make A Sex Tape And Grow Up'
Actor Jamie Foxx apologized to 16-year-old Disney star Miley Cyrus for his remarks on his satellite radio program, urging the teen sensation to "make a sex tape and grow up."
On Tuesday, Foxx made the apology on The Tonight Show with Jay Leno.
"I apologize for what I said. I didn't mean it maliciously. You know I'm a comedian. You know my heart," said Foxx.
"He is saying I am a comedian, but that's not comedian. Radio like that is just trashing people. And there is no reason to go after Miley Cyrus or anybody else in that way. Than he remembers, 'Oh, I have a 14-year-old daughter who has watched Hanna Montana and she might be offended, so I am going to apologize,' " says freelance editor and writer Nick Charles.
John Madden Retires
After a 30-year career, NBC Sports commentator John Madden retired this week. The 73-year-old former player and coach also started an incredibly successful video game franchise. His Madden NFL video game has sold over 70 million copies.
"I would say John Madden is the Vito Andolini Corleone of the National Football League," says civil rights attorney Arsalan Iftikhar, who is also the founder of theMuslimGuy.com.
"What I found the most interesting is that he had this phobia of flying, so he took a bus to every game that he went to. That is the love of the game," he added.
Hear the full conversation with the Barbershop guys, by clicking the "Listen" button in the upper left-hand corner.
Related NPR Stories