Barney Rosset, Courting Literary Controversy
Barney Rosset, Courting Literary Controversy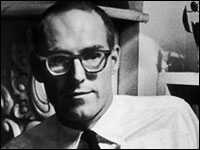 Watch A Clip
"Obscene" is a film biography of Barney Rosset.
Barney Rosset, On Acquiring 'Waiting For Godot'
Media no longer available
Independent publisher Barney Rosset was there for some of the most important — and controversial — developments in 20th century American literary history. The first to publish Samuel Beckett in the United States, Rosset has been honored by the National Book Foundation, the Association of American Publishers and the French Ministry of Culture.
Born to a wealthy Chicago banker, Rosset served as a photographer in World War II and afterward tried his hand at filmmaking and writing before buying a small, nearly defunct publishing company named Grove Press in 1951.
"Grove Press was three titles and maybe a hundred copies of each," remembers Rosset. "Enough to fit into a suitcase. No financial records, no nothing. There was no business."
Rosset knew nothing about the business of publishing, but one of the first books Grove put out in 1954 became one of its most important: Waiting for Godot, by Samuel Beckett. Beckett had been published in England already, but his books had not sold particularly well.
"Beckett was very bitter about that," says Rosset. "So, he turned to France because they took him. And I turned to him because he was available. That was a very key thing. Nobody else wanted him in this country."
In fact, it wasn't until two years later, when Waiting for Godot opened on Broadway, that sales took off.
Over the years Grove did have a couple of best-sellers, including A Confederacy of Dunces, by John Kennedy Toole and Games People Play, by Eric Bern. And Grove championed the avant garde and politically inflammatory. It published the work of noted 20th century playwrights like Eugene Ionesco, Harold Pinter, Tom Stoppard and David Mamet, as well as The Autobiography of Malcolm X, which had been dropped by Doubleday.
New York newspaper writer Jerry Tallmer says Grove's output went hand-in-hand with an explosion of activity off-Broadway.
"All these damn plays that were coming up like mushrooms out of nowhere [and] Barney published them all," says Tallmer. "Every week there'd be a beautiful new paperback edition of some great playwright's newest play."
In 1957 Grove Press got into magazine publishing; The Evergreen Review became one of the most important magazines of the counterculture, says writer and musician Ed Sanders, who remembers being captivated by the poems he read in its pages.
"These things that you read when you are a kid are like reading Genesis and Exodus for a person who wants to be a minister," says Sanders. "I wanted to be a poet, so reading these were like sacred preparation texts for a whole life."
Two years after launching The Evergreen Review, Rosset stepped into the national headlines when he decided that Grove would publish Lawrence's novel Lady Chatterley's Lover, which other American publishers had shunned because of its frank sexuality. After the postal service impounded more than a hundred copies of the book, Rosset went to court claiming it was protected under the First Amendment. He won, but that was only part of his strategy. His real goal, Rosset says, was to publish another banned book: Henry Miller's 1934 autobiographical novel, Tropic of Cancer.
"I thought that for me to do Lady Chatterley's Lover before Tropic of Cancer would be more acceptable because D.H. Lawrence was a famous writer, revered at many levels, and Lady Chatterley would be more feasible to make a battle plan," says. "And we did exactly that."
Rosset's battle took him all the way to the Supreme Court where he prevailed. But Grove wound up back in court facing obscenity charges for trying to distribute the Swedish film I Am Curious Yellow. Again Rosset won with a First Amendment defense and the film went on to become an art house hit, earning $6 million in 1969 alone.
Grove's mix of graphic sex and radical politics was never about making money, says Claudia Menza, a former managing editor at the publishing house.
"Barney didn't publish erotica because he thought it would help us monetarily," she says. "He published it because he liked it. That's the way he published everything. He did it because he liked it."
But Rosset and Grove Press couldn't seem to stay out of trouble. They became the targets of a CIA investigation after publishing a book by Kim Philby, a British intelligence officer who turned out to be a Soviet spy.
Rosett says there were death threats, gun shots fired at his home and break-ins at Grove. The office was bombed after the Evergreen Review published excerpts of Che Guevara's diary. Then, in the 1970s, feminists protested Grove's portrayals of women. The liberal publishing houses became the target of a mysterious unionization effort, says Rosset.
It all took a toll: "Grove Press was closed most of the time after that started. Our business just dissolved," says Rosset.
Rosset was forced to sell Grove in 1985. But by then, says Stan Gontarski, a professor at Florida State University who is writing a biography of Rosset, Grove's place in American literary history was already assured.
"It nourished the intellectual climate of the United States. It produced a whole host of editors that went on to work for other presses, to found their own presses," says Gontarski. "It had a profound impact in a broad cultural venue."
Today Rosset is 86 and moving slowly. But he still publishes Evergreen Review as an online journal, and he recently finished an autobiography called The Subject Is Left Handed, which takes its name from his FBI file.
Despite all of his accomplishments and the accolades he's earned, Rosset focuses on the loss of Grove Press and his shortcomings as a businessman when asked to assess his legacy as a publisher.
"I think we published a lot of good books. A lot. But, I ultimately goofed terribly," he says.
Related NPR Stories