The Magic Of Tarell McCraney's 'Distant Present'
Courtesy of McCarter Theatre
Listen To Tarell McCraney Talk About Theater
Music In The 'Brother/Sister' Plays
The Theatricality Of The Southern Church
'Other Plays That Need To Be Written'
After years of presenting premieres by some of the world's greatest living playwrights, the McCarter Theatre in Princeton, N.J., is featuring a trio of plays by Tarell Alvin McCraney, a virtually unknown 28-year-old African-American playwright who has been generating a lot of buzz among theater aficionados.
When theater people talk about McCraney, words like "singular" and "poetic" and "bold" pop up frequently. Ben Brantley, the chief drama critic for The New York Times, calls the playwright's voice "authentic."
Brantley wrote a rave review of McCraney's play Wig Out!, which was presented off-Broadway last fall. He describes the play — about drag queens in Harlem — as a work with an enormous scale of reference: "It's Biblical, Shakespearean, the Supremes [and] B-movies," he says. "But, it's not just quoting. It's been absorbed and synthesized into this truly musical language that has its own rules."
McCraney may be young, but he's accomplished beyond his years. As an actor, he's worked with the great British director Peter Brook. As a playwriting student at Yale, he was the late August Wilson's assistant. And now Princeton's McCarter Theatre will be presenting McCraney's Brother/Sister plays, a trilogy set in a housing project in Louisiana, in what the playwright calls "the distant present."
In these plays, McCraney wraps familiar issues of family, community and coming of age in a dizzying mixture of West African mythology and theatrical storytelling devices. He says that the variety of techniques he uses serve a specific purpose.
"I have a job," McCraney says. "My job is to sort of keep people engaged into the theater. So, I find as many things that I think are powerful, palpable, visceral and engaging to do that."
Tina Landau, who has directed two of McCraney's plays, says his work encourages a sense of self-awareness in the theater.
"Even though the place of the story that's being told is 'the distant present,' Tarell demands that an audience and the actors acknowledge that we are in this room together, for this amount of time," Landau says.
Emily Mann, the artistic director of McCarter Theatre, says she hasn't felt this strongly about an artist or a fellow playwright in 20 years. She says McCraney's Brother/Sister trilogy covers some pretty basic human experiences.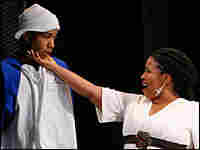 Courtesy of McCarter Theatre
"A broken heart is something we all understand. The loss of a parent or loss of someone great — he understands that," she says.
The most performed work in the trilogy, The Brothers Size, is a taut three-person play about brotherhood that has touched audiences around the world.
"We did this play in Ireland and there are people who wrote in to the Abbey in Dublin saying, you know, 'I totally understand these characters, because my brother is just like that,'" McCraney says.
Like the other plays in the trilogy, The Brothers Size is staged with minimal sets and costumes. The focus is always on the words, the music and the movement of the bodies of the actors.
"I don't work on plays like normal playwrights, because when the actors are staging this stuff I'm onstage with them, staging it, and it's exhausting and emotionally challenging," McCraney explains.
The playwright adds that putting so much into his plays pays off in the end: "I think what the audience gains out of that is an incredible trip to a place that they've never been. ... They come out feeling like they've been to the foreign and it's been made familiar."
Related NPR Stories
Web Resources