The First Five: One Man's Introduction To Jazz
Hear Tom Cole's Interview With Michel Martin
I'm old, so my earliest experiences buying music involve going to record stores in the Washington, D.C., area to pick up LPs. I frequented The Turntable near my home and the Soul Shack downtown. But, more often than not, I found myself browsing the bins in a store just south of Dupont Circle called Discount Records and Books.
I was buying folk, blues and rock, mostly. I'll never forget standing at the register, proudly holding my copy of The Mothers of Invention's We're Only in It for the Money — the one with the inside-out parody cover of Sgt. Pepper's with the Mothers in dresses. I looked over my shoulder to meet the gaze of an older patron, whose scornful glare could have peeled paint.
The store had a great staff; they were the best teachers for a young music fan like me. I talked regularly with all of them, especially Rusty Bogart, who would discuss the latest country blues reissues from Yazoo and Biograph. Then, one day, I decided I needed to learn about jazz, so I approached Thomas Paul, whom everyone called TP. He was a big guy with a medium 'fro. As I recall, when I asked to be enlightened, he thought for just a moment before he started pulling records. He had a sense of what I liked in other music, and he knew what I should hear.
These were not academic choices intended to educate me about the history of the music. There was no Louis Armstrong or Duke Ellington — these were TP's personal choices. This was the music that leaped first to his mind, the stuff he really wanted me to hear: Bird and Diz, Two Hours With Thelonious, Charles Mingus' Better Get It in Your Soul and Live at the Five Spot, Vol. 1 by Eric Dolphy and Booker Little.
There were five LPs in all. You may notice that there are just four titles above. I'm ashamed to say that I don't remember the fifth. My addled brain thinks it could have been Jazz at Massey Hall, the legendary collaboration featuring Charlie Parker (playing a plastic saxophone), Dizzy Gillespie, Bud Powell, Charles Mingus and Max Roach. But I'm not sure. So I've subbed a disc I know I bought at Discount Records, and which may have been among that first five: Les Stances a Sophie by the Art Ensemble of Chicago.
So here are five jazz records, in no particular order — TP's First Five, if you will. They're not all easy listening, but they worked for me: I've been a fan of the music ever since.
The First Five: One Man's Introduction To Jazz
Bird and Diz
Song: Relaxin' with Lee
by Charlie Parker and Dizzy Gillespie
This was a reunion of sorts for the two great be-boppers, Charlie Parker and Dizzy Gillespie. The two worked regularly together in the mid-1940s before splitting to form their own groups. This session, recorded mostly in 1950, brought them together for the last time in the studio. The pianist was Thelonious Monk in one of his earliest featured roles. I remember being struck by the virtuosity, speed and intensity of the playing, as well as the sound of Parker's alto saxophone. It sounded to me like a human voice, and still does today. Listen to the way he opens "Relaxin' with Lee" -- he's talking to you through his horn.
Live at the Five Spot, Vol. 1
Song: Fire Waltz
by Eric Dolphy Quintet with Booker Little
That human cry was also the defining sound of this record for me. Eric Dolphy's playing grabbed me like nothing else had, and I listened to this record over and over, especially "Fire Waltz." I remember the story of the two leaders grabbing me, as well. Dolphy and Booker Little were younger than Parker and Gillespie. They were the next generation, and they were already dead by the time I bought this record. And it wasn't, as I was to learn later, the usual sad tale of drug or alcohol abuse. Booker Little died of uremia at 23, while Dolphy died of a heart attack compounded by diabetes at 36. I was also struck by the other instrument Dolphy plays on this record: bass clarinet. What a sound. Talk about a human voice coming right out of an instrument, unmitigated by the mechanics of reed or wood or keys. Little's trumpet playing has the kind of clarity and fire that few -- to my ear -- have been able to match.
Two Hours With Thelonious
Song: Epistrophy
by Thelonious Monk
This was a two-LP set that collected concert performances by the pianist's celebrated quartet of Charlie Rouse (tenor saxophone), John Ore (bass) and Frankie Dunlop (drums). The performances were recorded in Paris and Milan in the spring of 1961 on Thelonious Monk's first trip to Europe, which are now available on separate CDs. What I remember most about this set is the music -- the sound of the group and the compositions and the sound of Rouse's tenor. Monk was still alive when I bought this. I remember doing his obit overnight at WAMU here in Washington.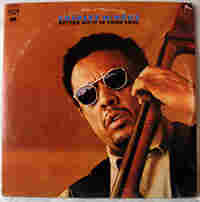 Better Get It In Your Soul
Song: Better Get It in Your Soul
by Charles Mingus
This is another two-LP set. It collects two previously released albums by Charles Mingus: Mingus Ah Um and Mingus Dynasty. He quickly became one of my favorites; I remember going back to Discount Records and picking up the Candid recordings with Dolphy. I got as much Mingus as I could, and I immediately sought out records by the tenor saxophonist on these recordings (Booker Ervin) because of his deep, soulful sound. But I think what struck me about these larger-group sessions was the ensemble's propulsive sound, as well as its cohesiveness and energy and intensity. The groups kill, thanks to the work of John Handy, Benny Golson, Jimmy Knepper and Horace Parlan, to name a few. And the liner notes are great, featuring interviews with the players and the funny/sad Mingus backstory; as an added bonus, you can actually read them without a magnifying glass on the big gatefold double LP. The title tune kicks off the set, and it still comes into my head, even if I haven't listened to it in a while.
Les Stances A Sophie
Song: Theme de Yoyo
by The Art Ensemble of Chicago with Fontella Bass
What characterizes this recording, and much of the music on these five albums, is rhythm. Maybe that's what appealed to a young rocker. Maybe TP knew that. From the opening seconds of "Theme de Yoyo" -- before Fontella Bass comes in wailing, "Your head is like a yo-yo / Your neck is like a strainnnning" -- I was swept up in the groove. This is the most recent of the five albums, recorded in 1970 in France and released on the Wisconsin-based Nessa label. The title roughly translates as "Stanzas to Sophie." It's the most far-out of the five, and yet I responded to it on some basic level.
Perhaps that's what connects all of these recordings in the end: their humanity. Like all music, they're expressions of the human soul. It's a testament to their power that I wrote almost all of this from memory -- without first going back and listening to the records again. My first memories of jazz are so intense that they've stayed with me for more than a quarter of a century. TP knew something. To this day, I thank him for sharing his knowledge and love of the music.