Workers Find Opportunity In Quake-Hit China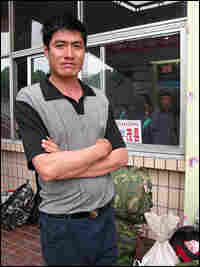 The powerful earthquake that tore through southwest China nearly a year ago took a huge toll on human life. It also upended the local economy. Many jobs were lost in factories that were damaged or destroyed.
But the ruin has given rise to a flurry of industry and employment.
At a bus station in the city of Mianyang, steel worker Zhang Xiangang had just returned to Sichuan province from Inner Mongolia, where he had been trying to find construction work. Projects there stalled when money and investment didn't materialize because of the global economic downturn.
So Zhang is back home, hoping to find one of the many construction jobs as Sichuan rebuilds its homes, factories and infrastructure. He thinks he'll have no trouble finding a job.
A lot of the migrant workers who went out to the coast and other parts of China are now looking for opportunities closer to home.
Another migrant worker, welder Xia Quan, was waiting for a bus taking him in the other direction. He'll ride 30 hours to get back to his job in Guangdong, in China's industrial southeast.
He came home to Sichuan to start repairing his house, which had been damaged in the earthquake May 12, 2008. Xia says it's hard to find enough construction workers now, given the demand in Sichuan. Workers' rates have gone up 50 percent, he says.
Farther up in the mountains, a big school construction project is in full tilt. There's a frenzy of activity as workers mix mortar, hammer, drill, saw and lay brick to rebuild the middle school in Leigu. It will accommodate 2,000 students, and the goal is to get it done in time for the new school year in the fall.
One worker, 54-year-old Li Chuanyin, earns the equivalent of $7 a day to mix and shovel mortar on the site. She says she's illiterate and isn't sure what the building is that she's working on. She pauses from her labor to peel off a cotton glove and hold out the palm of her hand for inspection. It's thick with calluses.
"All I do is work hard, sweat, make a little bit of money and take care of my family," Li says.
She's just one in a sea of laborers doing backbreaking work to rebuild Sichuan.