FDA Nominee Hamburg Cleared For Full Senate Vote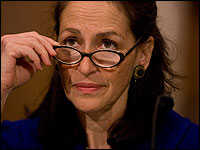 A Senate committee has approved President Obama's nomination of Dr. Margaret Hamburg to be the next commissioner of the Food and Drug Administration. The full Senate vote is expected soon, and if it follows suit, Hamburg will be walking into one of the toughest jobs in the new administration.
The FDA regulates products that represent about 25 percent of every consumer dollar spent. During the Bush administration, the agency was widely criticized for making decisions based on politics, not science. For example, while FDA rank-and-file scientists recommended approving the sale of a so-called "morning after" emergency contraceptive to minors, two FDA commissioners appointed during the Bush administration refused to do so.
The agency was also criticized for being too fast to approve some drugs, too slow to approve others, and for being lax on food safety issues.
During Hamburg's Senate committee hearing in early May, Sen. Orrin Hatch (R-UT) told her she had a great opportunity to really lead. "I'm very pleased you're willing to accept this job," he said. "This is a thankless job in some ways, and it's filled with politics and controversy, and it shouldn't be."
Meanwhile, the agency's acting commissioner has already started changing the way the agency works. Dr. Joshua Sharfstein, the former head of the Baltimore City Health Department, reacted immediately to a report of salmonella in pistachio nuts in March, ordering the manufacturer, Setton Pistachio, to recall a million pounds of nuts even before there were any reports of illnesses in humans. The pre-Sharfstein FDA moved much more slowly on reports of salmonella in peanuts last January.
"It's clear we have a whole new leadership over at the Food and Drug Administration, even before Dr. Hamburg arrives," said Caroline Smith DeWaal, who works on food safety issues for the Center for Science in the Public Interest.
And there are other signs of a more activist FDA. In April, the agency sent notices to manufacturers of devices first sold before 1976 that they had to prove their products were safe and effective. The FDA under Sharfstein also warned more than a dozen drug companies that their Internet advertising did not sufficiently detail the risks of their products.
Hamburg was immensely popular with the committee. Sen. Richard Lugar (R-IN) introduced her by saying he had worked closely with her father on nuclear disarmament issues. Sen. Patty Murray (D-WA) said, "We need a highly qualified leader like Dr. Hamburg," and pointed to Hamburg's undergraduate and medical school degrees from Harvard University; various policy and science positions with the Department of Health and Human Services and the National Institutes of Health; six years as commissioner of health for New York City; and most recently a stint at a think tank in Washington, D.C., the Nuclear Threat Initiative, working on manmade and natural biological threats.
During the hearing, Hamburg agreed with committee members that she would have to build up morale at the FDA.
"I hope to create an environment that will foster open debate," she said. She promised to focus on food safety, and quick approvals of safe and effective medical products. She said she would like to help with a vaccine against the new H1N1 swine flu virus and that the agency could handle regulation of tobacco. But some senators say it's beyond the FDA's abilities, and that a health agency shouldn't regulate an inherently unhealthy product such as tobacco.
She ducked questions on importing prescription drugs from other countries, saying that she looked forward to working with Congress on that issue.
Nearly all the consumer advocacy groups have lined up solidly behind Hamburg. And Billy Tauzin, head of PhRMA, the pharmaceutical industry trade group, has lauded her management skills and said he looks forward to working with her.
Hamburg said she hopes to create a more vibrant and independent FDA. After the administration named Sharfstein to be deputy director, and nominated Hamburg, several media reported that Sharfstein would be responsible for drugs and Hamburg would focus on food safety and tobacco regulation.
Not so, Hamburg said at the hearing. "If confirmed, I will be commissioner," she said.