Dan Deacon In Concert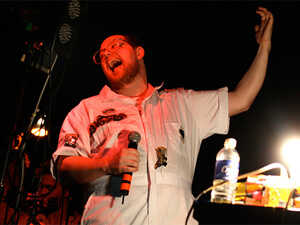 Hear All Songs Considered host Bob Boilen interview Dan Deacon
Dan Deacon is more like a ringleader than your typical rock star. He's also unassuming. Deacon, a 27 year-old musician from Baltimore, is balding and heavyset with nerdy glasses held together with tape and a goofy smile. But he managed to turn the 9:30 Club audience into a complete circus, transforming the audience into wildly frenetic participants more ably than any other artist I've seen.
Imagine a version of London Bridge, the children's game of raising your arms to make an arch, but doing it in a night club with a thousand people forming an arch that extends from the floor of the club to the upper balcony, while Dan Deacon and his ensemble serve up fierce, pulsating rhythms.
Dan Deacon's 9:30 Club performance, webcast live on NPR.org May 17, was a night to remember. If Dan Deacon comes your way, go. If you're the type of person afraid of being called on or afraid of being a participant, go anyway! It will change your life forever. Oh, and the music is insanely good. It was the best party I've ever witnessed, with the best the music ever.
Dan Deacon has built his reputation on live shows: comically unpredictable messes of frenetic dancing, audience participation and theatrics, all powered by the Baltimore resident's wildly addictive electro-freak-pop. Since getting his start in 2003, Deacon has always performed alone. But for his latest tour, he's joined by a 15-piece backing band. Deacon conducts the traveling orchestra from the dance floor, where he plants himself in the audience with a tangle of cables, analog drum machines and vintage electronics.
When Deacon got his start playing small clubs and parties, it was hard to take him seriously. Fans were never sure whether his goofy antics and quirky sound were a joke, or simply the result of an artist playing with abandon. But Deacon quickly became a figurehead in the Baltimore area's electronic music scene. He self-released a number of EPs and put out his first commercially released album, Spiderman of the Rings, on Carpark Records in 2007. Many music critics ranked it among the year's best albums.
Deacon's latest album, Bromst, is, by far, his most fully realized and accessible recording to date. It's also his first to include more traditional analog instruments, such as piano, glockenspiel, marimba and live drums, as he collaborates in the studio with a number of other artists.
Watch a time-lapse video of the entire Dan Deacon concert.
Media no longer available