On The Hunt For Fabulous Fiction
The problem with "summer reading" is that too many times it's synonymous with brainless and poorly constructed novels that leave you unsatisfied. Sure, you want something light yet gripping enough to hold your attention on an airplane, but you don't want something that leaves the sensation of having eaten a dinner consisting solely of Sweet Tarts. Here are five books that will suit your palate just fine this summer.
'The Scenic Route'
The Scenic Route, by Binnie Kirshenbaum, Harper Perennial, Paperback, 352 pages, List Price: $13.99
For years, Binnie Kirshenbaum has quietly been one of the funniest and smartest writers we have in the U.S. Hidden behind chick-lit marketing campaigns and soft-focus womanly cover art, her books (An Almost Perfect Moment and Hester Among the Ruins, among them) have razor sharp teeth and surprising depths.

The Scenic Route looks like a harmless little romance — divorcee Sylvia meets Henry in an Italian cafe and cancels the rest of her vacation plans in order to drive around Europe with her new man, as they tell each other their life stories. Henry is a little slower to divulge his truths — including the fact that he's married, a detail that emerges only after he and Sylvia have become physically involved. "Does that concern you any?" he asks her. Kirshenbaum's tale certainly takes its time getting to its destination, but it's so bitterly funny and intelligently pieced together, you won't be complaining.
'Follow Me'
Follow Me, by Joanna Scott, Little Brown, Hardcover, 432 pages, List Price: $24.99
Joanna Scott's Follow Me also revolves around the telling of a life story, but hers is more slippery with half-truths and obfuscation. A 60-something Sally is recounting her life's journey to her granddaughter — it begins in the 1940s, with her being knocked up by a cousin, and winds its way through town after town and mishap after mishap. The only problem is, Sally's own son — her granddaughter's estranged father — shows up and contradicts the tale.

Scott, the author of Tourmaline and Everybody Loves Somebody, is a skilled storyteller, as well as a Lannan Award winner and MacArthur Fellowship recipient. She keeps her grip on the narrative even when it threatens to spiral into nonsense. Sally's life is a strange one, and it's the telling of it that is fun, even when you're not sure who to believe.
'Castle'
Castle, by J. Robert Lennon, Hardcover, 224 pages, Graywolf, List Price: $22
"In the late winter of 2006, I returned to my home town and bought 612 acres of land on the far western edge of the county." So begins J. Robert Lennon's new novel Castle, but never fear. It's not a trite tale of homecomings, rediscovered roots and a simpler way of life in the countryside. It's a story of paranoia and simmering violence.

Lennon's narrator, Eric, notices an uncharted region in the map of his newly bought land, a parcel he does not own. He tries to penetrate the heavily wooded area — and saying more would ruin the tension. It's a creepy and wickedly smart little tale, perfect for giving you shivers on an overly hot summer day.
'Dark Places'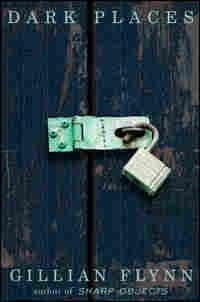 Dark Places, by Gillian Flynn, Hardcover, 368 pages, Shaye Areheart Books, List Price: $24
In a genre dominated by repetitive series with unimaginative, stereotypical protagonists — detectives who drink to forget or journalists on the crime beat with dark pasts of their own — Gillian Flynn has now published two quietly superior works. In her 2007 debut novel, Sharp Objects, a woman returns home to a small Midwestern town that keeps losing its little girls. Now, with Dark Places, the only survivor of the "Satan Sacrifice of Kinnakee, Kansas" massacre that wiped out her family is forced to confront the lies she told that convicted her brother of the killings. Both books could have fallen into familiar territory, relying on the typical outline of a murder investigation, but Flynn is a more creative writer than that.

A former chief television critic at Entertainment Weekly, Flynn specializes in dark female narrators. They've been beaten around by fate, and they're letting fate win. Dark Places' Libby Day may seem unpleasant company at first — she's humoring those with morbid curiosities about her family's murders in order to get money out of them — but her steely nature and sharp tongue are compelling. "I have a meanness inside me," she says, "real as an organ." Yes she does, and by the end of this pitch-black novel, after we've loosened our grip on its cover and started breathing deeply again, we're glad Flynn decided to share it.
'The Good Parents'
The Good Parents, by Joan London, Grove Press/Black Cat, Paperback, 368 pages, List Price: $14.95
Australian writer Joan London brings to mind a modern Elizabeth Bowen. Her writing style is so beautiful, her sentences so perfect, that her readers find themselves helplessly drawn into some unsettling circumstances. Maya seems like a perfectly nice, if a little naive, girl from the country who moves to Melbourne at the age of 18. She falls into an affair with her boss and, one day, just disappears.

The story opens with Maya, but quickly flips over to her parents. When they discover that Maya has been secretly calling her brother at home late at night, they're left to wonder: Does she distrust us? Did we do something to drive her away? London handles these delicate, sticky subjects — power dynamics in sexual relationships, the unfamiliar territory between parents and a newly adult daughter, the lives we think we leave behind when we start a new family — with elegance and suspense.
More Recommendations
Books Featured In This Story
Castle
A Novel
Hardcover, 229 pages |
purchase
Buy Featured Book
Title

Castle

Subtitle

A Novel

Author

J. Robert Lennon
Your purchase helps support NPR programming. How?
Purchase Featured Books