In India, Bucking The 'Revolution' By Going Organic
In India, Bucking The 'Revolution' By Going Organic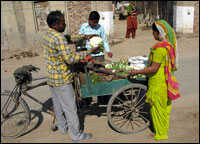 Indian farmer Amarjit Sharma grows wheat and other crops on five acres in the heart of the region known as "the breadbasket of India," the fertile fields of Punjab.
Until four years ago, he was the kind of farmer whom government leaders and agricultural scientists hailed as a model in the developing world.
But now, he has gone organic and is part of a quiet but growing rebellion, which could affect the world's food crisis.
Decades ago, when the modern, chemical-reliant system of farming — the so-called Green Revolution of the 1960s and '70s — swept across his region, Sharma became one of its biggest boosters. He abandoned traditional methods and embraced synthetic fertilizers, pesticides and modern, high-yield seeds, much like any farmer in Iowa.
And for about 20 years, Sharma says, the Green Revolution worked wonders. His crop yields and his income soared. But then, things unraveled.
"The Punjabi farmer's problems had reached such levels, he wasn't making any profit," Sharma says, through an interpreter, as he walks through rows of his waist-high wheat crop.
Kicking The Chemical Habit
Sharma's soil was deteriorating, so he had to buy more and more fertilizer every year to grow the same amount of crops. No matter how much pesticide he sprayed, insects still destroyed large portions of his crops. Sharma says he "realized the vicious circle in which we were stuck."
In 2005, Sharma kicked the chemical habit.
Environmental groups in India estimate that more than 300,000 farmers like Sharma have switched to organic growing methods in recent years, or have started the transition from conventional to organic farming. Comparisons between India and the U.S. are difficult because their economies and cultures are so different. But consider this: India has about three times the population of the U.S., but 30 times more organic farmers than the U.S.
Sharma's story symbolizes the dilemma that developing countries are facing around the world: What's the most sustainable way to grow enough food? The answers will eventually affect people from India to Indiana, because the world's population is booming — and if fast-growing countries like India can't feed themselves, it could trigger more global instability.
Agribusiness leaders and many government officials are convinced that genetic engineering will help prevent a world food crisis. Firms like Monsanto Co. have been inserting genes from animals and bacteria into plants so they can grow faster with less water and resist insects.
Monsanto's India spokesman, Christopher Samuel, says the company's advances will double the yields of major crops over the next 20 years, while reducing the amount of land, water, fertilizer and pesticides needed — in the process "protecting the environment and its natural resources," he says.
But activists in India are trying to block Monsanto and other companies from introducing genetically engineered food crops. They point out that it took decades to raise the alarm about serious, long-term side effects of the Green Revolution. They also say that, so far, there are not good studies examining whether biotech food crops could cause long-term problems.
Organic Farming Spreads In India
So a network of environmental groups has been traveling from village to village, preaching that organic farming is the only way that farmers can survive.
Sharma heard their sermon and became a believer.
He argues that organic means much more than simply not spraying synthetic fertilizers and pesticides. It requires farming in a more thoughtful way, he says.
For example, government policies under the Green Revolution have rewarded farmers for growing "monocultures" — vast areas of a single crop, such as wheat or rice. That can help boost yields, but studies show it has leached crucial nutrients from Punjab's soil, requiring farmers to use five to 10 times as much fertilizer as they used to about two decades ago.
Organic farmers like Sharma grow a mixture of crops in the same fields as their wheat or rice, including types of beans that replenish the soil — so they don't have to buy fertilizer. By growing a variety of crops, they also attract beneficial insects, which take the place of synthetic pesticides.
The difference between Sharma's farm and his chemical-using neighbor's is visible. The neighbor's fields are like an endless green shag carpet. Sharma's farm is like a busy quilt — a patchwork of wheat, beans and mustard plants exploding in bunches of bright yellow flowers.
Mixed Results, Hope For The Future
In the courtyard of his house in the village of Chaina, Sharma reviews his balance sheets.
"Our rice yields under the organic system are almost as good as before," he says, as his wife scoops up cow manure with her hands and pats it into disks to fuel the cooking fire. "And we're spending much less money on inputs, since we're not buying pesticides and fertilizer — although labor costs have increased."
On the downside, Sharma concedes that since he went organic, his wheat yields have fallen in half.
But he is optimistic. "I've been farming organically only for four years now. My land is still recovering from the Green Revolution. So I'm sure my yields will increase," he says.
Imagine how much organic farmers might be able to produce, Sharma says, if India's government spent even a fraction of the billions of dollars it has spent promoting chemical farming.
"We are not worried about how much yield we will get," he says. "We are worried about our families, and our children. We want them to be healthy. We will never sell or eat poison."
India's organic movement is getting some support from influential voices in the agriculture industry. Late last year, the Punjab State Farmers Commission, which advises the agriculture department, published a report that angered organic activists by concluding that if all farmers across India went organic — including in Punjab, the most intensively cultivated region — food production would drop and "seriously jeopardize the national food security."
But the commission's chairman, Gurcharan Kalkat, says the researchers reached another conclusion: "For 70 percent of the area in the country (outside Punjab), farmers must go for organic farming," he says, because organic methods will replenish the soil and improve their productivity. As for Punjab, the report concluded that 20 percent of its farmers could go organic and remain productive, too.
And the report says government scientists should begin to help them now.
"They should collect all the new [organic] techniques," Kalkat says, "so that over the next two years we are in a position to say, 'If you want to do organic farming, this is the way to do it.'"