Love Story: A Gourmet And The Cheesecake Factory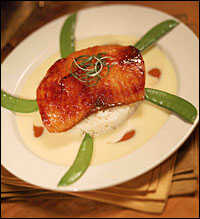 Everything at The Cheesecake Factory, the restaurant chain with 146 outlets in 35 states, is large: faux Italianate columns with Pharaoh faces, soaring Trompe L'oeil ceilings, vast open kitchens, red-glass wall sconces the size of toddlers, a menu with more than 200 choices (including more than 30 different kinds of cheesecake), and enormous portions of food. I'm dubious about restaurants that offer fajitas next to dim-sum, barbecue chicken, and Bolognese. And should one lunch salad top 1,000 calories? For me, this restaurant was like Britney Spears and AIG: it gives Americans a bad name.
When the recession hit, I wondered how The Cheesecake Factory was faring in such lean times. People go out less, and they skip extravagances like appetizers and desserts. But no, my Cheesecake Factory was more packed that ever. Is The Cheesecake Factory America's only recession-proof restaurant? And for god's sake, why?
The Cheesecake Factory does not court press; in fact, they hired their first marketing person less than a year ago. Why be concerned when historically they make great money with virtually no advertising? I had to beg for an interview. Finally, I got to the Senior Vice President /Chief Marketing Officer, Mark Mears, and asked: Why do people think your restaurant is so awesome?
"It's all about getting to 'Wow,'" Mears explained. "That's a very important word to us. When I say we're over-the-top and multi-sensory, I mean 'Wow.' When the food comes out, it's a 'Wow,' when I taste it, it's a 'Wow.' The dessert presentation is a 'Wow'."
Um, wow. At The Cheesecake Factory that "Wow" seems to be all about the super-human portion-sizes. Henry Abbott, editor of Truehoop.com, ESPN's NBA blog, told me that NBA players eat there so frequently that there have been more than 150 posts featuring player-sightings at Cheesecake Factories.
Then it hit me. There's something about the pageantry of all...that...food in a time when people are really struggling. It's comforting to order a shepherd's pie big enough to feed Shaquille O'Neal. The Cheesecake Factory offers customers proof that there is enough to go around, that for $11 you will be taken care of.
But could the taste of the food at The Cheesecake Factory ever live up to the largesse of the portion-sizes? I made some calls; a surprising number of my food-world colleagues admitted not only to having eaten in a Cheesecake Factory, but also to having loved it. Pamela Parseghian, a 17-year-veteran food editor for Nation's Restaurant News, told me to try the Miso Salmon. "It is cooked Nobu-style," she said, invoking the impossibly chic and celebrity-friendly Japanese restaurant chain. Was she for real?
On my eleventh wedding anniversary, I dragged my husband to The Cheesecake Factory—he feigned annoyance but was secretly grateful not to drop a couple hundred bucks at our favorite local Asian-inspired restaurant. We arrived at 7:30 on a Friday night. There was a 50-minute wait. We finagled seats at the bar after about 20 minutes. We got good, large drinks. We got the most popular appetizer: "Avocado Eggrolls" which are large fried tubes of guacamole—fine if you go for that sort of thing, which, apparently, millions of people do.
Then the salmon. I was expecting an achingly dry piece of something that had touched water a long, long time ago. What I got was a translucent pink production in a silken sake-butter sauce that slid down my throat in such a way that it called to mind what the singer Howlin' Wolf once said about some particularly good barbecue--it was "like Baby Jesus in satin pants." For the duration of that meal the stress of the recession melted away. Nothing hurt--not even the check.