Summer Nonfiction: True Tales Enlighten, Delight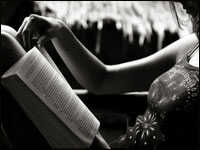 A few summers ago, I strolled past an intrepid reader on the beach. Propped beneath an umbrella, he sat with The Power Broker, Robert Caro's 1,300 page masterpiece about the great New York City urban planner Robert Moses, as his "beach read."
Ever since then, I have felt entitled to pack plenty of history, biography and other nonfiction in my vacation reading bag. These true tales can be every bit as exhilarating and illuminating as novels. You simply have to pick the right books.
Here, then, are five that will shock, appall and delight you, wherever you chose to "relax."
'Cooking Dirty'
Cooking Dirty: A Story of Life, Sex, Love and Death in the Kitchen, by Jason Sheehan, hardcover, 368 pages, Farrar, Straus and Giroux, list price: $26
If chefs are the new rock stars, Jason Sheehan is like a grunge guitarist of the old school. Sheehan cut his teeth in Buffalo and Tampa in the full-contact arena of line prep. The cooking venues were dingy; his hair long and stringy; and his path from the deep fryer to foodie journalist, as described in this hilarious memoir, featured more smoke breaks than your average AA meeting.

It's a story less about food than the friendship and fury he shares with kitchen grunts as they slice through, say, a literal ton of corned beef to make briskets in time for St. Patrick's Day. "Cooks don't get benefits," Sheehan reminds. "We have no retirement package. Most of us have no union looking out for us." After Cooking Dirty, though, they'll certainly have more readers who understand their plight.
'A Bright And Guilty Place'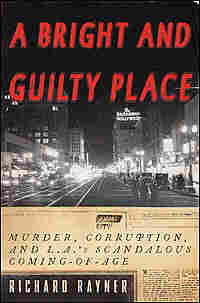 A Bright and Guilty Place: Murder, Corruption and L.A.'s Scandalous Coming of Age, by Richard Rayner, hardcover, 288 pages, Doubleday, list price: $25
Long before there was O.J., Los Angeles was a town of outsized crimes and colorful criminals. This energetic new book by Richard Rayner rips a page out of the tabloids and retells the story of two men, Dave Smith and Leslie White, who — at a time when crooks and cops ran the city together like a business — decided to change things, even if it put a price on their heads.

The book begins after a gangster named Albert Marco has been arrested in a blood-soaked shirt fleeing a crime scene. "I'm a big shot with the police," he told the arresting officer. "If you pinch me you'll be sent to the sticks for life."

Against the odds, Marco was sent away, but his arrest set off a series of reprisals and counter-reprisals that draw Smith and White deep into the city's underbelly, where starlets, film producers and corrupt commissioners mingled. Reading this book, it's clear why noir fiction exploded out of Los Angeles during this time. Suddenly, Hammett and Chandler seem like realists.
'The Age Of Wonder'
The Age of Wonder: How the Romantic Generation Discovered the Beauty and Terror of Science, by Richard Holmes, hardcover, 576 pages, Pantheon, list price: $40
It's often forgotten that modern science sprung from the loins of Romanticism. In this inspired work of history, Richard Holmes tells that tale through the lives of some lesser-known figures: William Herschel — who discovered the planet Uranus, expanding the solar system — and his sister Caroline; Sir Joseph Banks, who visited Tahiti and brought back botanical information and tales of free love; and Humphry Davy, an autodidact of the highest order, whose dangerous, jerry-built experiments with gases nearly cost his life, but helped create the miner's lamp.

Holmes, who's written classic biographies of William Coleridge and Percy Bysshe Shelley, understands the profound connection science and Romanticism had in their time. Moreover, he writes with the supple narrative skill of a novelist, pulling threads together and weaving a cohesive tale of unlikely collaboration in an age of explosive beliefs. (Coming July 14)
'Ancient Gonzo Wisdom'
Ancient Gonzo Wisdom: Interviews with Hunter S. Thompson, edited by Anita Thompson, paperback, 432 pages, Da Capo Press, list price: $18
Like Norman Mailer and Allen Ginsberg, Hunter S. Thompson practiced the interview as an art form. This amusing collection pulls from 30 years of conversations and reveals the gonzo journalist to be much more of a craftsman than he is often given credit for being. It would, in fact, make a great gift to any budding journalist.

"The truth is never told across a desk," he tells one interlocutor, "or during nine-to-five hours ... I call people at night." On citations: "I use quotes like little jewels." He dishes on presidents and criminals.

He is also terribly prescient. In 2003, he cautions a young reporter on changes to come. "Man, I don't envy you where you're at. See, you're part of the first generation that's going to do worse than your parents did." (Coming July 6.)
'Dangerous Games'
Dangerous Games: The Uses and Abuses of History, by Margaret MacMillan, hardcover, 208 pages, Modern Library, list price: $22
This small but vastly stimulating book starts hopefully but grows progressively darker with each chapter — as perhaps it should. History has so often been abused by dictators and populations alike that it's often mistaken for its fancier-footed cousin, myth. Strand-by-strand, MacMillan peels apart their DNAs to reveal how often one is used to create the other.

Saddam Hussein tried to ennoble his own rule by putting himself in a continuum with Saladin, while George W. Bush often wrapped his policies in the mantles of Teddy Roosevelt and Harry S. Truman.

Subtraction is a key way by which history turns to myth. British Prime Minister Harold MacMillan resented a close study of the WWII aerial campaign because it conflicted with the version of England he wanted to present at that time. Even as late as 1971, Jean-Paul Sartre could not accept the rising historical proof that resistance to France's collaborationist Vichy government was not as widespread as previously thought.

"We tell ourselves stories," MacMillan writes in her introduction, "not always true ones." By revealing time and again how often the stories nations tell themselves are in fact wrong, and reminding us of those consequences, MacMillan has formed a powerful and important argument that people — and not just the people in power — must know their true histories. This book is a great place for everyone to start.
More Recommendations
Buy Featured Book
Title

Cooking Dirty

Author

Jason Sheehan
Your purchase helps support NPR programming. How?
Buy Featured Book
Title

A Bright and Guilty Place

Author

Richard Rayner
Your purchase helps support NPR programming. How?
Buy Featured Book
Title

The Age of Wonder

Author

Richard Holmes
Your purchase helps support NPR programming. How?
Buy Featured Book
Title

Ancient Gonzo Wisdom: Interviews with Hunter S. Thompson

Author

Anita Thompson
Your purchase helps support NPR programming. How?
Buy Featured Book
Title

Dangerous Games

Author

Margaret MacMillan
Your purchase helps support NPR programming. How?