Cooking With Herbs
About The Author
After working as editor of various computer magazines, Kevin Weeks is now a personal chef in Knoxville, Tenn. He specializes in cooking with a Mediterranean accent, filling plates with the flavors of southern Europe and northern Africa. Weeks also teaches cooking classes and blogs at Seriously Good.
It was an offer I couldn't refuse: Cook a fundraising luncheon for the Knoxville Symphony Orchestra, highlighting fresh herbs — the kind of cooking I like — for a good cause. It didn't stop there. Kathy Mihalczo, who owns Erin's Meadow Herb Farm in Oak Ridge, Tenn., would pay for all the food. All I had to do was feature her herbs.
I've been teaching classes on herb cookery at the herb farm for three years, and it's my favorite teaching venue. Mihalczo installed a kitchen in a greenhouse, and in the spring and fall, the kitchen is filled with natural light and open to air thick with the scent of fresh herbs — the piney notes of rosemary, the sweet bitterness of basil and the licoricelike odor of tarragon. That the location is an excuse to play around with the best and freshest herbs in the Knoxville area is just an added bonus.
Food Lover's Companion defines herbs as "the fragrant leaves of any of various annual or perennial plants that grow in temperate zones and do not have woody stems." The most popular herbs in American cooking are of Mediterranean origin — rosemary, oregano, thyme and basil, for example. In the Mediterranean region, they can be found growing wild on the hillsides.
Cilantro and lemon grass are herbs native to Southeast Asia. In Africa, the leaves of the baobab tree are used to thicken stews. The banana plant is classified as an herb, and so is marijuana. ("Herb" has been a slang term for marijuana.)
There also are exceptions to the nonwoody stem rule. Bay leaves come from a tree, and if you've grown rosemary, you know that it's actually a shrub. Lavender leaves and blossoms are regarded as herbs. Other herbs provide spices in the form of roots or seeds, such as dill seed and cilantro seed (also known as coriander). Generally, though, herbs are leaves. Seeds, dried roots, dried fruit (think chili peppers), flowers and bark are considered spices.
My mother often cooked with herbs, but I learned to use them myself by making a dish, smelling it, and then going through my jars of dried herbs looking for complementary smells. I'd add a bit of the herb, give it a few minutes to release its flavor, then taste the dish. There are certainly classic combinations such as tomatoes and basil, lamb and mint, or pork and sage. If I'd stuck with the standards, however, I wouldn't have discovered the affinity peaches have for rosemary, or that a tiny pinch of cayenne pepper boosts the appleness of an apple pie.
For a while, I was gung-ho on always using fresh herbs. And if I have them, I still use them first, but there have been times when I didn't have the location or sunlight to grow herbs — even in pots — and had to buy them all. That's an expensive proposition at $2 a package. However, I have found that if the herbs are being cooked for more than three or four minutes, most of that wonderful fresh flavor cooks off and you can get the same results from dried herbs. So these days, I use fresh herbs when they'll stand out, and otherwise use dried. The exceptions are a few herbs that don't retain much flavor at all when dried, such as chives or parsley.
For the fundraising menu, I would use only Mihalczo's fresh herbs. Since it was a luncheon, the meal needed to be light. Yet I wanted to seduce my eaters, to persuade them to eat just one bite more than they might ordinarily, and still allow them to push the plate away, satiated but not overfilled. Herbs were perfect for this.
The menu began with cherry tomatoes stuffed with chevre and basil, and peppers stuffed with feta and dill as appetizers. Then I served a course of chilled asparagus and sorrel soup. For the entree, I made roast pork tenderloin dusted with dried sage and dressed with a rhubarb-sage compote. I also made pureed cauliflower garnished with fried sage leaves. The bread was rosemary-grape focaccia. For dessert, I offered my father's buttermilk-pineapple sherbet with mint.
With one exception, all of the dishes feature raw or just barely cooked fresh herbs and celebrate their fresh flavor. The exception is the focaccia, which cooks for 30 minutes. However, rosemary is a tremendously robust herb that can stand the heat. Besides, dried rosemary is like eating a collection of dull needles, so fresh rosemary was the best choice even then.
The morning before the luncheon, I drove out to the herb farm and returned with bags of fresh herbs that filled first my car and then my kitchen with wonderfully appetizing smells. The luncheon itself, with its cornucopia of fresh herbs from appetizer to dessert, was a complete success and brought in much-needed funds for the symphony. I hope it also had the effect of encouraging the guests to bring herbs into their kitchens.
Related NPR Stories
Bell Peppers Stuffed With Feta And Dill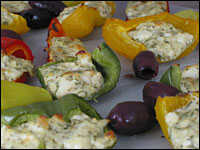 The great thing about these peppers is they're good hot, at room temperature or cold. They also make a bright, colorful display on a platter. I like them best with the feta, but I've also made them with chevre (goat cheese), and although I prefer dill, I've used other herbs such as thyme, basil and oregano.
Makes 48 appetizers
3 large bell peppers (assorted colors)
6 ounces feta cheese, crumbled
Juice of 1/2 lemon
1/4 cup minced red onion
3 tablespoons minced fresh dill
1 large egg beaten
Preheat oven to 375 degrees.
Stem the peppers and cut into eighths, top to bottom. Remove pith and seeds. Cut eighths in half crosswise. Mix all remaining ingredients in a small bowl with a fork, crushing any large chunks of cheese.
Spoon about a tablespoon of the cheese mixture into each pepper segment and arrange on a baking sheet. Bake on the middle rack until cheese begins to brown, about 15 minutes.
Serve hot, warm, room temperature or cold.
Chilled Asparagus Soup With Sorrel
I adore asparagus. It's my favorite vegetable. For years, cutting off and discarding the woody ends offended me as a waste of perfectly good flavor. Then, in a flash of brilliance, I started freezing those ends until the end of the season and used them to make a broth for asparagus soup. They still get thrown away after the broth is made, but I capture all of their goodness and flavor. In this soup, the sorrel adds a nice tartness and the curry adds spice. (If you don't have a bunch of woody ends in the freezer, buy an extra pound of fresh asparagus and use the woody ends from all the asparagus you bought, and then include the extra fresh asparagus in the soup as well.)
Makes 6 servings
1-1/2 to 2 pounds asparagus woody ends
1 medium onion, peeled and quartered
4 cups chicken stock
2 tablespoons butter
2 medium leeks, white part only, chopped
1-1/2 to 2 pounds asparagus spears without woody ends, cut into 1-inch pieces
1/2 lemon, juiced
1 cup buttermilk
1 teaspoon curry powder
1/2 teaspoon ground white pepper
Salt to taste
1/2 pound chopped sorrel
Put woody ends and onion quarters in a soup pot with chicken stock and bring to a vigorous simmer. Cook for 1 hour. Discard solids.
Melt butter over medium heat, add leeks and saute until translucent.
Return soup base to stove over medium heat, add leeks and bring to simmer. Add remaining asparagus and cook until just done, about 5 minutes. Remove from heat and add all remaining ingredients except sorrel. Allow to cool. Puree soup with sorrel in a blender or food processor, or with an immersion blender. Taste and adjust seasonings.
Refrigerate for at least 4 hours before serving.
Roast Pork Tenderloin With Rhubarb Compote
This recipe began with the rhubarb, which I knew would be in season. Then I decided to roast pork tenderloins because they would be easy to do for a crowd, and pork pairs nicely with sweet and tart flavors. With the big picture decided, the details of the compote were next. I decided to add rubbed (dried) sage to the roast and fresh sage to the compote, along with a jalapeno and ginger for a touch of heat. By adding the fresh sage off the heat to a warm mixture, you get all the freshness of this sultry herb.
Makes 6 servings
Rhubarb Compote
1/4 cup dry vermouth
1/4 cup sugar
1 pound fresh rhubarb, cut into 1/4-inch dices
1 inch fresh ginger, minced
1/4 green bell pepper, cut into 1/4-inch dices
1 jalapeno pepper, finely minced
3 tablespoons fresh sage, finely minced
1/2 teaspoon salt
Combine vermouth and sugar in a medium saucepan with rhubarb, ginger, bell pepper and jalapeno. Place over high heat and bring just to a boil. Reduce heat to medium low and simmer 5 minutes or until rhubarb is soft but doesn't fall apart. Remove from heat and stir in sage and salt. (Note: Adding the sage at this point warms it enough to liberate its volatile oils but not enough to cook them off.) Chill compote until ready to use.
Pork Roast
2 pork tenderloins, 1-1/4 to 1-1/2 pounds each
2 tablespoons dried ground sage (rubbed sage)
2 tablespoons smoked paprika (pimenton)
Salt and pepper
Two hours before cooking, remove tenderloins from refrigerator and pat dry. Pork tenderloins tend to be cone-shaped, so fold the thinner end back over on itself so the meat is more the same size from end to end, and tie it with twine in a couple of places.
Season each tenderloin with 1 tablespoon of ground sage, paprika, and salt and pepper to taste. Allow to warm up for a couple of hours.
Preheat oven to 425 degrees.
Place tenderloins on a baking rack and cook to an internal temperature (using an instant read thermometer) of 140 degrees.
Remove from oven, cover with foil and let rest for 10 minutes before slicing and serving topped with the rhubarb compote.
Pineapple-Buttermilk Sherbet With Mint
This was a frequent summertime dessert when I was a child. Usually my father made it, so we called it Dad's Sherbet. It has a wonderful fresh flavor from the mint, which perfectly complements the pineapple, which highlights the buttermilk's mild but delightful tartness.
Makes 6 servings
2/3 cups sugar
2 cups buttermilk
3 tablespoons minced fresh mint
1 8-ounce can crushed pineapple
Add sugar to buttermilk and stir until dissolved. Stir in mint and pineapple (with juice). Pour into a 9-by-13-inch pan and place in the freezer.
Stir the mixture with a whisk every hour. As the mixture gets closer to freezing, regular attention becomes more important because the freezing process speeds up. When the mixture is at the slush point (80 to 90 percent frozen), change from a whisk to a fork for stirring.
Use a fork to stir again just before serving. This produces mounds of loose crystals.