Standing In The Shadow Of Siblings
It's not easy being related to a musical star: Even if your gifts rival those of your sibling, it's presumed that as the less-famous family member, you must be second-rate or a coattail surfer. Yet some musical families are thick with talent, even if there isn't an equal distribution of recognition. Especially in the world of soul music, some overshadowed sisters and brothers have proven as compelling as their kin.
Standing In The Shadow Of Siblings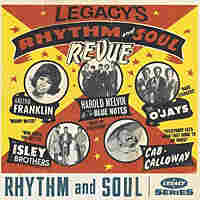 Piece of My Heart, by Erma Franklin
from Legacy's Rhythm & Soul Revue
The Reverend C.L. Franklin must have done something right: All three of his daughters were blessed with talent, but only the middle child (Aretha) would assume the throne of Queen of Soul, while older sister Erma and younger sister Carolyn ended up underrated handmaidens. Erma, in particular, wielded a powerful, emotive voice that she could carry with a dancer's grace -- or unload with a sledgehammer's heft. "Piece of My Heart" was originally written for Erma by the great songwriting duo of Jerry Ragavoy and Bert Berns in 1967. She tears into the chorus with a terrifying passion that has haunted many singers since; Janis Joplin covered it in 1968 and ended up enjoying far more success with it. Setbacks such as that eventually nudged Erma out of the music industry in the 1970s. (She died of cancer in 2002.)
You Really Didn't Mean It
You Really Didn't Mean It, by Carolyn Franklin
from Sister Soul: The Best of the RCA Years 1969-1976
Carolyn, the youngest Franklin sister, lacked the vocal intensity of her two elders. But she was the most gifted songwriter in the group, responsible for some of Aretha's better-known hits, including "Ain't No Way" and "Angel." One of Aretha's longtime background singers, Carolyn finally emerged as a solo artist at the end of the '60s, recording exclusively with RCA. "You Really Didn't Mean It" appeared on Franklin's 1970 album, Chain Reaction; though it wasn't her own composition, the song is an impressive showcase for both her vocal abilities and the album's dramatic and dynamic production, courtesy of Jimmy Radcliffe and Buzz Willis. Sadly, Franklin died of cancer in 1988 at age 44.
Gossip, by Cyril Neville
from What It Is! Funky Soul and Rare Grooves
A member of two of New Orleans' most celebrated outfits -- The Meters and The Neville Brothers -- Cyril Neville enjoyed great success over the years. But as solo artists go, it was older brother Aaron who found the biggest fame with his signature falsetto. In fact, during the early 1970s, Cyril's solo output was limited to just one single, though he made the most of it. "Gossip," backed with "Tell Me What's on Your Mind," ranks among the best New Orleans funk singles of its era. (Original copies of the 7" have sold for more than $100.) It helps that Cyril Neville has The Meters backing him, as the group's rhythm section bears down like a runaway locomotive. Vocally, what Neville lacks in sweetness, he makes up for in grit, especially as he insists that his song is "funky, funky, funky, funky, funky, funky" toward the end. Who'd disagree?
Foolish Fool, by Dee Dee Warwick
from I Want to Be With You: The Mercury/Blue Rock Sessions
Dionne Warwick's string of hits with Burt Bacharach and Hal David -- think "Walk on By" and "The Look of Love" -- cemented her reputation as the queen of early quiet storm. But it was her younger sister Dee Dee who had a vocal instrument unquestionably crafted for soul. Whereas Dionne was all about feline finesse, Dee Dee brought raw power and ferocity to her best songs, especially her biggest hit, 1969's "Foolish Fool." Backed by Rene Hall's heavy, rock-like arrangement of electric guitar and strings, Dee Dee unleashes an impassioned performance that's broad in range and deep in affect as she warns off would-be contenders for her lover's affection.
I Decided, Pt. 1, by Solange Knowles
from Sol-Angel and the Hadley St. Dreams
When your older sister is Beyonce -- the reigning queen of pop music -- sometimes it's better to walk a different path. For Solange Knowles' 2008 sophomore album, she ended up taking a page from Amy Winehouse's style of throwback soul. For "I Decided," it's the hip-hop production team of The Neptunes tasked with supplying retro R&B flavor, and the duo seems to lift those opening handclaps directly off a classic Motown-era Supremes album. The song has an odd feel in the beginning: It's as if those claps are supposed to give way to a polished track, but instead you realize that's all there is to it. Still, that minimalist rhythm becomes more infectious as the song stomps along. Solange handles herself nicely here, even invoking a Young Diana Ross vibe with vocals that lean light but have a sprightly energy all the same.