Jay Smooth: On Hip-Hop, Blogs And Race
Jay Smooth: On Hip-Hop, Blogs And Race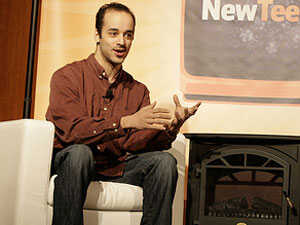 While blogs and hip-hop both have incendiary reputations, one hip-hop blogger has become a minor star for bringing thoughtfulness to both disciplines. John Randolph, better known as Jay Smooth, posts videos on Ill Doctrine. His funny, incisive vlogs have gained popular support even among non-hip-hop fans, who read them for a sense of what's happening in hip-hop and for Smooth's nuanced take on the music industry and politics.
For example, in recent vlogs, Smooth calls out several rappers for behavior he finds worthy of analysis — but he also urges reflection on the part of the wider hip-hop community. He acknowledges that the young rapper Charles Hamilton has been acting "weird and annoying" by picking fights online and doing dumb things on camera — but he points out that Hamilton spent much of his teen years homeless and on drugs. Hamilton reminds Smooth of the kids he worked with at a group home in upstate New York.
"It looks like he went through trauma," Smooth observes. "And when I look at how he's been acting for the last six months, I see a type of craziness that only makes sense if it's a set of defense mechanisms that he can't control."
Smooth's call for compassion will be familiar to Ill Doctrine fans, who've come to appreciate his blend of wisecrackery and sincerity. But not all of them are completely certain where he's coming from.
Ill Doctrine: A Lifetime In The Making
"Since I had a black dad and a white mom, visually I'm sort of racially indistinct," Smooth says. "It sort of put me in a unique position to travel between different worlds and see each community with its guard down."
Smooth grew up shuttling between private and public school, between Harlem and the Upper West Side. He was so shy that he spent entire school days without speaking. Hip-hop brought him out of his shell.
Smooth, now 36 years old, hosts New York's longest-running hip-hop radio show on WBAI every Saturday night. It's called the Underground Railroad, and he started it as a teenager. That's when he picked the name "Jay Smooth."
Blogging With A Wider Vision
Smooth also created the popular Web site hiphopmusic.com. He jokes that he makes almost enough to cover his bills as a full-time cultural commentator, producer, podcaster, vlogger and host. His videos routinely get hundreds of thousands of hits, and they're followed by the musicians he comments on.
"Whenever I talk about someone in hip-hop, I kind of have to take for granted that they're going to see it," he says. "But that's always been a principle that I've tried to hold to, to speak about someone as if they'd watch it anyway. I try to set an example for being kind to people, and critiquing them while still being aware of their humanity."
Smooth makes a point of being not just kind, good-humored and challenging, but also explicitly feminist and anti-homophobic in his Ill Doctrine videos. He's become not only a celebrity, but a heartthrob. Last year, Salon magazine named him one of its "Sexiest Men Living." But Smooth says he just wants to be part of the conversation. He points out that hip-hop emerged about 36 years ago from a community of artists with a passion to say something, who subverted the day's technology to get their voices heard.
New media, observes Smooth, is basically the opposite. It's all rapidly evolving technology lopsided in terms of content. Smooth is committed to bringing medium and message together in new ways, finding new voices and helping them find their flow in our ongoing digital conversations.
Web Resources