Real People Fill In For Statue In Trafalgar Square
Real People Fill In For Statue In Trafalgar Square
Peter Macdiarmid/Getty Images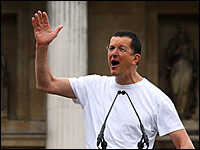 Gareth Cattermole/Getty Images
In the northwest corner of Trafalgar Square, in the heart of London, there is an empty base, or plinth, for a statue. Unlike the others there, the Fourth Plinth, as it is sometimes called, never had the bronze likeness of a British hero placed upon it.
Now the vacant plinth, built in 1841 for an equestrian statue that was never created, is being put to use for a new art project that began Monday. Officially called "One & Other," the project will involve 2,400 members of the general public — chosen randomly from 18,000 applicants — acting, singing, jumping, shouting or doing whatever they want upon the plinth for one hour each, around the clock for 100 days.
It's being called the ultimate democratization of art — whereby Joe or Josephine Schmo gets to stand on a plinth in the heart of the nation's capital for a whole hour under the gaze of Lord Horatio Nelson, the hero of Trafalgar, and other heroes of the Empire.
"In a way, this place is all about people who have done great and heroic deeds in the past," said the organizer, sculptor Antony Gormley. "I'm more interested in now. I'm more interested in, in a way, discovering what we are now. And this is a way of doing that."
One of those getting his 4x15 minutes of fame on opening day was 34-year-old Scott Illman, dressed up as a town crier, who spent his time on the platform advertising his two bars in London. Then there was 51-year-old Jill Gatcum, who released 60 green balloons for 60 charities before being winched down to safety.
"That was fantastic," Gatcum said.
But, as always, there's just that nagging question: Is it art? Plenty of the bystanders seemed to say yes.
"Each person gets to choose what they want to do, so in their terms, I think it's art, yes," said Londoner Denis Brooks.
"I would say yes probably," said visiting Frenchman Ben Borrell. "We are involved in the art-making, in a way. And I like it. Good concept."
But John Clothier, visiting from Toronto, wasn't so sure.
"I guess it's a bit of a joke, really. ... I can't see it as being art," he said. "In no way at all."
And with that, he turned and headed for the nearby National Gallery, with its collection of paintings.