Customers Eat Up Fresh Fish Buying Programs
Customers Eat Up Fresh Fish Buying Programs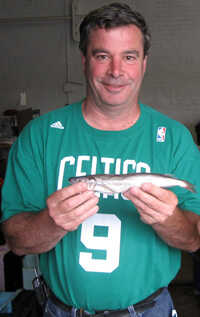 You probably already know about produce "clubs" where farmers sell boxes of local fruit and vegetables to members. Picture that arrangement, but instead of a farm bounty in a basket, you get a 2-foot-long, wide-eyed codfish.
A few of these fish-buying programs — called community supported fishery — have sprung up in New England. One of the goals is to help fishermen earn enough money to survive.
At a CSF in Boston's Jamaica Plain neighborhood, customers pick up fish off the back of a truck.
Erin Hennessy and Emily Kurros are two of the customers buying directly from the fishermen. They're both graduate students getting a doctorate in food policy and nutrition.
They say at around $3 a pound, this is a good deal for really fresh fish.
"We're definitely saving money over the long run and eating better for it, and I have no idea what I'm doing. I've never filleted a fish ... but I think its fun to figure out how to cook it," Hennessy says.
Apparently, a lot of other people like this idea, too.
Niaz Dorry is one of the organizers who delivers fish on the truck. The program has been in operation for just a few weeks, and it's already hard to handle all of the demand, she says.
"Initially we thought we'd have between 50 to 100 people for the pilot program," Dorry says. More than a thousand people expressed interest in joining.
"I still laugh about it because it really blew our minds," Dorry says. "For the first pilot, there are about 780 people that have signed up, and we have 500-plus people on a waiting list."
Dorry is a former environmental activist, now with the Northwest Atlantic Marine Alliance. The group's goal is to foster sustainable small-scale fishing communities.
Dorry says that for a host of reasons, it's better for people to eat locally caught fish rather than buy fish or shellfish farmed halfway around the world.
"Farmed shrimp has added pesticides, herbicides," Dorry says. "And then in China we're hearing many reports of human rights violations in shrimp farming."
Cape Ann Fresh Catch
Last year, high fuel prices really put the squeeze on boat captains like Paul Metivier, who owns a fishing boat out of Gloucester, Mass.
"Last year was horrible," Metivier says.
This year, he hopes selling fish to a CSF called Cape Ann Fresh Catch will help boost his profits.
Metivier says the CSF pays him about 30 percent more than he usually gets selling into the commercial market. He wins, and the customers win by cutting out most of the middlemen. There's no processing, and the fish aren't stored for very long. All that means a little more cash for Metivier, which, with two kids, is much needed.
Back in Boston, about 20 of the new CSF customers have shown up for a demonstration to learn how to filet a fish.
In a large kitchen, Steve Parkes, one of the CSF organizers, demonstrates. Parkes used to be the top fish buyer for Whole Foods grocery stores.
Retirees Alan and Helen Levitin are there with their new knife. Last week, their first attempt at filleting a cod didn't go so well.
"I actually butchered it. I had no idea what I was doing," Alan Levitin says. "This is as good a fish as we've ever had, though. It's really, really good fish."
Other fishing ports in New England are looking into starting their own CSF programs. And some academics have said that could create much-needed income for many small, struggling fishing communities.