Getting Lost Is Totally Human. Try It
Getting Lost Is Totally Human. Try It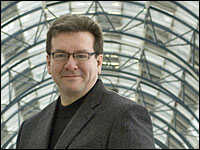 "Let's get lost" is great when Chet Baker is singing about falling in love, but those three words can produce anxiety in anyone, even if you just make a wrong turn in your own hometown.
And we humans are good at getting lost because we are good at being so many places at once. As your feet wander down the street, your brain could be thinking about outer space or your vacation in Vegas or your backyard at home. So it's easy to zone out about where you actually are. But you can train yourself to be more conscious of your surroundings.
Colin Ellard just wrote a book on the topic: You Are Here: Why We Can Find Our Way to the Moon, but Get Lost in the Mall.
Ellard, a psychology professor at the University of Waterloo, took NPR's David Greene on a walk toward a woodsy area of Washington, D.C., to help Greene learn to appreciate being lost — which doesn't take long.
For example, if you want to remember where you parked the car, Ellard says, you can make up a story about something that's nearby.
"Let's look around here. Just paying attention to this house across the street — there's a nice little balcony. It's almost like a Romeo and Juliet balcony. You can conjure up Juliet," Ellard suggests.
"We've talked about that for 10 seconds," he says, so now it'll be easier to remember.
Ellard takes Greene deeper into the woods, and to test their sense of direction, they purposely veer off the dirt trail and walk several hundred feet into a stand of tall trees.
"When people are walking through dense vegetation, it can be difficult to know they're walking in a straight line," Ellard says. "You can make remarkable turns while thinking you're walking in a straight line."
That may not seem to matter — except, Ellard says, "There is a tendency for people to speed up in their movements, and if you march in the wrong direction, you get farther away faster."
Ellard's advice? "Once you're lost, your best decision is to stop."
But, he says, one of the hardest tricks for humans to learn is that sometimes, and in some places, it's OK to get lost — at least for a little while.
Related NPR Stories
Excerpt: 'You Are Here'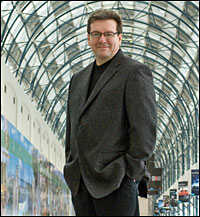 There is a ritual that all parents must endure from time to time, known as the weekend camping trip. This involves piling the car high with everything from cooking utensils and plastic tarps to a few spare pairs of Bob the Builder underwear and then setting off for a drive to a local park where, more often than not, visions of campfires under starlit skies are replaced by shivering huddles in soggy, windblown tents. It is a brilliant tribute to the human spirit that we always come home from such adventures with nothing but happy memories and eager anticipation for the next close encounter with the Land. It was on one such excursion that I came into intimate contact with my own fragile grip on physical space.
My wife, Karen, and I had blown off the idea of a simple visit to a friendly park containing clearly marked camping plots, complete with firepits and driveways, user-friendly toilets and nearby convenience stores. Instead, we chose to drive for most of a day with friends of ours and our children to one of the northernmost parts of Algonquin Park — a piece of protected land in the heart of Ontario with an area that is not much smaller than Portugal. Most of the park, populated by moose, wolves, deer, and the occasional black bear, is accessible only on foot or by canoe. We wanted our children to experience true adventure, so, along with our friends, we ventured into the woods with the barest of supplies and one small canoe. Our destination was a canoe-in campsite on the edge of a small lake. The setting was stunning. Our site looked out on a tiny island with one tall, bare tree containing an osprey nest. We were able to sit on the shore and watch the majestic birds fly off in search of food for their chicks.
Soon after we arrived, the rain began. Determined to make the best of things, we spent as much time as we could hiking, canoeing, and exploring. Between adventures, we huddled under a small blue tarp and wrung out wet clothes; when the children weren't watching, the adults passed a small silver flask of liquid warmth back and forth. On the second day of our trip, we planned an ambitious journey to visit a scenic waterfall. It was too far for our youngest daughters, Jessica and Rebecca, to walk, so they rode in the canoe with our two friends, and Karen and I set off on foot with our oldest daughter, Sarah. We had warned the children beforehand that there was a remote chance we would see a bear, and that the best deterrent was to make plenty of noise as we walked, preferably by singing and clapping. Truthfully, though, we knew that bear sightings were so rare here that many park regulars went years without spotting a single specimen. As much as anything, our safety lecture was meant to heighten our children's excitement and enjoyment of the trip.
Sarah was a teenager at the time and was in no temper for either singing or clapping. As she skulked along the trail some distance ahead of the rest of us, doing her best to pretend not to be with us, I ran to catch up to her, and told her that if she was determined to lead the group, she would need to make some sort of noise. She responded by dropping to the back of the pack, leaving me in front. A minute later, as I sang the theme song from The Flintstones, I noticed a sapling swing first toward me and then away. I heard a loud rustle just off to my left, but couldn't see anything. Whatever it was must have run off. I called back, "I think I just startled a big animal! Maybe a deer!" As I turned back to the trail, my view was occluded by the flank of a very large bear, close enough to me that I could have reached out to touch it. It may have been sleeping near the trail and, despite my racket, I think that I might have startled it. In as calm a voice as I could muster, I told Karen and Sarah to back down the trail slowly. I told them not to turn their backs on the bear and not to run. I did much the same, even though by this time the bear had crossed the trail and disappeared into the thicket of woods.
Much later, back at the campsite, our nerves calmed and our children asleep, we spent much time emptying the silver flask and reflecting on our close call and on our vulnerability to whatever unexpected curves nature might throw our way. Stripped of the normal network of support that urban human beings use to get themselves through a day, stumbling along a marked trail in the woods, every slight misstep might spell disaster. If I had walked at a different pace, in a different direction, or without making such a din, my life could have been ended by a single angry swipe of a bear's paw. Our fate hinged on a crude park map and good luck. What were we doing out here with our kids?
Excerpted, with permission from Doubleday, from You Are Here by Colin Ellard.