In 'D.C.,' A Mayoral Race That's Every Bit As Tight As Spandex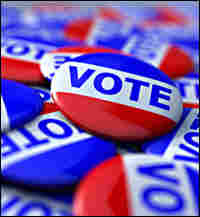 UPDATED WITH ELECTION RESULTS: SEE THE (VERY!) END OF THIS POST
This summer, the DC-based New Organizing Institute, which trains aspiring wonks in the ways of netroot campaigning, has introduced a program that's attracting attention outside the two-fisted, thrill-a-minute world of voter data management. Which, of course, is pretty much the idea.
They've brought 53 college seniors to the nation's capital for a weeklong workshop on online organizing and social media, and given them an exercise: Pick a candidate to run in a simulated campaign for mayor of Washington, DC, complete with website, platform, email solicitations, the whole cyber-electoral schmear.
That's not the bit that's attracting attention. No, what's gotten the geekosphere -- and several DC blogs -- twittering (and Twittering) is the fact that the candidates are superheroes.
But the campaign ends today. This page contains links to the web pages of all eight super-candidates. You can vote for the hero of your choice between 7 a.m. and 6 p.m. Eastern Time.
But you don't have to make that choice alone. Your trusty comics blogger is both a hardcore superhero nerd and a longtime DC resident -- so it's impossible for him to ignore the siren song of this particular exercise in virtual democracy. That's why he's taken a good hard look the platforms of these municipal marvels, these candidates-in-capes, these powered pols.
After the jump: Meet the candidates - strengths, weaknesses, oppo research, and where they come down on DC voting rights.
Note: All quotes used below come directly from the candidates' websites.
The Candidate:
Superman, The Man of Steel.
How's His Slogan?
"A Super Guy for a Super City." Meh.
Name Recognition:
Crazily high.
Pet Issues:
America First ("Superman supports making the United States of America always the first on country drop-down forms"). Access to Communication ("If elected, Superman will take a stand against the disappearance of telephone booths from downtown"). Actually, go read his whole issues page, it's nicely done.
In His Own Words:
"I'm impressed by the quality of Five Guys establishments, and I enjoy the free peanuts the restaurant provides. But I still contend that In-N-Out burgers on the West Coast provide a superior burger." Dissing the local burger chain in favor of hippy-dippy California -- that right there's a gaffe of Bidenesque proportions.
Strengths:
Saved the world a few kajillion times. And by fully disclosing his alien roots from the beginning; he's blunted the powerful anti-xenomorph attack machine. His decision to apologize for Superman III and Superman IV on his campaign website, although politically risky, seems to have earned him credit amongst all people who can see, hear and think.
Weaknesses:
Kryptonite, magic. Also has trouble with message discipline. Dogged by questions over his birth certificate. Invulnerable to conventional weaponry, but vulnerable on his loyalties -- the guy's always flying off into space for months on end.
DC Voting Rights?
He's for 'em.
Pander Alert:
"Superman's recent decision to come out of the closet as an Alien American has reinforced his belief that all people, regardless of their identity, have the right to be out, proud, and super. "
Our Take:
Okay, he's Superman. He's the front runner. Which, right there, is the problem with him -- Superman's ALWAYS the front runner. Everything comes easy to the Man of Steel; he was born with a glowy crystal spoon in his mouth.
He's clearly the man to beat, especially since he can do that squeeze-coal-into-diamonds thing whenever the campaign coffers get low. But will a man who can change the course of mighty rivers and bend steel in his bare hands truly be happy going over municipal agency performance objectives to ensure they're on track with 5-year projections? And do you want to have a glass of milk with him?
-------
The Candidate:
Wonder Woman. The Amazing Amazon.
How's Her Slogan?
"Making DC Wonderful" Not bad.
Name Recognition:
High.
Pet Issues:
Kind of an issue smorgasbord: Truth. Same-Sex Marriage (Once again: "The Amazing Amazon".) Targeted Intervention to Prevent Genocide. Transportation.
In Her Own Words:
"I have dedicated my life to pursuing the self-evident truths of democracy through transparency, to equality and empowerment of the underserved and to peace and security."
Strengths:
As the only candidate who's a longtime DC resident, she alone can deflect charges of carpetbagging like so many bullets.
Weaknesses:
She's associated with terrorists. (Her fellow Amazons recently waged war on the US.) Also, she killed a guy -- a bad guy, sure, but you can't win in DC with a pro-capital punishment agenda. Especially if it's you who's capitally punishing.
DC Voting Rights?
"Wonder Woman has worked her entire life to ensure that true democracy prevails. Without statehood, citizens of the District of Columbia are no better than colonial Americans before the Revolutionary War." So, yeah, she's for 'em.
Pander Alert:
"Plus, I show leg."
Our Take:
Building a strong anti-corruption campaign around her magic lasso (which forces people to tell the truth) might be a gimmick, but gimmicks can work, and DC is still smarting from some recent abuses of the public trust. She's one to watch.
---
The Candidate:
Spider-Man. Ol' Webhead.
How's His Slogan?
"Spider-Man for Mayor." A little on-the-nose, no?
Name Recognition:
High.
Pet Issues:
Crime (He's AGAINST it.) Education (FOR it.) Health care (He's sick and tired of having to pay through the nose for Aunt May's medicine, dammit.)
In His Own Words:
"Understanding that with great power comes great responsibility, I believe we all have the ability to be transformational figures in our community. Not everyone can have super powers, but we all can be amazing."
Strengths:
He's ready with a quip, and, as a photographer himself, knows the value of a good photo op. Publicly revealed his identity to the world, scoring points for transparency.
Weaknesses:
Then a demon came along and made the world forget about that whole "revealed his identity" thing, which has left him open to charges of flip-flopping. Contentious relationship with the media (well, one particular media outlet, anyway.)
DC Voting Rights?
Spidey's silent on the issue.
Pander Alert:
"Like parents across the city, Mr. Parker is sick of elected officials working for their own personal financial interests at the cost of DC students' health and safety."
Our Take:
Well, he's got the common touch, but his website contains some patently false assertions about this lifelong resident of Queens, New York: ("Peter Parker has spent his life committed to serving his community and the greater DC area.") Remains to be seen how such a loose attachment to the facts will play with voters.
------
The Candidate:
Green Lantern. The Emerald Gladiator.
How's His Slogan?
"Lighting Up DC's Future." Not bad.
Name Recognition:
Medium.
Pet Issues:
Green Jobs (geddit?), Education, Immigration Reform
In His Own Words:
"I deeply understand the challenges facing the District. By combining my superhero willpower and my passion for local politics and justice, I am committed to illuminating our nation's capitol (sic)."
Strengths:
As a space-cop, he'll be big with law-and-order types and will likely secure police/firefighter endorsements.
Weaknesses:
Was once famously confronted on the racial issue: "I been readin' 'bout you... how you work for the blue skins... and how on a planet someplace you helped out the orange skins... and you done considerable for the purple skins! Only there's skins you never bothered with... the black skins! I want to know... how come?! Answer me that, Mr. Green Lantern!" If that clip turns up on YouTube, it's game over.
DC Voting Rights?
He's for 'em.
Pander Alert:
'"I've never been prouder to be Green," the Lantern explained at his 3rd annual DC Green Jobs Fair.'
Our Take:
It must be acknowledged that much of the goodwill that's come Green Lantern's way so far has more to do with his superhero codename than his viability as a candidate. As noted above, he's picked up support from the Green movement, along with the backing of those members of the local homosexual community who frequent a DC gay bar that bears his name. He's well positioned, but he's got an uphill battle.
-----
The Candidate:
The Atom. The Mighty MIte.
How's His Slogan?
"No Problem Too Small." Okay, that's pretty good. Because he shrinks, see.
Name Recognition:
Medium to Low.
Pet Issues:
Education. Civil Rights. Environment. An end to street-cleaning parking tickets.
In His Own Words:
"In a race where every candidate is a superhero, DC wants a candidate who can tackle real issues, big or small -- and I mean that both literally and figuratively!"
Strengths:
He's the candidate who's gone the furthest to embrace the power of web video.
Weaknesses:
His wife went nuts and killed some folk.
DC Voting Rights?
Doesn't mention 'em.
Pander Alert:
'On the steps of City Hall, Mayoral candidate The Atom came out in (sic) against the current practice of ticketing citizens for simply for (sic) parking on their street during street cleaning.'
Our Take:
Maybe I'm just a sucker for his "standing up for the little guy" schtick, but I think he's got a chance. I like his stance on street-cleaning tickets, but his silence on DC voting rights is troubling. Plus, dude needs a proofreader.
----
The Candidate:
Cyborg. The, uh, Cyborg.
How's His Slogan?
"Fighting for DC." All right, we get it, you're manly. Jeez.
Name Recognition:
Wait - who, now?
Pet Issues:
Education, Opportunity, Safety.
In His Own Words:
"I'll work to make Washington DC the best city in the country. We can get there, and we'll do it through dynamic education programs, job creation and public safety."
Strengths:
Compelling personal narrative (following interdimensional accident, scientist father replaced destroyed body parts with cybernetic enhancements). Combines street cred with strong support from the tech sector.
Weaknesses:
Arguably the lowest Q rating of all the candidates. Known to associate with Gar "Beast Boy" Logan, who's not a criminal or anything, but is SERIOUSLY annoying.
DC Voting Rights?
No mention of 'em.
Pander Alert:
"Cyborg is opposed to the police checkpoint program which has been recently contested in federal court."
Our Take:
A compelling, ambitious platform devoted to mentoring DC's kids and channeling them into high tech jobs. If anyone actually hears this guy's message, he's got a shot.
---
The Candidate:
Batgirl. (The candidate seems to be a mashup of at least two different versions of the character: the well-known Barbara Gordon Batgirl, aka "The Dominoed Daredoll" -- and her descendant, the once-mute, now merely taciturn Cassie Cain Batgirl, who speaks only the language of butt-kicking.)
How's Her Slogan?
"Actions Speak Louder Than Words." See, 'cause of the muteness.
Name Recognition:
Medium.
Pet Issues:
DC voting rights. Equal Rights. Education.
In Her Own Words:
" ....... "
Strengths:
A tough-as-nails fighter. Has overcome tremendous odds. Also: Grooviest theme song ever, which is saying something.
Weaknesses:
Former assassin. Laconic nature might strike voters as snootiness.
DC Voting Rights?
Oh, my, yes. It's the first issue she lists.
Pander Alert:
"Batgirl was on Twitter today and twitted that she sends her condolences to the Jackson family especially his children."
Our Take:
Batgirl's having some trouble defining herself -- who she is (Commissioner Gordon's daughter? A deadly assassin?) and what she's about. Still, though: Groovy theme song.
----
The Candidate:
Batwoman. Yes, her. The lesbian one you read about.
How's Her Slogan?
"Batwoman for DC Mayor." ... Okay, look, she doesn't have time to focus-group a slogan! She's got things to do!
Name Recognition:
Medium.
Pet Issues:
Equality ("Batwoman opposes Prop 8." Well, duh.) Health Care. Education. Crime.
In Her Own Words:
"I have spent a majority of my adult fighting (sic) against corruption and crime as a superhero. I now look to continue my service to the people of DC by working to reduce violent crime, ensure that all residents are able to see a doctor when ill and that every person is able to marry the person they love."
Strengths:
Another tough, street-level fighter who knows how to clean up the city: With great big honkin' goon-kickin' red boots.
Weaknesses:
Immense family fortune leaves her open to charges of being out-of-touch.
DC Voting Rights?
Yep.
Pander Alert:
"There is a serious threat to equality on Georgetown University's campus. Birds do not enjoy the same freedoms as students. And I'm talking about one bird in particular: the Sellinger Sparrow, who has been trapped in the Leavey Center for months now."
Our Take:
Not only is Batwoman calling for an end to taxation without representation -- she, like The Atom, Wonder Woman and Batgirl -- is protesting the city's Draconian street-cleaning parking laws. Okay, it's not "Ask not what you can do for your country," but it hits me where I live.
Plus, if elected, she'd make history: She'd be the first Jewish lesbian superhero mayor since Ed Koch.
--------------
Y'all can vote for whomever you wish, but all politics is local -- and this DC resident is voting Batwoman.
FINAL RESULTS:
In the end, DC residency -- and a willingness to compel confessions out of suspects via golden lasso -- won out. It was Wonder Woman in a squeaker over the Attom. 3rd place: Green Lantern.
But don't feel too bad for GL: Variety reports he's gonna get played by Ryan Reynolds in a movie that starts filming next year. Wonder Woman's still in turnaround, and let's just say Hollywood isn't exactly swimming in screenplays for tentpole Atom vs. the Dust Bunnies flicks.