Radio Reads: Books Capture The Essence Of The Dial
Radio Reads: Books Capture The Essence Of The Dial
The media theorist Marshall McLuhan once said, "I live right inside the radio when I listen," and as someone who spends his workdays at home alone, I know this all too well.
If you listen to radio, you know it's an intimate medium, and, no offense to my cat, for me, radio is an essential companion.
If you've ever known that feeling, even for a moment, then these three books might be on your wavelength.
'Big Beat Heat'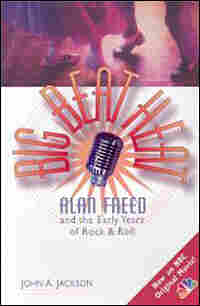 Big Beat Heat: Alan Freed and the Early Years of Rock & Roll, by John A. Jackson, Paperback, 400 pages

In Big Beat Heat, author John A. Jackson crafts a biography of the pioneering disc jockey Alan Freed, along the way combining an inside-showbiz yarn with a study of integration on the Billboard chart. It was rumored that Freed single-handedly created 1950s youth culture, invented the term "rock 'n' roll" and broke racial barriers as if he were the Branch Rickey of the turntable. In fact, Freed — who was a concert promoter and always a self-promoter — rumored all of this himself. What Freed really did was introduce Chuck Berry and other future greats to a mass audience.

Ruined in the payola scandal of 1960, Freed was dead of cirrhosis within five years, and in Big Beat Heat, the story of his life is part a hero's swinging journey, part cautionary tale — all set to a grooving dance beat.
'Raised on Radio'
Raised on Radio, by Gerald Nachman, Paperback, 544 pages
Gerald Nachman's Raised on Radio presents a lively history of radio's golden age by surveying the airwaves of the 1930s and '40s. While paying tribute to The Lone Ranger like he's a mask-wearing member of the fan club, Nachman also plays his part as detached cultural critic capturing the blase essence of Jack Benny, who is described as an "anticomedian" who "used silences to compel attention."

Benny is one of the book's two big heroes, the other being Edward R. Murrow, who stands out as a newsman whose delivery seemed "the antithesis of showiness" on account of his "short ... slow ... quiet ... understated ... sentences."
'Human Voices'
Human Voices, by Penelope Fitzgerald, Paperback, 208 pages
There's nothing understated about London during the Blitz. In Human Voices, Penelope Fitzgerald uses the BBC's wartime programming as inspiration for a darkly droll novel. While bombs fell on a blacked-out city, the Beeb delivered news, relayed defense instructions and tended to the national soul.

The book's best scenes convey a hectic atmosphere of improvisation, as when an employee preemptively pulls the plug on a hysterical French general. The ensuing 10-minute stretch of silence is far preferable to the old soldier's demoralizing cry that German victory was inevitable.
Human Voices, Big Beat Heat and Raised on Radio all come through live and direct, loud and clear. We live inside the radio when we listen, and radio springs to life when we read these three books. Tune into any of them for keen commentary, muscular storytelling and the fine sound of a distinctive voice.
Three Books ... is produced and edited by Ellen Silva and Bridget Bentz.