Should Everyone Go To College?
Should Everyone Go To College?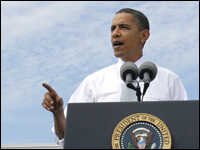 Bill Pugliano/Getty Images
President Obama has been urging Americans to pursue at least one year of education beyond high school. On Tuesday, he unveiled a plan that aims to help more students graduate from community colleges.
Obama and others say most new jobs being created require at least a two-year college education. But that notion is being challenged by those who say formal schooling might not be the answer for everyone.
The President's View
The president announced his plan at Macomb Community College in Warren, Mich. — the perfect backdrop for his message. Warren is reeling from auto-industry job losses, and many are anxious to know what new jobs, if any, are on the horizon.
Obama said community colleges are an essential part of the nation's economic recovery.
"We know that in the coming years, jobs requiring at least an associate degree are projected to grow twice as fast as jobs requiring no college experience," Obama said. "We will not fill those jobs or even keep those jobs here in America without the training offered by community colleges."
Jamie Merisotis of the Lumina Foundation says Obama is endorsing what many education experts believe: Jobs, now more than ever, will require at least a two-year degree.
"What I like about the president's plan is that it recognizes that not everybody needs a bachelor's degree," Merisotis says. "Some people need an associate degree; some need a certificate or credential that will allow them to be successful in the work force."
'An Impossible Dream'
But Richard Vedder, an economics professor at Ohio University, says it's not true that everyone needs at least a two-year degree.
"A huge percentage of our nation's human capital is created in on-the-job training, not through formal schooling," Vedder says.
Vedder has spent the past 44 years teaching economics and writing about the connection between higher education and the labor force. He says he has been wary of Obama's higher education agenda ever since the president told a joint session of Congress that every American should pursue some form of education beyond high school.
"When I heard that, I was somewhat shocked because I think it's an impossible dream," he says.
Not everybody has the interest, the ability or the need to pursue a college degree, Vedder says. And more to the point, the government's own data show that most of the new jobs Obama talks about may require some kind of training, but not a college education.
"It doesn't take a huge amount of skills to be a bartender, for example," Vedder says. "It doesn't take a lot of skills to work in fast-food places, in retail trade and so on. These are not always high-paid jobs, but not everyone in America can have a job that pays above the average."
Vedder says that, according to the Bureau of Labor Statistics, only five of the 25 fastest-growing occupations over the next decade require any kind of college degree. The rest include jobs like office clerks, home care and health aides, janitors and maids — not exactly the nursing or green technology jobs Obama highlighted in his speech. Vedder says the president is cherry-picking his data.
'An Audacious Goal'
Still, Merisotis insists the president's plan is the right approach.
"A dramatic increase in the number of Americans with college credentials is absolutely essential for our economic, social and cultural development as a country," Merisotis says. "It's an audacious goal, however."
He says it's the higher education equivalent of a moon shot.