Dig Finds A Thriving Cultural Mecca In Indianapolis
Dig Finds A Thriving Cultural Mecca In Indianapolis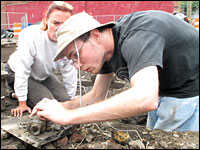 Urban renewal in the 1960s and 1970s changed the landscape of many American cities. In Indianapolis, an African-American neighborhood was largely bulldozed to make way for a new university.
But now, archaeologists are finding evidence suggesting that it wasn't as blighted as portrayed before it was destroyed. They say the neighborhood's history deserves a rewrite.
When 86-year old Tom Ridley pulls out a picture of a bustling Indiana venue during its heyday, he cradles it in his hand like an old family photo.
"I carried papers down through here when I was a little boy," he says. "Here's some of the buildings that used to be on the avenue. Like barbershops, grocery stores, shoe shops — anything you'd just about want."
A Vibrant Community
The area was the economic center of the city's vibrant African-American community. It was known as a rowdy post-Prohibition jazz mecca, Oscar Robertson's playground, and home to cosmetics magnate Madam C.J. Walker, often called the nation's first self-made female millionaire.
Ridley says Walker's factories propped up the neighborhood until waves of real estate agents started knocking on doors when property values declined in the late 1960s.
"I think maybe there's only three buildings left on the whole street," he says.
Indiana University began buying up land here — 3,000 plots in total — and razed buildings to build a new regional campus as part of the city's urban renewal efforts. Now, in place of jazz clubs and barbershops are acres of parking lots that line Indiana Avenue.
Complicating The Narrative
Paul Mullins is an archaeology professor at Indiana University-Purdue University Indianapolis who is leading the dig. He wants to unearth the truth about Indiana Avenue's 1960s reputation as a blighted neighborhood — one that, he says, made it easier for university officials to pay less for the land.
"We want to complicate the dominant narrative that there was simply a declining, mostly African-American neighborhood here," he says. "And we want to paint a picture. We want to complicate easy caricatures. And archaeology does it very well."
So far, the dig has turned up crystal light fixtures, medicine bottles and other items suggesting middle-class wealth.
"It seems like this area was actually thriving, so when we dig through, [we] find things that people owned that obviously wouldn't belong in an area that was actually blighted," says student Zach Harner, who says each item helps fill out the neighborhood's character.
Glenn Irwin was chancellor of the university at the time, and he defends its urban renewal plan. He says the school's efforts created thousands of jobs and brought millions of dollars to a stagnant neighborhood.
"We paid a good price," Irwin says. "We had real estate people bargaining on these all the time. There was considerable uproar by the local community about that. But these were the most dilapidated buildings you could imagine."
Nationwide Trend
University of Illinois professor Chris Fennell says similar digs around the country are starting to draw attention to the cultural and historical importance of what was lost in many American cities during their headlong rush toward urban renewal.
"There's definitely a growing number of these nationwide," Fennell says. "And it's a difficult process, but it's one that, at the end of the day, people move forward in their thinking by working through it — even though it's going to cast very awkward and negative lights on certain periods and certain players in American history."
Can't Go Back
Even though the vast majority of the neighborhood is missing, city leaders here began touting Indiana Avenue as a cultural destination for tourists a few years ago. But for Ridley, who has lived in the neighborhood for most of his 86 years, what's left in the dirt under the parking lots can't make up for what was bulldozed.
"So they can talk about bringing it back," Ridley says. "If we had more of the old buildings still around, you could talk about some of the things that were around here.
"But we don't have that, see, they're gone," he adds. "All we can show them is parking lots."
And it's those very parking lots that have kept the neighborhood's rubble so well intact.
The items pulled from the dig will soon find a permanent home in one of Indiana Avenue's few remaining buildings — Madam Walker's vaudeville theater.
Daniel Robison reports for member station WFIU.
Correction
July 28, 2009
In the audio version of this story, a student who was quoted as being Zack Harner was actually Brandon Muncy. A previous Web version's photo caption incorrectly identified a student as Brenden Muncie. He is actually Michael Essex. The text has been corrected.