Latina Jazz: Spanish-Speaking Vocalists
Latina Jazz: Spanish-Speaking Vocalists
Every now and then, I speak with Scott Simon about various styles of music that come from the Spanish-speaking world. This time, we discussed four different female vocalists.
Here are four albums, all largely sung in Spanish, which all embrace old traditions to create something new. Many of the artists featured here are part of a larger movement among jazz musicians from Latin American countries to create a sound that borrows equally from Latin music and jazz.
And to round it up to five, I picked another favorite vocalist.
For more entries in the Take Five series, click here. And don't forget to subscribe to the Jazz Notes newsletter.
Latina Jazz: Spanish-Speaking Vocalists
Magos Herrera
Song: Reencuentro
from Distancia
Magos Herrera is from Mexico, and has a deep, rich voice perfectly suited to the bolero, or love ballad. Now based in New York, her new album, Distancia, is her first U.S. release and is full of the cultural mash-up that has made her extremely popular in Mexico and throughout the Spanish-speaking world. She sings in Spanish, English and Portuguese as well. I even hear a little Joni Mitchell in her fluid approach to the lyrics, and more specifically, the purity of her voice and how she surrounds it with very creative settings: a little jazz, a little pop, a little bit of "world" music.
Venissa Santi
Song: Tu Mi Delirio
from Bienvenida
Venissa Santi is a young Cuban American vocalist based in Philadelphia. She's said her music is one-half jazz and one-half Cuban. And though the mixing of Cuban music and jazz dates back to the 1940s, Santi is on a very short list of vocalists who have taken on the musical challenge of mixing jazz and Spanish. To my ear, you can't always cut and paste English lyrics over a song structure that was written in Spanish, or vice versa -- it doesn't always work out mathematically. But I think she can. On "Tu Mi Delirio," a very old bolero, she works rolling R's and multi-syllabic words into an uptempo, almost bebop delivery.
El Bosque Armado (La Canoa)
Susana Baca
Song: El Bosque Armado (La Canoa)
from Seis Poemas
Susana Baca is one of the great voices of modern Peru. She's taken the country's Afro-Peruvian musical heritage to stages and airwaves around the world, becoming a key figure in reviving a culture that had been largely ignored within its country. Her forthcoming album, Seis Poemas, isn't quite jazz. It is a tribute to a great voice of Peru from a different era: Chabuca Granda, a folk singer who became iconic to progressive movements and musicians throughout Latin America. With sparse arrangements, Baca emphasizes the lyrics, underscoring the renown Granda had as a songwriter depicting the simple beauties of Peruvian life and culture.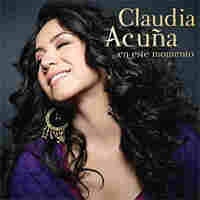 Claudia Acuna
Song: Te Recuerdo Amanda
from En Este Momento
Originally from Chile, Claudia Acuna is a little more established than our other vocalists so far, having recorded four albums here in the U.S. Interestingly, while Acuna didn't speak much English when she came to the U.S. to pursue a career as a jazz singer, her early recordings were mostly in English. And over time she's reconnected with her native tongue to created a musical identity in both languages. Now, her output leans more toward Spanish. Her new album features well-known songs throughout Latin America, including three songs from Victor Jara, a poet/singer/songwriter and political activist killed by the Pinochet regime in 1973.
Martirio
Song: Porque Vas a Venir
from Mucho Corazon
With everpresent dark glasses and flamenco-inspired hairstyles, Spanish vocalist Martirio's physical presence is as unique as her musical output. It's appropriate that she goes by only one name because she's the only one doing what she's does: channeling flamenco, jazz and the traditional Spanish song form called copla. "Por Que Vas A Venir" is from her a 2001 release called Mucho Corazon. Get your Spanish dictionaries out: translating the lyrics reveals an intimate look at an unexpected love, as graced by trumpeter Jerry Gonzalez and the dark buleria of flamenco guitarist Raul Rodriguez.