Oh, Canada! Jazz From The True North
Canada's finest export to the world is hockey. If anyone knows of a swingin' jazz version of the Hockey Night In Canada theme, we'd love to hear it. Aside from icy sports, Canada has also exported music by many notable jazz artists, including Oscar Peterson, Diana Krall, Jane Bunnett, Paul Bley, Ingrid Jensen and D.D. Jackson, to name a few.
Canadians also support jazz through a number of jazz festivals, including the Festival International de Jazz de Montreal (one of the world's largest jazz festivals) as well as events in Toronto, Vancouver, Rimouski, Winnipeg, Victoria and more.
This week's Take Five skips from the provinces of Quebec and Ottawa over to British Columbia, featuring a jazz legend, a world-famous vocalist/pianist and a few Canadian musicians who are gaining wider recognition outside their home country. Listen to five songs below.
Oh, Canada! Jazz From The True North
Oscar Peterson
Song: Cookin' on the Trail
from Trail of Dreams: A Canadian Suite
Montreal native Oscar Peterson was one of the jazz world's most influential pianists. Trail of Dreams: A Canadian Suite is a sweeping, commissioned work that celebrates Canada from Prince Edward Island to Manitoba to British Columbia. The work was inspired by the 2000 opening of the Trans Canada Trail, a recreational trail that winds all through and around the provinces and territories. The recording does not sound like one of Peterson's traditional jazz trio dates. It incorporates jazz and classical themes in a loving tribute to his home and native land. The strings were arranged by renowned conductor, arranger and pianist Michel Legrand.
Diana Krall
Song: Black Crow
from Girl in the Other Room
Diana Krall, a native of Nanaimo, British Columbia, spent much of her childhood immersed in music, listening to records and, like her father, playing piano. Her piano skills led her to study at the Berklee School of Music, then with mentors Ray Brown, Jeff Hamilton and Jimmy Rowles, who convinced her to sing as well as play. Since then, she has released and sold many CDs, toured extensively around the world and continues to enjoy great popularity. "Black Crow" is a song written by a fellow Canadian singer and songwriter, Joni Mitchell.
Sophie Milman
Song: Beautiful Love
from Take Love Easy
Sophie Millman is the one artist on this list who wasn't born in Canada. She was born in Russia, raised in Israel and moved to Toronto with her family as a teenager. Moving to an English-speaking country brought some culture shock, but Millman was able to find her voice through music. Her professional career began when she was asked to sing a couple of songs at a Toronto club. Since then, her voice has brought her much acclaim, including a 2008 Juno Award for Vocal Jazz Album of the Year. She has toured the world. Still in her 20s, she has many years of success ahead of her.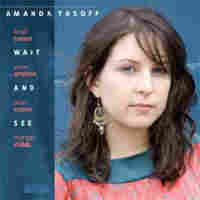 Amanda Tosoff
Song: Re-Entry
from Wait and See
Pianist and composer Amanda Tosoff, another musician only in her mid-20s, hails from White Rock, British Columbia. She has been living and playing in Vancouver recently, but will be moving on to Toronto this fall. In July, her quartet won the Grand Prix de Jazz at the Festival International de Jazz de Montreal, a prize that includes grant money, studio time and performance slots at a couple of jazz festivals. Wait and See, her second album, features only original compositions — no jazz standards, but the fast-paced tune "Re-Entry" is based on the jazz standard, "East of the Sun."
The Cory Weeds Quintet
Song: Biru Kirusau
from Everything's Coming Up Weeds
Cory Weeds is keeping jazz alive and well in Vancouver. He lives and breathes jazz. Aside from being a working musician, he also owns the Cellar Restaurant and Jazz Club, has a radio program and runs the Cellar Live record label. When he was younger, he spent many years playing piano, but made the switch to alto sax while still in high school. Weeds has now been a professional musician for about 18 years. "Biru Kirusai" features famed trumpeter Jim Rotondi, who composed the song along with saxman Eric Alexander.