Making A Meal Of Greek Meze
My parents moved from their native Greece to the American Dakotas in 1974, but never got used to the big, stick-to-your-ribs Lutheran dinners in the Midwest. Back in the Mediterranean, evening meals were a collection of small, flavorful dishes called meze, spiced with tiny sips of ouzo or the homemade firewater called tsikoudia, courtesy of my mother's Cretan family. And the food was always shared with friends or relatives who would stay to talk late into the night.
The main ingredient was always storytelling, my father's specialty. "You know, my main meze was figs until I was 25," he would tell his posse, who had developed creative ways of enjoying even the simplest foods during their austere childhoods in post-World War II Greece.
In summer, the evening meze crowd would gather on the tiny balcony in our tiny house in suburban Athens, savoring cheese and spinach phyllo triangles, minty and garlicky yogurt dips, crispy oregano-dusted fried potatoes, the spicy little meatballs called keftedes, grilled octopus, marinated anchovies and, of course, lots of fresh tomatoes, olives and pita bread. My earliest memories include those deeply comforting scents of meze and the openhearted laughter of people bonded to cuisine, culture and each other.
The meze nights got a lot quieter when we moved to the Dakotas, but they didn't die. Sometimes it was just the four of us — my parents, sister and I sharing keftedes and a giant tomato, feta and mint salad — but sometimes my parents' friends would join us and add their own flavors. A Lebanese family inspired my mother's love for spiced lentils and labneh, while the Scandinavian-descended western North Dakota natives tried to slip some lutefisk onto the spread. (The gelatinous fish dish didn't take, though my father developed a deep love for their potato salads.)
About The Author
Joanna Kakissis is a journalist and devoted foodie who recently finished a Ted Scripps fellowship in environmental journalism at the University of Colorado in Boulder, where she made a lot of new friends over meze nights. Her work appears in the New York Times, The Boston Globe, The Washington Post and other outlets.
As I grew up and moved around as a journalist, I grounded myself in each new locale by hosting meze nights for new friends. Sometimes, the gatherings were impromptu and meant getting creative with ingredients in my fridge: pan-fried olives in garlic, a quick tzatziki, an eggplant omelet, a watermelon and feta salad. When I had more time, I liked to experiment and use fresh produce from the local farmers market: fried banana peppers with whipped feta and orzo pasta salads with fresh tomatoes in Raleigh, N.C.; chard fritters, mushroom phyllo triangles, beet salads and spicy carrot-mint yogurt dip in organic produce-loving Boulder, Colo. For me, nothing breaks the proverbial new-girl-in-town ice better than sharing a homemade meze spread.
I've gotten to know a lot of people this way. So did my father, who died 20 years ago but whom I still think about when my meze nights get into serious storytelling.
I was just 4 when we left Greece and didn't learn the narrative behind his popular fig story until I was a teenager in North Dakota. My dad grew up in a village in the western Peloponnese, orphaned and impoverished as a child. In August and September, when the fig trees were heavy with ripe fruit, my father would harvest as many as he could. He shared his figs as an evening meze with his grandmother, who would sometimes lightly grill them with a little olive oil over an open fire. He became so attached to this fig ritual that even after his grandmother died and he moved with his brothers to the port city of Piraeus, he prepared figs as the ultimate cheap meze comfort food: grilled figs with feta or goat cheese, dried figs pan-fried with oregano, fresh figs tossed with greens.
North Dakota had no figs, so he recalled the story while dressing sliced tomatoes from his garden with olive oil, wine vinegar and feta crumbles. I cut up my mother's fresh-baked crusty bread and joined him in the backyard.
"You might get fancy with your meze when you grow up," he said. "But the point is, you really only need something simple, like my figs or these tomatoes, if that's all you have. Be fancy or not, but always have the heart to share."
Related NPR Stories
Ouzo-Spiked Pork And Beef Keftedes
The anise-flavored Greek spirit, available at most liquor stores, animates these fried meatballs, a staple of meze plates. This recipe is adapted from my mother's recipe and from a recipe in Meze by Diane Kochilas (William Morrow Cookbooks, 2003).
Makes 30 to 40 keftedes
3/4 pound ground beef
3/4 pound ground pork
1 large onion, preferably red, grated
1 large tomato, skinned, seeded and grated
5 tablespoons fresh mint leaves, finely chopped
1/4 cup whole milk
1/4 cup ouzo
1/4 to 1/2 cup plain breadcrumbs
2 large eggs, beaten
1 1/2 to 2 cups flour for dredging
2 to 3 teaspoons salt
About 1 teaspoon of ground black pepper
Olive oil for frying
Mix ground meats and grated onion in a large bowl. Add grated tomato, mint, salt and pepper, and knead for about 3 minutes.
Add the milk and ouzo and mix well. Then add beaten eggs and breadcrumbs, and stir until liquid is absorbed. Cover the mixing bowl and refrigerate for at least an hour.
Spread out flour on a large plate, and add a few dashes of salt and pepper.
Take a tablespoon of the ground meat mixture, roll into a 1-inch ball and roll in the flour. Place each floured meatball on a clean plate.
Pour about 1 inch of olive oil into a large, heavy frying pan or skillet and heat on medium. Squeeze as many meatballs as possible into the skillet, but leave a little room to turn the meatballs. Fry until browned, and rotate to make sure all sides are browned.
After the meatballs are browned, remove and drain slightly on a large plate covered with paper towels.
Meatballs can be made several hours ahead and stored, covered, at room temperature. Serve with minty yogurt with carrots and garlic.
Minty Yogurt With Carrots And Garlic
This yogurt dip, one of my longtime meze standards, is so flavorful you can just eat it with pita bread. But I love combining the cool, kicky dip with warm meat keftedes and vegetable fritters. The recipe is adapted from Meze by Diane Kochilas (William Morrow Cookbooks, 2003).
Makes 8 to 10 servings
1/3 cup olive oil, divided
2 to 3 medium carrots, thinly sliced
3 garlic cloves, crushed
1/2 cup fresh mint leaves, julienned
2 cups thick Greek yogurt (2 percent or full fat, but never the chalky fat-free kind)
Salt to taste
2 to 3 tablespoons lemon juice to taste
Paprika, preferably Hungarian
Fresh mint leaves for garnish
Heat 2 tablespoons olive oil in a nonstick frying pan over medium heat. Add carrots and cook, stirring often, for about 5 minutes, or until the carrots are somewhat tender. Add garlic and mint, and stir until the garlic softens and the mint wilts.
Cool the carrot mixture.
In a mixing bowl, add the carrot mixture to the yogurt. Stir in salt, the remaining olive oil and the lemon juice. Refrigerate for at least an hour so the flavors can meld. (This can be made a day in advance.)
When ready to serve, sprinkle with paprika and garnish with mint leaves.
Chard Fritters With Cinnamon
My mother, a traditionalist cook from Crete, loves zucchini fritters, or kolokithokeftedes. But I like to experiment with other vegetables, especially chard, my favorite leafy green. It turns out that my favorite Greek food writer, Diane Kochilas, has a delicious chard fritter recipe from the Cyclades that I love and have adapted from her book Meze (William Morrow Cookbooks, 2003). This, too, can be served with minty yogurt with carrots and garlic.
Makes about 20 2-inch fritters
1 pound Swiss chard, finely chopped
Salt
3 large red onions, finely chopped
1/2 cup fresh dill, chopped
1/2 cup fresh mint leaves, julienned
3 big tablespoons tomato paste
1 teaspoon ground cinnamon
Freshly ground black pepper to taste
2 cups all-purpose flour
1 teaspoon baking soda
2 large eggs, beaten
Olive oil for frying
Wash chard well, toss with salt, and drain in a colander. Trim stems and chop well.
In a large mixing bowl, add chopped chard, onion, dill, mint and tomato paste. Add cinnamon and pepper.
In a separate bowl, combine flour and baking soda. Sprinkle flour mixture into the bowl with the chard mixture. Knead in the beaten eggs, and mix until the mixture is like very soft dough. Cover and refrigerate about 2 hours.
Fill a skillet with about 1/2 inch of olive oil and heat over medium. Take a tablespoon of the mixture, flatten into a rounded oval and drop into the hot oil. Fry both sides, remove with a spatula or slotted spoon, and then drain on a plate covered with paper towels.
Serve warm with minty yogurt and carrot dip.
Minted Beet Salad With Garlicky Yogurt
Roasted beet salads dressed in olive oil and thick yogurt are popular in Greece, especially in fall. I love beets enough to eat them all year. The cool yogurt and the sweet beets make a lovely, filling late-summer salad. This version is adapted from the Culinary School of the Rockies in Boulder, Colo.
Makes 8 to 10 servings
2 pounds beets, scrubbed, trimmed of greens
3/4 to 1 cup Greek yogurt (2 percent or full-fat)
4 1/2 tablespoons olive oil, divided
2 to 3 cloves garlic, crushed
1 tablespoon white balsamic vinegar
1 tablespoon rice vinegar
1/2 to 1/4 teaspoon of sugar
Salt to taste
1/4 cup fresh mint leaves, julienned, plus a few sprigs for garnish
Preheat oven to 350 degrees.
Wrap beets in aluminum foil, two in each package, and roast in the middle of the oven for 45 minutes to an hour. Unwrap the beets and allow to cool.
While the beets are cooling, combine the yogurt, 2 tablespoons of olive oil, crushed garlic cloves and salt to taste.
Once the beets are cool, slip off the skins, cut off the stems and cut the beets into 1/4-inch pieces.
Whisk together the vinegars, sugar and salt. Add remaining 2 1/2 tablespoons olive oil to the vinegar mix in a stream, whisking until the dressing is emulsified.
Add the mint to the beets, then the garlicky yogurt mixture. Toss well.
Chill for 2 to 3 hours before serving.
Manitaropitakia (Mushroom-Filled Phyllo Triangles)
Spanakopita (spinach pie) and tiropita (cheese pie) are the most popular savory Mediterranean phyllo pies. But because I'm a serious mushroom fan, I prefer these filling, flavorful phyllo triangles. If you have access to high-quality mushrooms from a farmers market, you can experiment with different varieties. This recipe is adapted from The Glorious Foods of Greece: Traditional Recipes from the Islands, Cities, and Villages by Diane Kochilas (William Morrow Cookbooks, 2001).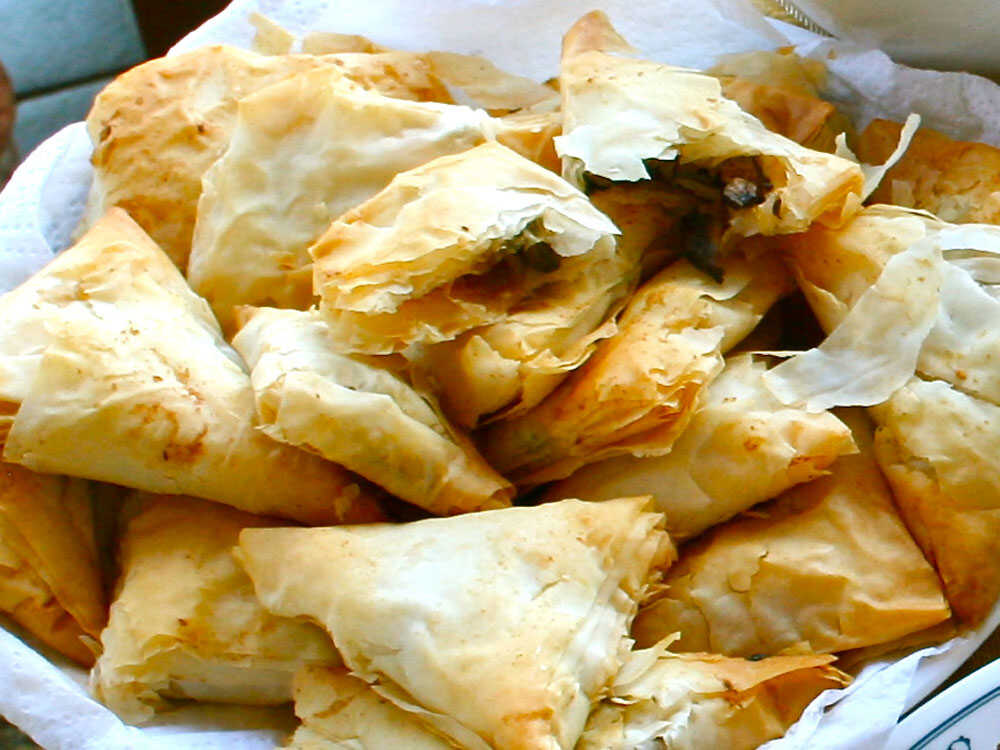 Makes about 20 triangles
3 tablespoons unsalted butter
3 medium onions, preferably red, coarsely chopped
1 to 2 teaspoons of Hungarian paprika
5 to 6 cups chopped shiitake, Portobello and button mushrooms, stems removed
Salt to taste
1/2 cup fresh chopped mint
1/2 pound phyllo dough at room temperature
Olive oil for brushing
Preheat oven to 350 degrees. Oil cookie sheet or pizza pan.
Heat butter in a large frying pan or skillet over medium heat. Cook onions until they are soft, 5-10 minutes. Stir in paprika, then chopped mushrooms. Season with salt, and simmer until much of the liquid has evaporated.
Remove from heat and add mint.
Unwrap the phyllo dough, and place the sheet on a flat surface. Cut lengthwise into four equal columns. To make sure the phyllo dough doesn't dry out, stack the columns and then cover first with a dry kitchen towel and then with a damp one.
Take one strip of the phyllo, brush lightly with olive oil, then layer another strip on top. Brush that layer lightly, too. Add a teaspoon of the mushroom mixture in the lower right-hand corner of the strip. Fold the right corner to make a right triangle. Keep folding, as if you are folding a flag, until the phyllo strip is used up. (Trim off any leftover phyllo).
Place phyllo seam-side down on an oiled cookie sheet or pizza pan. Brush top of phyllo triangles lightly with olive oil.
Bake in center of the oven about 15 minutes, or until pastries are golden and puffy. Serve warm.
Watermelon And Feta Salad
The combination of the sweet, crispy watermelon and salty feta make a perfect summer salad. This recipe is inspired by a recipe in Meze by Diane Kochilas (William Morrow Cookbooks, 2003).
Makes 4 servings
1 medium onion, preferably red, chopped or cut into thin rings
3 to 4 cups cold watermelon, cut into 1-inch cubes
1 cup of Greek feta, cut into 1/2-inch cubes or crumbled
1 teaspoon sherry, raspberry or white balsamic vinegar
1/4 cup fresh mint, julienned
Freshly ground pepper, to taste
Sprinkle the bottom of a large serving bowl with half of the chopped onion.
Place watermelon pieces on top of the onions in the large serving bowl. Top with feta and the rest of the onion.
Drizzle with vinegar and sprinkle with mint. Toss very gently, being careful not smash the watermelon.
Season with the black pepper and add a few mint sprigs for garnish. Serve immediately so the watermelon doesn't get mushy.