Iran: An Unlikely Treasure Chest Of Funk
A few months ago, the record dealer who sold me the majority of his Iranian collection told me that his recent finds in Tehran -- including Mehr Pooya's solitary LP of fuzz-guitar-soaked sitar funk -- were going to a well-heeled international collector. He'd already sold the heavy psych pieces and the Iranian presses of Led Zeppelin albums and The Beatles' Abba Road [sic] for stacks of euros before I got to dig through his collection.
I couldn't help feeling disappointed, but how could I be upset with him? This man, who insists on remaining nameless (though I'd like to showcase the determination with which he canvasses the streets of his city and brings home never-before-heard '60s garage rock and '70s psych-folk fusion) had provided me with some of my favorite records of recent years. Those albums and 45s, many of which he bought as new releases in the early '70s, gave me endless hours of enjoyment.
Here's some of the most beautiful music from my past purchases. On a recent trip to Texas, I ran into a cab driver in Austin who told me that he'd owned a copy of the Mehr Pooya album back when he lived in Tehran in the '70s. If I had a dime for every Iranian cab driver whose number I've stored in my cell phone on the hunt for records... well, I'd have had enough to buy that Mehr Pooya album in the first place.
Online information on Iranian recordings of the 1970s is limited, but some good resources are available. Try the Progressive Homestead page dedicated to Persian Fusion or Dario Margeli's online catalog.
Iran: An Unlikely Treasure Chest Of Funk
Hava Nagila
from Hava Nagila
by Dia Prometido
Having grown up in a household that frowned on TV (we didn't have one until I was 13) and reveled in Kurosawa revivals at New Haven's Crown Cinemas, I took great pleasure in Woody Allen films. I went to my uncle's house to watch Allen's movies on VHS tapes; I even got my parents hooked. I became a great fan of Hebrew folk fare and couldn't pass up the opportunity to buy this funky version of "Hava Nagila" when I heard it. It was released by Spaniard nationals living in pre-revolution Tehran. The album also contains a mind-expanding version of Simon & Garfunkel's "The Sounds of Silence" played with a tar (a type of lute) on lead.
Soul Raga
from Soul Raga
by Mehr Pooya
I can't describe the feeling I got when I first heard Soul Raga. It was one of those "Eureka!" moments. The song was released by Abbas Mehrpooya, known by many different spellings of his last name. Mehrpooya was an ambassador of the sitar in Iran, and his skills on the classical Indian instrument were legendary in Tehran during the early '70s. His sound places Ananda Shankar-style funk amidst Fela Kuti-inspired Afrobeat. He inspired at least one set of copycats, making sitar-funk an interesting sub-genre for the intrepid -- and deep-pocketed -- collectors of global psychedelic funk to obsess over.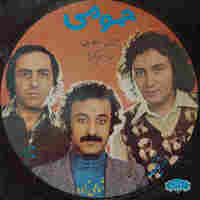 Kalakat
from Kalakat
by Shamaeezadeh
Not to get all "We Are the World," but Kalakat shows how little difference there is between Iranians and people of any other country. The album could just as easily have sprung from a band in Dallas as a band from Tehran. Shamaeezadeh, the soloist on "Kalakat," played flute and saxophone with Googoush in the early 1970s before striking out on his own. This 45 is one of his first works as a solo artist. Kalakat was arranged by the mysterious "Erik," a Frenchman of African origin. According to Dario, he was Googoush's live bandleader and her first call as arranger any time the diva wanted a funk, soul or samba feel in a recording. This 45 hints at the direction he might have taken had he received free rein to record the music he loved most.
Hajme El Khali
from Hajme El Khali
by Kourosh Yagmhei
One of the great male vocalists of 1970s Tehran, Kourosh Yagmhei released a host of melancholic, beat-heavy funk with a distinctively Persian edge. His releases range from weeping ballads to fuzz-intensive, polyrhythmic floor-shakers. Kourosh was rumored to have released an album in the mid-'70s, but I've never found a copy. Luckily, I've been able to add a number of 45s to my collection, including the brooding "Hajme El Khali," a meditation on loneliness. Kourosh, who still lives in Iran, has seen numerous bootlegs of his recordings come out of America in recent years. His son Kaveh is currently working to right that wrong; recent discovery of many Kourosh master recordings in Tehran will hopefully aid Kaveh in the process.
I Want To Take You Higher
I Want To Take You Higher
from I Want To Take You Higher
by Googoush
Googoush is the most famous Iranian diva of the 1970s, and she's also probably the most prominent musician from Iran today. Her records have sold from Tehran to Rome, and her global pop appeal has attracted legions of fans. Googoush's early recordings hint at a careful study of American soul stars like Aretha Franklin; she even released a dutiful cover of "Respect" in the late '60s. But it's this raucous cover of Sly and The Family Stone's "I Want to Take You Higher" that caught my attention. It was recently reissued on the Messin' With Sly compilation.
Egon is the general manager of the Stones Throw label. He also founded Now-Again Records, which reissues American funk and soul albums, as well as the Soul-Cal imprint with Peanut Butter Wolf. He DJs funk and psychedelia sets at venues all around the world.