'Eyetooth' Helps Restore Woman's Sight
'Eyetooth' Helps Restore Woman's Sight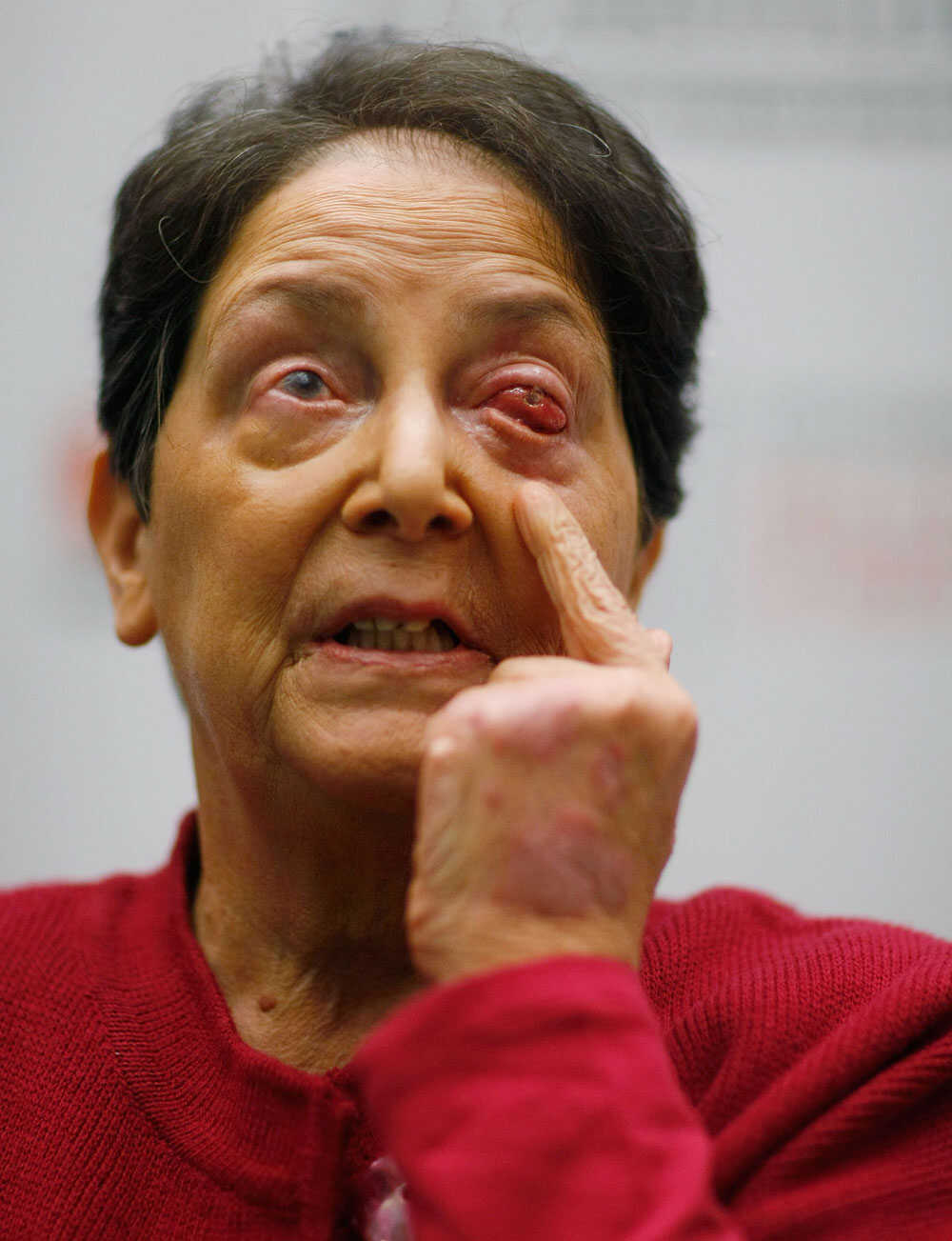 You've heard of an eye for an eye and a tooth for a tooth, but a tooth for an eye is the trade a Mississippi woman made in Miami to regain her eyesight after years of blindness.
Recently, 60-year-old Kay Thornton sat at a table in front of a growing audience in an auditorium at the Bascom Palmer Eye Institute at the University of Miami's Miller School of Medicine.
It had been a long journey for the Mississippi native, who was blind for the past nine years.
"If ya'll could take a week out and keep your eyes closed for a week," she said. "Just walk around your house and pretend you're blind for one week. It's amazing when you open your eyes back up."
She was blind through the births of seven grandchildren.
Her blindness was caused by Stevens-Johnson syndrome — a rare, life-threatening condition that causes outer layers of skin to separate from inner layers.
In Thornton's case, it left her corneas terribly scarred. She was blind and was told that nothing could be done.
But her daughter began researching hospitals and booked an appointment at Bascom Palmer, 1,000 miles from the Thornton home in Smithdale, Miss.
Two years of failed grafts and transplants followed, before a cornea transplant expert began his own work at Bascom Palmer.
Dr. Victor Perez was frustrated with cases of patients — like Kay Thornton — who are blinded by severe cornea damage.
The rest of her eye was fine, but simply put, the lens of her camera was too dirty.
Perez was lobbying to try out a foreign technique when, unprompted, a fellow doctor sent Thornton through Perez's door.
"Kay walked through my clinic, I saw her, I said, 'I know exactly what we're going to do with you,' " Perez said.
What he planned to do was something dreamed up by Italian doctors in the 1960s — pull out one of her teeth and transplant it into one of her eyes to help repair the damaged cornea.
With no other option, Thornton signed on.
Perez assembled a team, and for the next two years, they learned the procedure. They flew to Italy and flew Italian experts to Miami. They practiced with cadaver teeth and made trial versions of what they would do with Thornton's tooth.
Perez hoped it would be the greatest accomplishment of his life — and that he might be able to help an estimated 200 people like Thornton who have severely damaged corneas.
But if he botched it, the procedure would never catch on in the U.S.
"It's not that we're bringing a new simple procedure, we're trying to do a procedure that goes beyond the scope of ophthalmic surgery," he said. "I mean, there are so many steps that things can go wrong. Yeah, I had to live with the concept that if it didn't work, people would quit on it and might not even refer patients to me any more."
For all its potential complications, the procedure is actually pretty simple.
A hole is cut in the damaged cornea, and a clear acrylic tube is custom-made to allow light in — kind of like cutting a hole in the wall and sticking a telescope through. But without something to hold the tube in place, the system fails. That's where the tooth comes in.
Tooth bone and ligament have a better chance of living around the eye than a lot of other materials. So Perez removed Thornton's canine tooth, which is also called — no kidding — the eyetooth.
They sliced the root into a tiny plank and stuck the tube through the plank, then rested the plank/tube combination over the hole in her cornea.
On Labor Day weekend, the bandages came off — three years after Thornton first met Perez.
"It was a humbling experience," Perez said, to realize that Thornton could see again.
At a news conference Wednesday, Thornton took off her glasses. A tube like the end of a coffee stirrer poked out through a tender-looking skin graft covering the rest of the eye and holding the tooth in place.
The tiny tube darted around the room.
"I can see some of your figures," she said. "The lights are so bright. If the lights were dimmer I could see better."
She turned to Perez.
"I could see you up there at the podium," she said.
Perez said the vision in Thornton's eye is about 20/70 right now — with a magnifying glass she can read a newspaper. But over time and with glasses, her vision will be almost normal again.
He estimated that there are about 200 U.S patients like Thornton, but said the treatment might also help Iraq war veterans with corneal scarring from explosion burns.