An Exhaustive, Invigorating 'Case For God'
An Exhaustive, Invigorating 'Case For God'
The Case for God
By Karen Armstrong
Hardcover, 432 pages
Knopf/Random House, Inc.
List price: $27.95
Read An Excerpt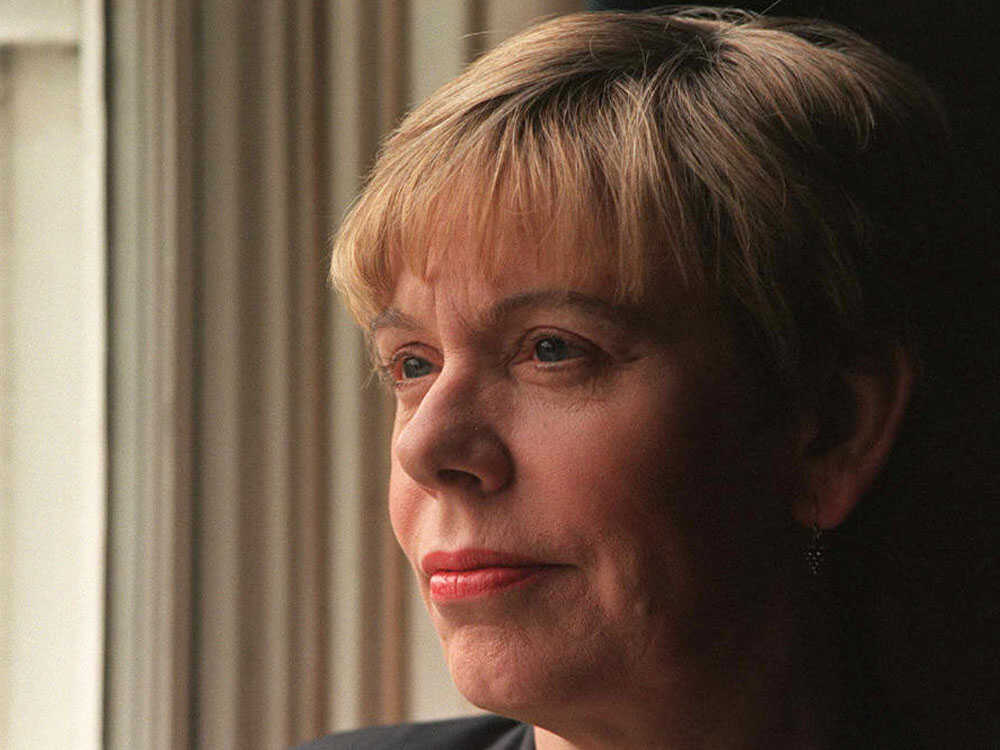 Gerry Penny/AFP/Getty Images
When I was 10, I used to stare up at the stars and try to imagine what infinity looked like. "What if our solar system is really just an atom in an even bigger solar system?"
The vast unknowability of the universe made me shiver. It was thrilling.
In her new book, The Case for God, Karen Armstrong argues that this very attempt to imagine the unimaginable and grasp the sacred cosmic order is like an attempt to know God. God, she writes, is "utterly transcendent. ... It is inaccurate to call God the Supreme Being because God is not a being at all."
It's heady stuff. Armstrong is a former nun turned ecumenical scholar. The Case for God, she writes, is intended to "bring something fresh to the table" amid the world's current religious contention.
Armstrong disdains fundamentalism and atheism, but she's not out to add to the shouting match. Her book is a call for a new practice of theology — one that embraces uncertainty and "truly speaks to all the complex needs of our time."
Surprisingly, she suspects we can achieve this by looking backward.
Until the modern era, Armstrong claims, religion was not something people thought, but something we did. It was a series of practices and rituals designed to help us "discover new capacities of mind and heart." And God was unknowable — undefinable, in fact.
It wasn't until the 16th century, she argues, that we began to see God as more of a personality. Science and religion were pitted against each other, and the Bible was read literally. These, she writes, have resulted in both extremism and atheism. Yet if we can learn from the past, perhaps we can "return to a theology that asserts less and is more open to silence." Perhaps we can better experience the ecstasy of God.
This is a tall order. But Armstrong is ambitious. The Case for God is an entire semester at college packed into a single book — a voluminous, dizzying intellectual history.
Beginning with the Paleolithic era, Armstrong documents the evolution of theology right up to today. From the Indian Aryans, Confucius and the Old Testament, she moves on to Plato, Aristotle, St. Augustine.
It's a whirlwind tour of philosophy. Pit stops are made along the way to explain the authorship of the Torah, the Holy Trinity and the etymology of the word "faith." Then we're off again! Virtually every great prophet, poet and scientist makes an appearance: Thomas Aquinas, Spinoza, Muhammad, Copernicus, Darwin, Einstein — right up to Derrida.
It's an exhaustive but lucid work. Reading The Case for God, I felt smarter. How could I not? It is so much about so much.
Yet it's not without flaw. Theology, after all, hasn't been shaped by ideas alone; political and economic concerns have always influenced doctrine. Yet Armstrong never acknowledges this. She presents religious thought unfolding in a pristine, intellectual bubble — as a dance between mythos and rationality only. This is a sinful omission.
No matter. Given the subject, readers will probably see in Armstrong's book what they want to. To some, it will be a jeremiad against spiritual laziness. To others, blasphemy. To me, The Case for God is a stimulating, hopeful work. After I finished it, I felt inspired. I stopped, and I looked up at the stars again. And I wondered what could be.
Susan Jane Gilman is the author of the new memoir Undress Me in the Temple of Heaven.
Related NPR Stories
The Case for God
Paperback, 406 pages |
purchase
Buy Featured Book
Title

The Case for God

Author

Karen Armstrong
Your purchase helps support NPR programming. How?
Excerpt: 'The Case For God'
The Case for God
By Karen Armstrong
Hardcover, 432 pages
Knopf/Random House
List price: $27.95
ONE
Homo religiosus
When the guide switches off his flashlight in the underground caverns of Lascaux in the Dordogne, the effect is overwhelming. "The senses suddenly are wiped out," one visitor recalled, "the millennia drop away...You were never in darker darkness in your life. It was--I don't know, just a complete knockout. You don't know whether you are looking north, south, east, or west. All orientation is gone, and you are in a darkness that never saw the sun." Normal daylight consciousness extinguished, you feel a "timeless dissociation from every concern and requirement of the upper world that you have left behind." Before reaching the first of the caves decorated by our Palaeolithic ancestors in the Stone Age, seventeen thousand years ago, visitors have to stumble for some eighty feet down a sloping tunnel, sixty-five feet below ground level, penetrating ever more deeply into the bowels of the earth. Then the guide suddenly turns the beam of his flashlight onto the ceiling, and the painted animals seem to emerge from the depths of the rock. A strange beast with gravid belly and long pointed horns walks behind a line of wild cattle, horses, deer, and bulls that seem simultaneously in motion and at rest.
In all there are about six hundred frescoes and fifteen hundred engravings in the Lascaux labyrinth. There is a powerful bellowing black stag, a leaping cow, and a procession of horses moving in the opposite direction. At the entrance to another long passage known as the Nave, a frieze of elegant deer has been painted above a rocky ledge so that they appear to be swimming. We see these images far more clearly than the Palaeolithic artists did, since they had to work by the light of small flickering lamps, perched precariously on scaffolding that has left holes in the surface of the wall. They often painted new pictures over old images, even though there was ample space nearby. It seems that location was crucial and that, for reasons we cannot fathom, some places were deemed more suitable than others. The subject matter was also governed by rules that we can never hope to understand. The artists selected only a few of the species known to them, and there are no pictures of the reindeer on which they relied for food. Animals are consistently paired--oxen and bison with horses, bison with mammoths--in combinations that would not occur in real life. Lascaux is not unique. There are about three hundred decorated caves in this region of southern France and northern Spain. In some the artwork is more elementary, but in all these caverns the imagery and layout are basically the same. The earliest site, at Grosse Chauvet, dates from about 30,000 BCE, a time when Homo sapiens seems to have undergone an abrupt evolutionary change in this locality. There was a dramatic rise in population, which may have resulted in social tension. Some historians believe that the cave art records a "corpus of socially-constructed rituals...for conflict control...pictorially encoded for storage and transmission through generations." But the paintings also express an intensely aesthetic appreciation of the natural world. Here we have the earliest known evidence of an ideological system, which remained in place for some twenty thousand years, after which the caves fell into disuse in about 9000 BCE.
It is now generally agreed that these labyrinths were sacred places for the performance of some kind of ritual. Some historians have argued that their purpose was purely pragmatic, but their upkeep alone would have required an immense amount of unproductive labor. Some of these sites were so deep that it took hours to reach their innermost core. Visiting the caves was dangerous, exhausting, uneconomical, and time-consuming. The general consensus is that the caves were sanctuaries and that, as in any temple, their iconography reflected a vision that was radically different from that of the outside world. We do not build temples like this in the modern West. Our worldview is predominantly rational, and we think more easily in concepts than images. We find it hard enough to decode the symbolism of a medieval cathedral such as the one in Chartres, so these Palaeolithic shrines offer an almost insurmountable challenge.
But there are a few clues to aid our understanding. A remarkable picture, dated to about 12,000 BCE, in a cave at Lascaux known as the Crypt because it is even deeper than the other caverns, depicts a large bison that has been eviscerated by a spear thrust through its hind-quarters. Lying in front of the wounded beast is a man, drawn in a far more rudimentary style than the animals, with arms outstretched, phallus erect, and wearing what seems to be a bird mask; his staff, which lies on the ground nearby, is also topped by a bird's head. This seems to be an illustration of a well-known legend and could have been the founding myth of the sanctuary. The same scene appears on an engraved reindeer horn at nearby Villars and on a sculpted block in a cliff shelter at Roc de Sers near Limoges, which is five thousand years older than the Lascaux painting. Fifty-five similar images in the other caves and three more Palaeolithic rock drawings in Africa have been found, all showing men confronting animals in a state of trance with upraised arms. They are probably shamans.
We know that shamanism developed in Africa and Europe during the Palaeolithic period and that it spread to Siberia and thence to America and Australia, where the shaman is still the chief religious practitioner among the indigenous hunting peoples. Even though they have inevitably been influenced by neighboring civilizations, many of the original structures of these societies, which were arrested at a stage similar to that of the Palaeolithic, remained intact until the late nineteenth century. Today there is a remarkable continuity in the descriptions of the shaman's ecstatic flight all the way from Siberia, through the Americas to Tierra del Fuego: he swoons during a public seance and believes that he flies through the air to consult the gods about the location of game. In these traditional societies, hunters do not feel that the species are distinct or permanent categories: men can become animals and animals human. Shamans have bird and animal guardians and can converse with the beasts that are revered as messengers of higher powers. The shaman's vision gives meaning to the hunting and killing of animals on which these societies depend.
The hunters feel profoundly uneasy about slaughtering the beasts, who are their friends and patrons, and to assuage this anxiety, they surround the hunt with taboos and prohibitions. They say that long ago the animals made a covenant with humankind and now a god known as the Animal Master regularly sends flocks from the lower world to be killed on the hunting plains, because the hunters promised to perform the rites that will give them posthumous life. Hunters often abstain from sex before an expedition, hunt in a state of ritual purity, and feel a deep empathy with their prey. In the Kalahari Desert, where wood is scarce, the Bushmen have to rely on light weapons that can only graze the skin, so they anoint their arrows with a lethal poison that kills the animal very slowly. A tribesman has to remain with his victim, crying when it cries and participating symbolically in its death throes. Other tribes identify with their prey by donning animal costumes. After stripping the meat from the bones, some reconstruct their kill by laying out its skeleton and pelt; others bury these inedible remains, symbolically restoring the beast to the netherworld from which it came.
The hunters of the Palaeolithic age may have had a similar worldview. Some of the myths and rites they devised appear to have survived in the traditions of later, literate cultures. Animal sacrifice, for example, the central rite of nearly every religious system in antiquity, preserved prehistoric hunting ceremonies and continued to honor a beast that gave its life for the sake of humankind. One of the functions of ritual is to evoke an anxiety in such a way that the community is forced to confront and control it. From the very beginning, it seems, religious life was rooted in acknowledgment of the tragic fact that life depends upon the destruction of other creatures.
The Palaeolithic caves may have been the scene of similar rites. Some of the paintings include dancing men dressed as animals. The Bushmen say that their own rock paintings depict "the world behind this one that we see with our eyes," which the shamans visit during their mystical flights. They smear the walls of the caves with the blood, excrement, and fat of their kill in order to restore it, symbolically, to the earth; animal blood and fat were ingredients of the Palaeolithic paints, and the act of painting itself could have been a ritual of restoration. The images may depict the eternal, archetypal animals that take temporary physical form in the upper world. All ancient religion was based on what has been called the perennial philosophy, because it was present in some form in so many premodern cultures. It sees every single person, object, or experience as a replica of a reality in a sacred world that is more effective and enduring than our own. When an Australian Aborigine hunts his prey, he feels wholly at one with the First Hunter, caught up in a richer and more potent reality that makes him feel fully alive and complete. Maybe the hunters of Lascaux reenacted the archetypal hunt in the caves amid these paintings of the eternal hunting ground before they left their tribe to embark on the perilous quest for food.
We can, of course, only speculate. Some scholars believe that these caverns were likely to have been used for the initiation ceremonies that marked the adolescent boy's rite of passage from childhood to maturity. This type of initiation was crucial in ancient religion and is still practiced in traditional societies today. When they reach puberty, boys are taken from their mothers and put through frightening ordeals that transform them into men. The tribe cannot afford the luxury of allowing an adolescent to "find himself" Western-style; he has to relinquish the dependency of infancy and assume the burdens of adulthood overnight. To this end, boys are incarcerated in tombs, buried in the earth, informed that they are about to be eaten by a monster, flogged, circumcised, and tattooed. If the initiation is properly conducted, a youth will be forced to reach for inner resources that he did not know he possessed. Psychologists tell us that the terror of such an experience causes a regressive disorganization of the personality that, if skillfully handled, can lead to a constructive reorganization of the young man's powers. He has faced death, come out the other side, and is now psychologically prepared to risk his life for his people.
But the purpose of the ritual is not simply to turn him into an efficient killing machine; rather, it is to train him to kill in the sacred manner. A boy is usually introduced to the more esoteric mythology of his tribe during his initiation. He first hears about the Animal Master, the covenant, the magnanimity of the beasts, and the rituals that will restore their lives while they are undergoing these traumatic rites. In these extraordinary circumstances, separated from everything familiar, he is pushed into a new state of consciousness that enables him to appreciate the profound bond that links hunter and prey in their common struggle for survival. This is not the kind of knowledge we acquire by purely logical deliberations, but is akin to the understanding derived from art. A poem, a play, or, indeed, a great painting has the power to change our perception in ways that we may not be able to explain logically but that seem incontestably true. We find that things that appear distinct to the rational eye are in some way profoundly connected or that a perfectly commonplace object--a chair, a sunflower, or a pair of boots--has numinous significance. Art involves our emotions, but if it is to be more than a superficial epiphany, this new insight must go deeper than feelings that are, by their very nature, ephemeral.
If the historians are right about the function of the Lascaux caves, religion and art were inseparable from the very beginning. Like art, religion is an attempt to construct meaning in the face of the relentless pain and injustice of life. As meaning-seeking creatures, men and women fall very easily into despair. They have created religions and works of art to help them find value in their lives, despite all the dispiriting evidence to the contrary. The initiation experience also shows that a myth, like that of the Animal Master, derives much of its meaning from the ritualized context in which it is imparted. It may not be empirically true, it may defy the laws of logic, but a good myth will tell us something valuable about the human predicament. Like any work of art, a myth will make no sense unless we open ourselves to it wholeheartedly and allow it to change us. If we hold ourselves aloof, it will remain opaque, incomprehensible, and even ridiculous.
Religion is hard work. Its insights are not self-evident and have to be cultivated in the same way an appreciation of art, music, or poetry must be developed. The intense effort required is especially evident in the underground labyrinth of Trois Freres at Ariege in the Pyrenees. Doctor Herbert Kuhn, who visited the site in 1926, twelve years after its discovery, described the frightening experience of crawling through the tunnel--scarcely a foot high in some places--that leads to the heart of this magnificent Palaeolithic sanctuary. "I felt as though I were creeping through a coffin," he recalled. "My heart is pounding and it is difficult to breathe. It is terrible to have the roof so close to one's head." He could hear the other members of his party groaning as they struggled through the darkness, and when they finally arrived in the vast underground hall, it felt "like a redemption." They found themselves gazing at a wall covered in spectacular engravings: mammoths, bison, wild horses, wolverines, and musk oxen; darts flying everywhere; blood spurting from the mouths of the bears; and a human figure clad in animal skin playing a flute. Dominating the scene was a large painted figure, half man, half beast, who fixed his huge, penetrating eyes on the visitors. Was this the Animal Master? Or did this hybrid creature symbolize the underlying unity of animal and human, natural and divine?
Excerpted from The Case for God by Karen Armstrong Copyright 2009 by Karen Armstrong. Excerpted by permission of Knopf, a division of Random House Inc. All rights reserved.