From Inside Military, A Rebuke Of Ban On Gays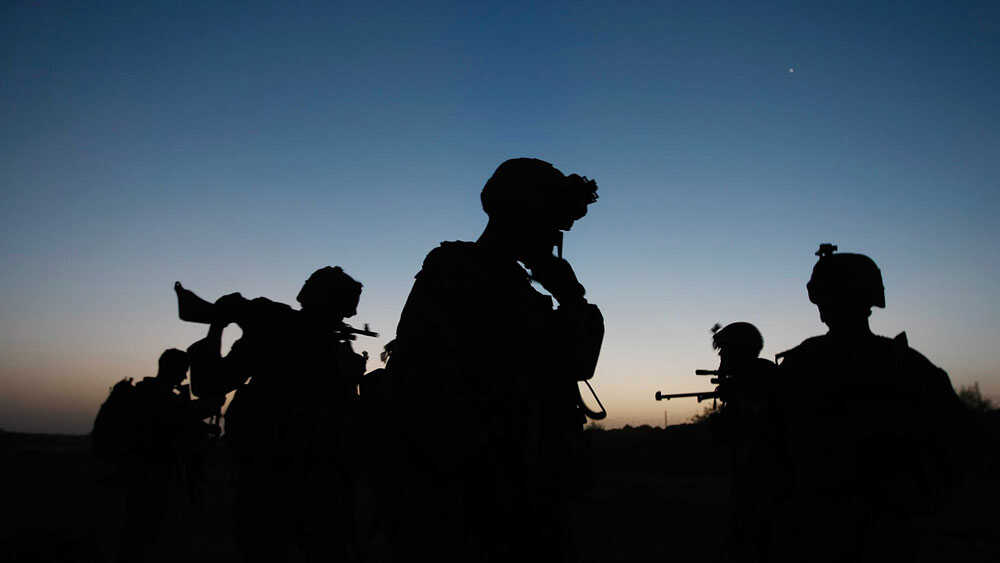 Gay rights activists this week hailed as groundbreaking the Pentagon's decision to publish an essay calling for the repeal of the military's "Don't Ask, Don't Tell" policy.
The analysis of the 15-year-old policy, which bars openly gay Americans from serving in the military, was notable not only for its systematic repudiation of arguments that gay service members harm military unit cohesion, but also for its unusual source and placement.
It was written by active Air Force Col. Om Prakash, and it appeared in the Joint Force Quarterly, a journal published for the chairman of the Joint Chiefs of Staff by the National Defense University Press.
"This is the first time that repeal has been argued so forcefully in an official Pentagon publication. Period," says Kevin Nix of the Servicemembers Legal Defense Network, which provides free legal services to those affected by the policy and lobbies for its repeal.
"We think it is significant — a breakthrough moment," Nix says.
But Is It Reflecting A Shift?
Pentagon officials caution that Prakash's piece made its way into the chairman's journal because it won an annual Defense Department essay contest. It was not commissioned by Adm. Michael Mullen, chairman of the Joint Chiefs of Staff and the nation's top uniformed officer.
"Broadly speaking, it is the chairman's magazine, and he wants it to be a forum for open debate and discussion for issues in the military writ large," says Capt. John Kirby, Mullen's spokesman.
"But there was no intention with the publication of this article to send any subliminal message to the force or the country about Don't Ask, Don't Tell," he says.
During the presidential campaign, then-Sen. Barack Obama said he would ask the Defense Department and senior command in every service branch to develop a plan for repealing the law. But with the Pentagon's hands full with wars on two fronts, there has been little progress — some say none at all — on those plans.
Interesting Timing
The article's timing, however, is fortuitous, activists say.
Senate Armed Services Committee Chairman Carl Levin, a Michigan Democrat, has said he will have a hearing on the law this month. Mullen, who has said any change in the ban "would require sound policy revisions and leadership," has agreed to appear before the committee.
A Senate bill advocating repeal is expected to be introduced in coming weeks; it would mirror the House version, which has more than 175 co-sponsors.
Read The Essay
Air Force Col. Om Prakash appeared this week in the Joint Force Quarterly, a journal published for the chairman of the Joint Chiefs of Staff by the National Defense University Press. Read the article:
And last week, Senate Majority Leader Harry Reid, a Nevada Democrat, wrote the president a letter urging him to exert needed leadership on the issue of repeal by bringing to Congress his recommendation for doing away with the policy.
Prakash's just-the-facts-ma'am essay, which argues that cohesiveness and morale are harmed, not helped, by the gay ban, can only aid arguments on Capitol Hill, says U.S. Army veteran Jarrod Chlapowski, who is openly gay. He has been working on the repeal issue since he left the military in 2005.
"One of the big things we've been waiting on is for the Pentagon to be more active in repeal, because Congress says that the Pentagon is the key," Chlaposwki says.
"To see that article in an official Pentagon publication, as opposed to hearing an activist on this issue, gives credence to the argument for a lot of people who perhaps wouldn't be sympathetic," he says. "It's so incredibly important."
Though some opponents of Don't Ask, Don't Tell have urged President Obama to issue an executive order halting continued implementation of the policy, permanent change has to come from Congress, which passed the original ban.
"It's more efficient to focus on Congress, because ultimately, it will have to be repealed through them anyway," Chlapowski says.
The Essay
Prakash works in the Pentagon for the undersecretary of defense for acquisition, technology and logistics. In his essay, he argues that the law has undermined the integrity of the military and that it flies in the face of equal rights — regardless of whether one views homosexuality as a choice or a genetic inevitability.
More than 13,000 service members have been ousted since the policy was adopted in 1993; there are now an estimated 65,000 active gay and lesbian service members.
Prakash is one of only a handful of active military officers who, in published comments, have called for a repeal of the law.
"It's pretty important that he would speak publicly," says Aaron Belkin, director of the Michael D. Palm Center, a public policy think tank at the University of California, Santa Barbara.
Belkin says, though there may be more, he can recall only one other military publication that has printed a strong pro-repeal article: a 2003 piece written by Belkin himself for Parameters, the U.S. Army War College quarterly. In addition, he can recall only one other active duty officer, besides Prakash, to air pro-repeal views publicly: a 2005 opinion piece written for the Army Times by an active-duty lieutenant colonel at West Point.
Writing about the law is a common phenomenon at military colleges, Belkin says. Prakash wrote his essay while a student at the National War College. In 2005, a West Point student won the school's senior thesis competition with a piece that argued that the ban violates military values.
"What's different about this is that it was published in an official military journal, and it's pretty important that he would speak publicly," Belkin says.
Reading The Tea Leaves?
However, Belkin expressed caution about what the article's conclusions, and its publication in Joint Force Quarterly, would ultimately mean for the repeal movement.
"To the extent that this is a moment of reading the tea leaves, it's only indicative of how the winds are blowing in the Pentagon if you know who approved its publication," Belkin says.
And Mullen's spokesman Kirby says that although the chairman's office reviews the magazine's content before publication, the chairman does not.
"This article appeared because it won an award," Kirby says.
But, Belkin says, the piece will no doubt be one of the "accumulated small weights" that activists believe will eventually lead to full congressional repeal of the controversial law — even though that may still be years down the road.