President Obama Brings Personal Ties To Asia Tour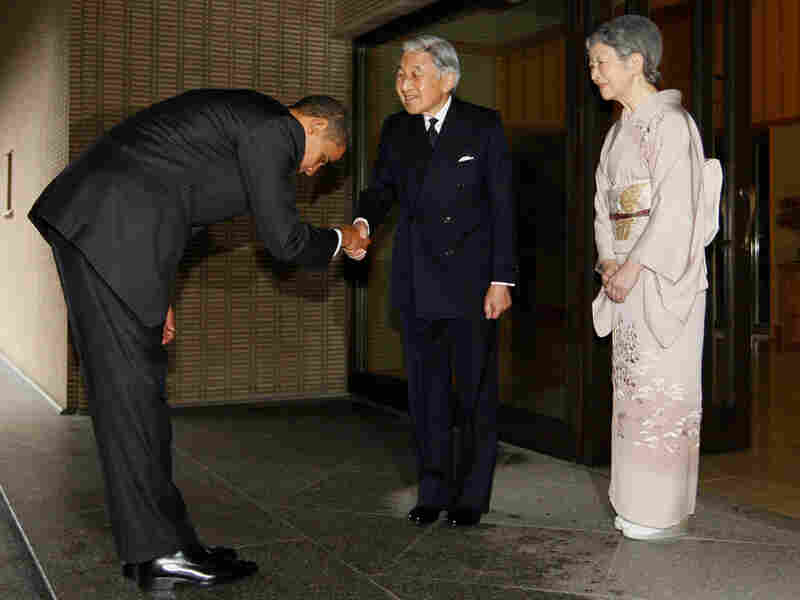 President Obama is vowing to strengthen U.S. ties to Asia in an effort to address global challenges such as climate change and the spread of nuclear weapons. Speaking in Tokyo Saturday, Obama also tried to sell renewed relations with Asia as a key to job growth here at home.
Obama spoke to about 1,500 people at Suntory Hall in Tokyo. But his message was also aimed at a wider audience: millions of people watching throughout Asia as the president makes his first extended visit to the region, and millions more in the United States whom Obama said aren't so distant as they might seem.
"The United States of America may have started as a series of ports and cities along the Atlantic Ocean, but for generations, we also have been a nation of the Pacific. Asia and the United States are not separated by this great ocean; we are bound by it."
For Obama, those ties are personal. The Hawaii-born, Indonesia-reared president recalled visiting Japan as a young boy, when his mother brought him there to see a centuries-old statue of Buddha, sculpted in bronze.
"As a child, I was more focused on the matcha ice cream. And I want to thank Prime Minister Hatoyama for sharing some of those memories with more ice cream last night at dinner."
Foreign policy speechwriter Ben Rhodes says Obama's Pacific childhood helps to shape his ideas about the region. But the president's overture to Asia is more than an accident of personal geography. Rhodes says it's also a recognition that America's future and Asia's are inextricably linked.
"This is obviously the fastest growing economic region in the world. For our own economy, it supports millions of jobs, a huge amount of our trade. There's potential there for more commerce between us, including the potential to create more American jobs through exports," Rhodes says.
The Obama administration still has some reservations about a major trade agreement with South Korea that has been signed but not ratified for more than two years now. Obama promised to work through those issues in order to move forward with the deal, and to join in talks aimed at a new trans-Pacific trade partnership.
"For America, this is a jobs strategy," Obama said. "Right now, our exports support millions upon millions of well-paying American jobs. Increasing those exports by just a small amount has the potential to create millions more. These are jobs making everything from wind turbines and solar panels to the technology you use every day."
Besides economic opportunity, Obama says, stronger ties to Asia are critical to stopping the growth of greenhouse gasses and controlling the spread of nuclear weapons. He challenged the leaders of Myanmar — also known as Burma — to take concrete steps toward democratic reform. And he warned North Korea to give up its offensive nuclear program, citing Japan as a model of a country that has prospered by embracing peaceful nuclear power while shunning nuclear weapons.
Japan is rapidly being overtaken in Asia — and throughout the world — by China's emerging power. Obama, who travels to China on Sunday, says that country's surging influence isn't necessarily cause for alarm. "In an interconnected world, power does not need to be a zero-sum game, and nations need not fear the success of another. Cultivating spheres of cooperation — not competing spheres of influence — will lead to progress in the Asia Pacific."
The president vowed to work pragmatically alongside China, where the two countries' interests are aligned. And even though China is now the United States' second biggest trading partner and its biggest foreign banker, Obama says he won't shy away from raising sensitive issues such as China's record on human rights.
"Of course, we will not agree on every issue, and the United States will never waver in speaking up for the fundamental values that we hold dear — and that includes respect for the religion and cultures of all people, because support for human rights and human dignity is ingrained in America. But we can move these discussions forward in a spirit of partnership rather than rancor."
While sticking up for religious freedom, Obama also noted that Asia is home to religious extremists — those he said defile Islam while planning attacks throughout the world. That's one more reason, he said, that Americans should know what happens in Asia can directly affect their lives at home.