The 50 Most Important Recordings Of The Decade: J-M
All Songs Considered's list of the 50 most important recordings of the decade continues, from Norah Jones through Jason Moran.
The 50 Most Important Recordings Of The Decade: J-M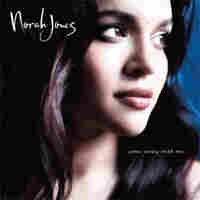 Come Away with Me
Song: Don't Know Why
from
by
The fact that Norah Jones is Ravi Shankar's daughter only added to the fascination spawned by this record, which at times reflects the country-music side of Ray Charles, the sensuousness of Billie Holiday and the cool soul of Nina Simone; plus, Jones was only 22 when it came out in 2002. Any time a record does crazily well, there's bound to be a backlash -- and this one sold roughly 20 million copies, which qualifies as doing crazily well -- but Jones can't be faulted for her ubiquity. Besides, Come Away With Me is a joy. -- Bob Boilen
Fijate Bien
from Fijate Bien
by Juanes
Juanes' social activism and sold-out tours make him one of the most influential artists of the decade. The Colombian vocalist and songwriter kicked off the '00s with the tremendous 2000 album Fijate Bien, then won the Best New Artist Latin Grammy and spent the rest of the decade living up to the honor. Ever since, he's sold millions while making intelligent, thought-provoking music. --Felix Contreras
Sound of Silver
Song: North American Scum
by LCD Soundsystem
Back at the start of the decade, James Murphy looked like an indie-dance version of Pharrell Wiliams: the more visible, more vocal half of a production duo (Murphy's DFA, Williams' Neptunes) making a splash by revamping genre tropes with retro sounds. DFA made disco sound like punk by emphasizing its raw body-moving qualities; when Murphy's on-the-mic alias LCD Soundsystem released the "Losing My Edge" single in 2002, it set the bar for skewering obsessive, me-first crate-diggers made obsolete by the onset of the Internet age. "Losing My Edge" may have seemed like a brilliant one-off joke, but underneath the clever lines and canned beats, it suggested that Murphy was a songwriter with a distinct voice. The second LCD Soundsystem album, 2007's Sound of Silver, proved it beyond any doubt. The album is full of astonishing touches: A wobbly piano loop drives "All My Friends" while keeping it charmingly off-balance; a humming, raindrop-delicate beat underlies the aching regret of "Someone Great"; "North American Scum" serves up a biting analysis of Euro-American party relations. Invention on top of sadness on top of joy on top of soul -- Sound of Silver proved Murphy could do it all. -- Jacob Ganz
Tha Carter III [Deluxe Edition]
Song: A Milli
by Lil Wayne
Tha Carter III, Lil' Wayne's sixth album, represents the culmination of the rapper's promise, ingenuity and bull-headed weirdness. When Jay-Z named Lil' Wayne his successor as "Best Rapper in the World," the gesture was largely engineered to sell records, but "A Milli" actually signaled the takeover of rap by a talent who plainly doesn't care about selling things so much as he cares about making the music he feels the need to make. And, of course, Tha Carter III still went platinum in its first week. -- Frannie Kelley

Hear "A Milli" by Lil Wayne via YouTube

Advisory: This song contains strong adult language
The Listening
from The Listening
by Little Brother
In the years since its 2003 release, Little Brother's The Listening has achieved cult status among underground hip-hop enthusiasts and mainstream fanatics alike. Eschewing misogyny and materialism in favor of a more playful celebration of life and hip-hop, The Listening marks the North Carolina crew as a worthy heir to the hip-hop greats in the Native Tongues collective: A Tribe Called Quest, De La Soul, et al. -- Robert Carter, aka DJ Cuzzin B

Kala
Song: Paper Planes
from
by
M.I.A's Kala changed the landscape. No album was so far-reaching, yet still immediate enough that you could feel its claws. The songs on Kala are catchy, political, clever and poetic; they have grit and glide. Kala pulled the rug out from under the sonic couch-surfers and added a sting, an insistent and urgent buzz. It made other records sound as if they'd been sleepwalking. Kala made listeners move, think and believe, and reached a huge global audience in the process. -- Carrie Brownstein
Silk Road Journeys: When Strangers Meet
Song: Blue Little Flower
by Yo-Yo Ma & the Silk Road Ensemble
Yo-Yo Ma and his "venture culturalism" may be ubiquitous, but this beautiful recording opened many ears -- from young people to older classical snobs -- to the various musical styles from the Far East. It helps that, for Silk Road Journeys: When Strangers Meet, Ma assembled a crew of largely authentic musicians and not classical-crossover artists playing tourist. -- Tom Huizenga
Leviathan
Song: Blood and Thunder
by Mastodon
Mastodon's rise as metal's great sword-bearer can, in a sense, be likened to Metallica's meteoric ascent in 1991: Both bands dramatically poured on the production values and polished the rough edges of past albums. But that's where the comparisons end. Pardon the pun, but 2004's Leviathan has oceanic depth, riding a progressive path that epitomized a phenomenal decade for metal. -- Lars Gotrich
O Brother, Where Art Thou?
Song: Big Rock Candy Mountain
by Harry McClintock
The soundtrack to Joel and Ethan Coen's 2000 film O Brother, Where Art Thou? was an unlikely hit. To begin with, the movie -- a Depression-era retelling of Homer's Odyssey -- wasn't terribly popular with audiences or critics. And its soundtrack lacked any of the kind of hit songs you might actually hear on the radio. Instead, the Coen brothers and producer T-Bone Burnett used vintage recordings and new interpretations of classic folk, old-time, gospel and country songs. To nearly everyone's surprise, listeners fell in love with the soundtrack's warmth and bittersweet simplicity. The O Brother, Where Art Thou? soundtrack sold millions of copies and won multiple Grammys. It also sparked a major renaissance for Americana music -- as labels cashed in by reissuing countless classic recordings and compilations. -- Robin Hilton
Black Stars
Song: Skitter In
by Jason Moran
Jazz has spent the last 50 years dealing with both the promise and difficulties posed by free improvisation. On his third album, a 26-year-old Jason Moran embraced jazz's potential for dazzling brilliance by couching it in an inclusive, even schizoid take on jazz history. He embraces post-bop as readily as he reconfigures the music of Duke Ellington, Thelonious Monk and early stride piano masters. The second step was to get multi-instrumentalist Sam Rivers, a pioneer in making the avant-garde approachable, to guest-star at age 77. As it turns out, the final result is full of density and percussive pianism, but also warm moments of strained beauty, all supported by powerful technique from all involved. -- Patrick Jarenwattananon
More Important Recordings