Sexing Up The PG-13 Vampire ... But Not Too Much
Sexing Up The PG-13 Vampire ... But Not Too Much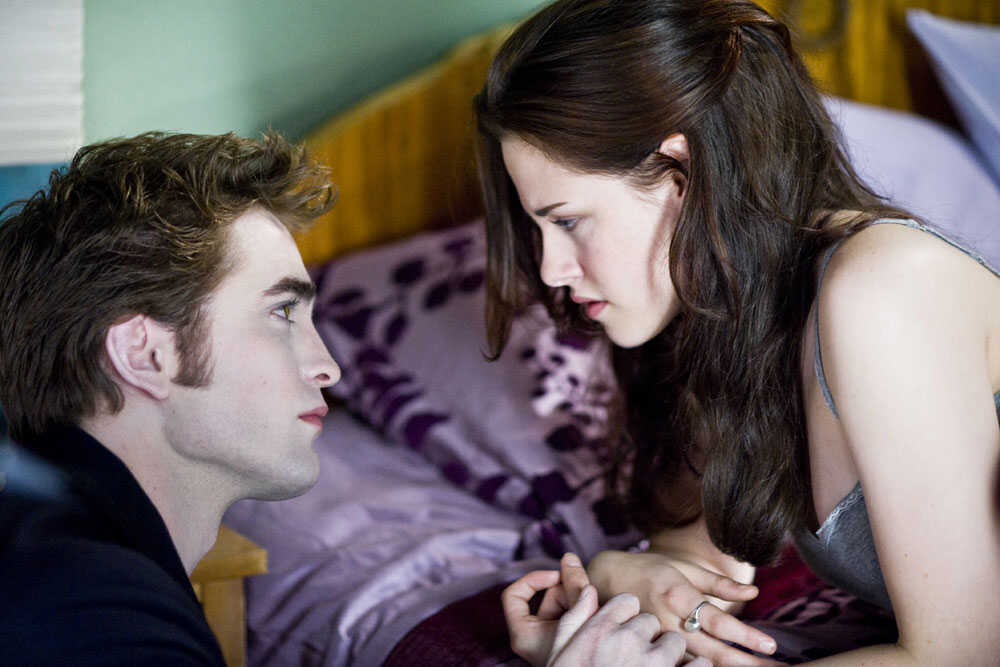 Courtesy of Summit Entertainment
Unless you've been living under a cultural rock, you probably know that New Moon, the second installment in the wildly successful Twilight human-vampire romantic saga, opens Friday.
This time around, brooding vampire Edward must compete with werewolf Jacob for the attentions of Bella, the human heroine of the books and movies.
But with its sexy-but-chaste leads, this teen bodice-ripper series may be sending its target audience of teen and tween girls a mixed message, some fans say.
Then And Now
Back in the '70s and '80s, Hollywood preached a clear message in its teen horror films: have sex and die; stay a virgin and live.
"Let's look to Halloween," says Kevin Doughty, 17, referring to a classic example of the genre. "Jamie Lee Curtis, virgin through the entire movie. Lived."
A student at Mount Miguel High School in Spring Valley, Calif., Doughty thinks the Twilight films promote conflicting values. Bella and her vamp boyfriend, Edward, don't have sex, but in one scene, Edward comes into her room at night to watch her sleep in her underwear.
" I don't have the strength to stay away from you anymore," Edward says to Bella. "Then don't," she responds.
Chastity Sells?
But Mykah Johnson, a senior at Mount Miguel, insists that Twilight is all about the romance.
"When I watch the movie, I don't think about sex," Johnson says. "It's like totally innocent to me. I feel like I'm watching an innocent vampire movie with teenagers."
Part of the appeal for female fans is that Edward makes caring for Bella more important than getting into her pants.
As a vampire, Edward has superstrength. But he's afraid he could hurt Bella if he loses control.
"When he crawled into her window and they were making out," Johnson says, "and yada yada yada, they were about to go for it. But he blows himself toward the wall, and he says he can't lose control when he's with her. So after that, their relationship got stronger."
Bloodthirsty Bad Boys
Mount Miguel student Sierra Haley, 17, thinks the Twilight movies are cheesy.
"It's just pathetic," Haley says. "If that was me, my friends would have slapped me. I think it's more like that they're in love with love, like, 'If you die, I'm gonna die.' Oh, it's just sad."
Fellow senior Jesus Gomez is a Twilight hater as well. He thinks Edward the sparkling vampire is lame, but he can see the appeal.
"I think girls just like the fact that he's acting like a bad boy," Gomez says.
Pop-culture vampires over the years have tended to be bad boys — from the oversexed vampires of HBO's adult-oriented True Blood series to the teen bloodsuckers in Buffy the Vampire Slayer or the more recent TV show The Vampire Diaries.
'Completely Selling Sex To Kids'
Sexual tensions heat up even more in the upcoming New Moon. In this installment, Edward leaves Bella. That provides an opening for Jacob — Bella's childhood friend, who happens to be a werewolf and is played by actor Taylor Lautner — to make his move.
"In New Moon, Edward's not even gonna matter," says Mount Miguel student Tashiya Harris. "It's all about Taylor."
Johnson agrees. "The fact that he comes in with his shirt off," she says with a laugh.
To which Doughty replies: "That's not selling sex to kids at all?"
"That is completely selling sex to kids," Doughty says. "You guys are contradicting yourselves. You say it is all about romance. But how is looking at Taylor Lautner without a shirt on romance at all?"
So if Twilight is trying to send a new message about teen abstinence, it might not be getting through.