Breast Cancer Advocates Not Buying New Guidelines
Breast Cancer Advocates Not Buying New Guidelines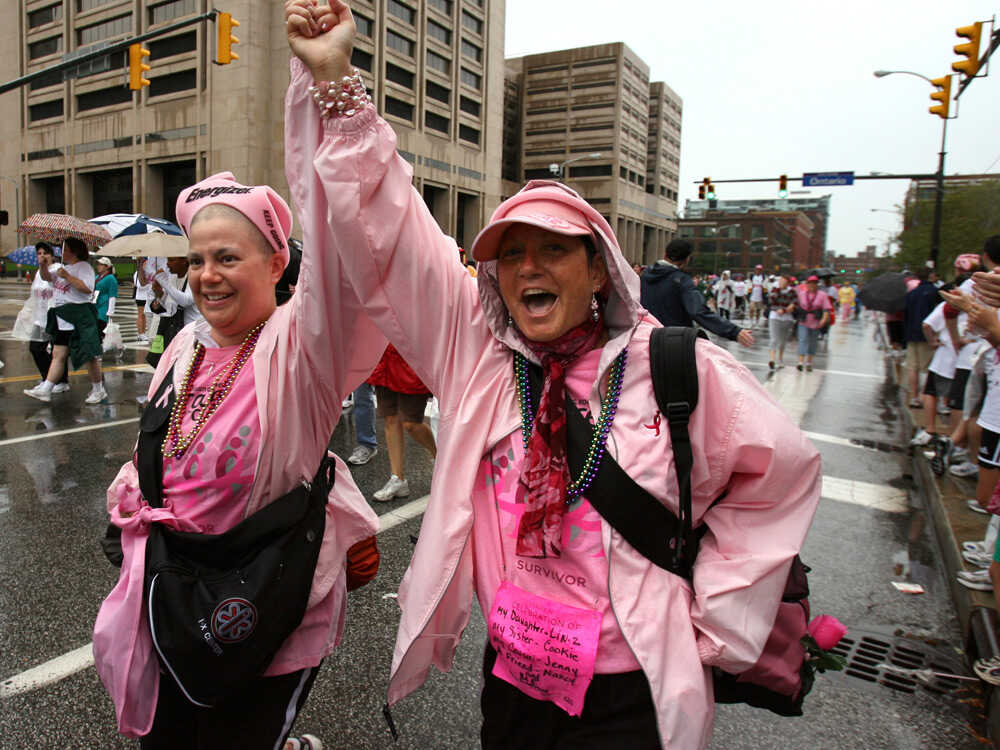 The message that breast cancer screening saves lives has taken root, and powerful breast cancer advocates who promote this message have earned women's trust. Perhaps that's why there's such a backlash against new recommendations from the U.S. Preventive Services Task Force that advise against routine screening for women under age 50.
"I'm angry," says Kathy Sims, 47, of Cicero, N.Y., who was diagnosed with breast cancer five years ago after a routine mammogram. She had no history of breast cancer in her family. "They found a 5-centimeter tumor that I never felt, nor did my OBGYN feel." Sims says she doesn't think she'd be alive today if it were not for the mammogram.
Numbers Can Be Confusing
The task force recommendations were based on science studies that evaluated the effectiveness of mammograms. In one study, researchers determined that for every 1,900 women in their 30s and 40s who are invited to have a mammogram, one death from breast cancer was prevented.
When public health types look at these numbers, they conclude that it's not necessary to test every woman, every year — given the risks that accompany testing, including false positives, anxiety and scar tissue from biopsies.
But here's the rub: Individual women don't tend to think like public health folks. The 1 in 1,900 figure means little to a woman who has a sister, cousin or friend with the disease.
"In my circle, I probably know 10 women who were diagnosed in their 40s," says Rochelle Ferris of Irvine, Calif. Doctors detected her breast cancer through a mammogram in her mid-40s. She shares the anger over the new guidelines. "I would never have gone for a mammogram if the doctors hadn't insisted on it," Ferris says.
Who Do Women Trust?
After her diagnosis, Ferris began participating in the annual walks sponsored by Susan G. Komen for the Cure, the group responsible for the "pink campaign" that has managed to meld its health advice and advocacy into a powerful brand that helps raise money, fund research and stitch together a community of breast cancer survivors.
Ferris says being part of a Susan G. Komen event makes survivors feel like a princess. "They parade you through the grounds with 7,000 people. They give you roses. They give you crowns," says Ferris. "It makes you feel very special."
This is an example of how the advocacy groups have built strong connections with survivors, says Allen Adamson, a branding expert with the firm Landor Associates in New York. "They talk with them, engage with them," and as a result, they've earned women's trust, he says.
Ferris and Sims both say they'd take the advice of the experts at Susan G. Komen for the Cure before they'd listen to the recommendation of the task force — an independent group appointed by the government that neither knows much about. Both women also say they'd also consult with their own personal physicians.
Though Susan G. Komen for the Cure has been criticized for "pink-washing," or turning the breast cancer cause into a powerful industry, the organization has credibility among survivors.
"Some have been critical of our efforts to mobilize millions of people in the fight against breast cancer," says founder Nancy Brinker. But the fact that many people have been pulled into the community gives her group influence.
Advocacy Group Doesn't Back Task Force Recommendations
Brinker says her organization does not support the task force recommendation to limit routine screening for women in their 40s. But her organization agrees that there is uncertainty about how well mammograms work in this age group.
"I'm sorry they've gotten stuck on telling women not to be screened," says Brinker. The message that's getting lost, she says, is the dire need for improved mammograms or replacing them altogether.
"The real issue is we need to find better, faster, cheaper, more specific and more diagnostic screening tools," Brinker says.
Breast cancer advocacy groups are not in lock step over the new recommendations. The National Breast Cancer Coalition (NBCC) supports the findings of the task force.
"It's a tricky issue," says Laura Nikolaides of the NBCC. Her group wants women to understand that there's a clear case to be made that risks of mammograms seem to outweigh benefits for women under 50. "To expose yourself yearly to radiation and to false positive and biopsies that maybe you don't need," she says ticking off the possible harms. "We're trying to get out in front of this message."
Related NPR Stories
Mammogram Wars: Experts Feel The Backlash
Mammogram Wars: Experts Feel The Backlash
Chip Somodevilla/Getty Images
Angry reaction to new government-funded guidelines on mammography has grown so hot that Kathleen Sebelius, the secretary of health and human services, is trying to put out the fire.
The guidelines came from the U.S. Preventive Services Task Force, an independent group of experts convened by Sebelius' agency.
Sebelius says the new guidelines won't change federal coverage of mammograms. She reassured critics Wednesday that the task force "does not set federal policy, and they don't determine what services are covered by the federal government."
Sebelius also said she'd be surprised "if any private insurance company changed its mammography coverage" because of the new guidelines. Private insurers often key their coverage decisions to task force pronouncements.
Not everybody thinks the expert panel was wrong when it declared this week that yearly mammograms are no longer necessary for all women younger than 50. (Women with a family history of breast cancer or other risk factors are a different story.)
The task force, after a stringent review of evidence it considers solid, also said most women ages 50 to 75 need mammograms only every two years. It makes no recommendation for women older than 75.
The storm of criticism is not surprising, given the emotional valence of breast cancer and the fact that American women over 40 have been told for a long time that they ought to report for yearly mammograms.
Dr. Susan Love is among those who don't think the guidelines are wrongheaded. Her reaction was, "It's about time!"
Love is a former breast cancer surgeon who has authored a popular book on the subject and now heads a Los Angeles foundation dedicated to finding the cause of breast cancer.
"I was never convinced that mammography screening worked that well in younger women," Love said in an interview. "And I've always suggested that women should start at age 50."
Love says mammography has been oversimplified as a lifesaving strategy for all women.
It's based, she says, on the notion "that all cancers are the same — they grow to a certain size, and then they get out of control and spread. So if you get them in time, you can save lives."
That's largely untrue, Love asserts. "There are five or six different types of breast cancer," she says. "They don't grow in a nice, orderly way. They spurt, they rest, and some are so fast-growing that you're never going to find them in time."
Love says universal mammography has been "oversold, as if every cancer could be found early. I wish that were true, but it's not."
But when Love expressed her support for the new guidelines in her blog, it was not very popular.
"Have you lost your freaking mind?" wrote one 42-year-old woman. "How dare you! May God help you sleep at night for the death call that you have just trumpeted!"
P.J. Hamel has been seeing a lot of similar outbursts. She's a patient advocate and blogger for a Web site called HealthCentral Network.
"I've been getting a lot of vitriol," Hamel says. "Just people exploding with rage, basically. 'How dare they deprive me of my life or try to deprive my daughter of her life!' and that kind of thing."
Hamel is struggling to understand the new guidelines. She finds herself pulled in two directions. She knows researchers deal in statistics. But she identifies with the plight of individual women.
"My heart is going out to all the women who I know will die because they followed these new guidelines," Hamel says. "On the other hand, my mind is saying they've done the analysis. They've put these guidelines out there. They did their job."
One thing you should know about Hamel: At the age of 47, she had a suspicious mammogram, and a biopsy showed advanced cancer.
That was eight years ago. Today she's fine.
Hamel says mammography saved her life. So, like many women, she doesn't understand why the guideline writers place so much emphasis on the downsides of mammograms — the anxiety and unnecessary surgery that false alarms can cause.
"It's almost apples and oranges," she says. "I mean, life and death is obviously very important. Whether you're worried for a few days or have some needless surgery, isn't that worth your life? To me it would be. To me, it was."
Hamel says she's going to keep telling all women to get yearly mammograms — including women younger than 50.
Robert Smith, director of cancer screening for the American Cancer Society, says his organization also is sticking with the current guidelines "because we not only looked at the evidence that the task force looked at, but we also looked at newer, modern data."
Smith says a good part of the current disconnect is due to the rules of evidence used by the U.S. Preventive Services Task Force. It's a rigorous system that values above all else the "gold standard" of large randomized trials of screening tests such as mammography.
That's all well and good, he says, but mammography screening has reached the point where these expensive trials are vanishingly rare — if not practically and ethically impossible.
Smith cites a very recent study from Sweden, where mammography has a long history and record-keeping is meticulous. It's not a randomized trial of mammography, but instead compares breast cancers diagnosed in different time periods among women who were screened for cancer with mammograms and women who weren't. "It includes hundreds of thousands of women examined over many, many years," he says.
Breast cancer deaths declined 19 percent over time among women who didn't get regular mammograms. But women who did get screening mammograms had a 48 percent reduction in breast cancer mortality.
That's very different from the U.S. task force's estimate. It says the evidence indicates that mammograms reduce breast cancer deaths by 15 percent among women ages 40 to 49.
Still, Smith acknowledges that mammography advocates may have given American women unrealistic expectations about mammograms.
"Have we oversold screening?" he says. "You know, we say, 'Screening saves lives,' and that simple statement has been criticized as overpromising. And it does, I suppose, because we don't say, 'Screening saves lives — but beware!'
"We want women to understand the shortcomings of screening," he adds, "but we don't want to be dissuading them from doing it."
Data wars are endless, of course. But this current uproar, if nothing else, might give everybody a more realistic idea about the pros and cons of mammograms.