Pelosi: Abortion Issue Won't Sink Health Care Bill
House Speaker Nancy Pelosi talks to Renee Montagne about Afghanistan and health care.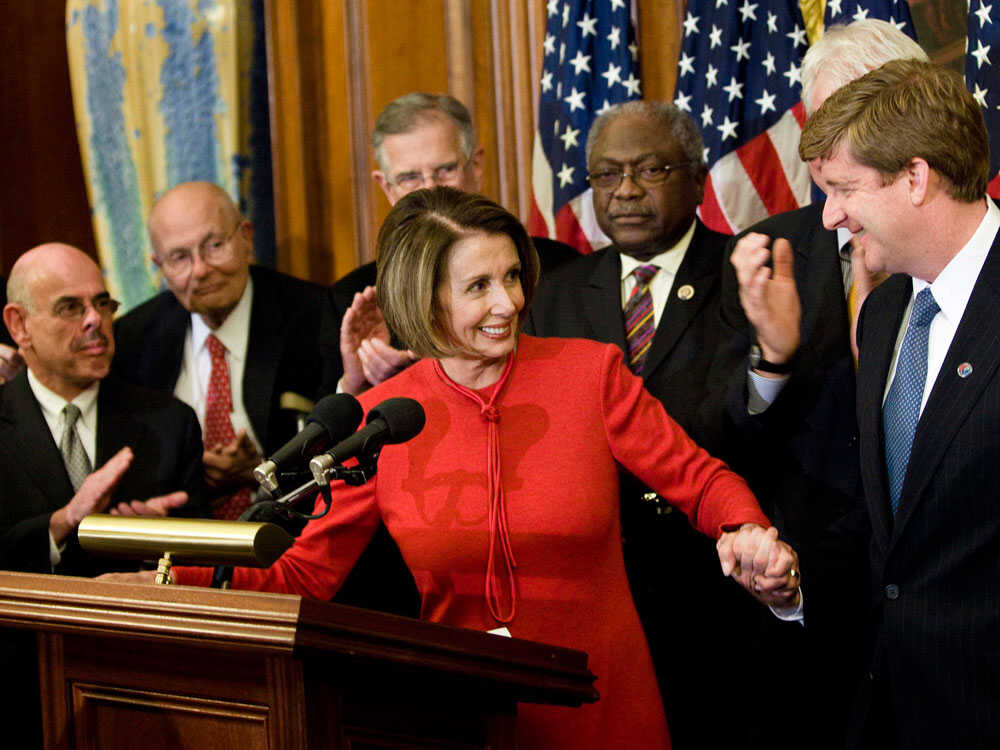 Brendan Smialowski/Getty Images
House Speaker Nancy Pelosi on Thursday predicted that she can corral enough moderate Democrats to guarantee passage of health care overhaul legislation — even if it doesn't contain a controversial House proposal that would expand abortion limits.
In an interview with NPR airing Friday on Morning Edition, Pelosi said that the key will be separating House members who are looking for any way to kill the bill from those who, "in good faith," want to pass legislation that embraces the longtime practice of prohibiting the use of federal funds for abortion.
"I believe that there's plenty area for common ground," Pelosi told NPR's Renee Montagne. "We all agree that there will be no federal funding for abortion."
On Morning Edition
Politics
House Speaker Nancy Pelosi Talked With Renee Montagne
Pelosi: Obama Needs Room To Make Afghan Decision
A compromise bill that would ultimately combine House and Senate plans "will be abortion neutral," she said.
Her comments came a day after Senate Democrats unveiled their health care proposal, which includes far less restrictive limits on abortion coverage than the House version.
In her interview with NPR, Pelosi also addressed President Obama's deliberations on how to move forward with the war in Afghanistan, saying she had advised her members to give the president "room to make his decision" before making their views known.
But she expressed deep concern that Afghan President Hamid Karzai, sworn in Thursday for a second term, has failed to prove that he's a "reliable partner" and has allowed systemic corruption to take hold, making American investment of lives and money unacceptable.
"How can we ask the American people to sacrifice our young people and pay a big price in lives and limbs, and also in dollars, if we don't have a connection to a reliable partner?" Pelosi said. "The status quo is not acceptable."
Abortion And The Health Care Debate
The House health care bill, approved Nov. 7, contained an amendment that would prohibit any public plan from providing abortion coverage, and would bar low- and moderate-income women from using federal insurance subsidies for health care plans that cover elective abortions.
The amendment, a significant expansion of abortion restrictions, was supported by 64 Democrats, who joined 176 Republicans to guarantee its passage.
A proposed Senate health care bill unveiled Wednesday would allow women who receive federal subsidies to enroll in health care plans that cover abortion. But insurance companies would have to segregate federal subsidies, so that only money paid by the policyholder could be used for the procedure.
The Senate language, Pelosi says, mirrors what House Democrats had in their original bill before the abortion amendment passed.
Pelosi defended the larger House health care bill, saying it limits insurance practices that discriminate against women. She said the bill takes steps to eliminate practices that result in women of childbearing years paying more for premiums then men of the same age.
"That is not to say that that's enough to offset whatever damaging language could end up in the bill," said Pelosi. She has been among House Democrats criticized by women's rights groups for making a deal to get health care legislation passed by bowing to pressure from the Catholic Church and anti-abortion party members, and including the abortion amendment.
When asked whether she had a specific plan to bring moderate Democrats around on the abortion issue, Pelosi said: "Yes ... but if I talk about it on the radio, then I won't be able to make it happen."
She also dismissed suggestions that the health care overhaul would be stymied by controversy over this week's recommendation by an independent, government-funded panel that women need fewer mammograms, and only at a later age. Republicans pounced on the report, and said its suggestions smack of rationing.
"I don't think there's any general acceptance of what was proposed," Pelosi said. "As a mother of four daughters in their 30s and 40s, I watch this very carefully."
The Senate has yet to debate or vote on its proposed bill. But if one passes, it will be melded with the House bill and sent to both chambers for a vote before it can move to the president's desk. And that's unlikely to happen before the new year.
Patience On Afghanistan
While Pelosi has urged her members to remain patient and mum as Obama formulates his Afghanistan strategy, she said that there is not strong support among Democrats in Congress for "any big ramp-up of troops going into Afghanistan."
When Pelosi returned from a visit to Afghanistan in 2007, she told NPR that more troops were needed there. Since things have gotten so much worse there, Montagne asked, "What would be the reluctance to send more troops?"
Pelosi said the situation in Afghanistan has changed over the past two years, when the north was fairly secure and much of the military action was in the south.
"That says one of two things," Pelosi said. "Either we need many more troops so this doesn't continue to happen — which I don't think there's any support for or any thought that it would be successful — or we need to re-evaluate what our approach has been for the past eight years," she said. "And that is what the president is doing."
The mission and strategy must first be defined by the president and his advisers, and then the question of resources should be debated, she said.
"Let's not just talk about troops," she said.