'Pops': Louis Armstrong, In His Own Words
'Pops': Louis Armstrong, In His Own Words
Read An Excerpt
Haywood Magee/Getty Images
Jazz icon Louis Armstrong didn't just leave behind a treasure trove of musical recordings; he also documented hundreds of his private conversations on tape. Those recordings served as the basis for Terry Teachout's new biography of the legendary musician, Pops: A Life of Louis Armstrong. Teachout recently spoke to host Neal Conan about his new book. Below, he offers five of his favorite musical moments from Armstrong's discography.
Now that I've published Pops, people are asking me which Louis Armstrong recordings I like best. That's a fearsomely tough call. The greatest jazz musician of all time started making records in 1923 and kept at it until 1970, a year before his death.
And he didn't play favorites.
"Ain't nobody played nothing like it since, and can't nobody play nothing like it now," he told an interviewer around the time that he recorded his last album. "My oldest record, can't nobody touch it. And if they say, 'Which record do you like the best?' I like them all, because I didn't hit no bad notes on any of them."
I'm not sure I'd go quite that far, but there are precious few Armstrong records that aren't worth a listen, and dozens (note the plural) that are imperishable masterpieces. If I had to choose five without which I wouldn't want to live, these would rank high among the top contenders.
Terry Teachout's Favorite Louis Armstrong Recordings
Weather Bird
from The Complete Hot Five and Hot Seven Recordings [Columbia/Legacy]
by Louis Armstrong
Some modern listeners find it hard to warm up to Armstrong's early recordings: His sidemen usually aren't as good as he is. "Weather Bird," a trumpet-piano duet recorded in 1928, is a shining exception to the rule. Earl Hines, the young master's most sympathetic musical partner, was a brilliantly original pianist who could hit anything Satchmo pitched, and both men are at the top of their game in this dazzling musical duel. Without a rhythm section to bog them down, they dart effortlessly from idea to idea, tossing off firework-like bursts of virtuosity all along the way.
I Gotta Right to Sing the Blues
from Sugar: The Best of the Complete RCA Victor Recordings
by Louis Armstrong
This celebrated version of Harold Arlen's bluesy ballad, made in 1933, is my all-time favorite Louis Armstrong record, the one that I'd tuck under my arm if the firemen told me to jump out the window before the roof fell in. "I just played the way I sang," Armstrong said, and you can hear what he meant in the vocal chorus that opens the record. It's a beauty, but the best is yet to come. In the serenely climactic trumpet solo, he hovers miles above the clockwork tyranny of the beat, sounding for all the world like a lordly turn-of-the-century tenor. It's as though he'd broken through to a realm of abstract lyricism that transcends ordinary human emotion.
You Rascal You
from Ultimate Collection [Verve]
by Louis Armstrong
Louis meets Louis in this hard-swinging romp through one of Satchmo's "good ol' good ones" (the phrase with which he introduced his greatest hits on stage). Accompanied to raucous effect by Louis Jordan's Tympany Five -- the combo that bridged the gaps between jazz, R&B and rock 'n' roll -- Armstrong ad-libs with colossal gusto, then tosses off three trumpet choruses full of the old-time pyrotechnics. Amazingly, he was having an off day when this side was cut. "Louis came in town and his lip had busted on him -- had busted all the way down," Jordan recalled. "Finally, he says, 'Let's go,' and we went and played it. He even played those high Cs and things with his lip busted."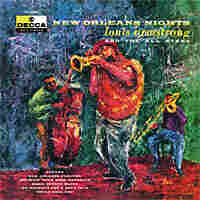 New Orleans Function
Song: New Orleans Function: Flee as a Bird/Oh Didn't He Ramble/March/Parade a
from New Orleans Nights
by Louis Armstrong
Here's an old-time New Orleans jazz funeral, re-created in the recording studio by the All Stars, the six-piece combo that Armstrong led from 1947 until his death in 1971. The mournful hymn that kicks off the proceedings is "Flee as a Bird," followed by "Oh Didn't He Ramble," and Armstrong's opening narration sets the scene: " 'Course you know there was a funeral march in front of 'Didn't He Ramble,' where they take the body to the cemetery and they lower ol' Brother Gate in the ground. And, uh, dig it!" Earl Hines and Jack Teagarden supply blue-chip support on piano and trombone.
Summer Song
from The Real Ambassadors
by Dave Brubeck
Armstrong claimed to dislike modern jazz, and he usually meant it -- but not always. In 1961, he teamed up with the rhythm section of the Dave Brubeck Quartet to record this Brubeck-penned ballad, in which he sings of the beauty of a summer day and the mystery of passing time. Though he'd turned 60 a month before "Summer Song" was recorded, the pianist's cool jazz harmonies leave him utterly unfazed. Listen to how he makes magic out of Iola Brubeck's hauntingly nostalgic lyric: "Love to me is like a summer's day / If it ends, the memories will stay."