'Pops': Louis Armstrong, In His Own Words
'Pops': Louis Armstrong, In His Own Words
Read An Excerpt
Haywood Magee/Getty Images
Jazz icon Louis Armstrong didn't just leave behind a treasure trove of musical recordings; he also documented hundreds of his private conversations on tape. Those recordings served as the basis for Terry Teachout's new biography of the legendary musician, Pops: A Life of Louis Armstrong. Teachout recently spoke to host Neal Conan about his new book. Below, he offers five of his favorite musical moments from Armstrong's discography.
Now that I've published Pops, people are asking me which Louis Armstrong recordings I like best. That's a fearsomely tough call. The greatest jazz musician of all time started making records in 1923 and kept at it until 1970, a year before his death.
And he didn't play favorites.
"Ain't nobody played nothing like it since, and can't nobody play nothing like it now," he told an interviewer around the time that he recorded his last album. "My oldest record, can't nobody touch it. And if they say, 'Which record do you like the best?' I like them all, because I didn't hit no bad notes on any of them."
I'm not sure I'd go quite that far, but there are precious few Armstrong records that aren't worth a listen, and dozens (note the plural) that are imperishable masterpieces. If I had to choose five without which I wouldn't want to live, these would rank high among the top contenders.
Terry Teachout's Favorite Louis Armstrong Recordings
Weather Bird
from The Complete Hot Five and Hot Seven Recordings [Columbia/Legacy]
by Louis Armstrong
Some modern listeners find it hard to warm up to Armstrong's early recordings: His sidemen usually aren't as good as he is. "Weather Bird," a trumpet-piano duet recorded in 1928, is a shining exception to the rule. Earl Hines, the young master's most sympathetic musical partner, was a brilliantly original pianist who could hit anything Satchmo pitched, and both men are at the top of their game in this dazzling musical duel. Without a rhythm section to bog them down, they dart effortlessly from idea to idea, tossing off firework-like bursts of virtuosity all along the way.
I Gotta Right to Sing the Blues
I Gotta Right to Sing the Blues
from Sugar: The Best of the Complete RCA Victor Recordings
by Louis Armstrong
This celebrated version of Harold Arlen's bluesy ballad, made in 1933, is my all-time favorite Louis Armstrong record, the one that I'd tuck under my arm if the firemen told me to jump out the window before the roof fell in. "I just played the way I sang," Armstrong said, and you can hear what he meant in the vocal chorus that opens the record. It's a beauty, but the best is yet to come. In the serenely climactic trumpet solo, he hovers miles above the clockwork tyranny of the beat, sounding for all the world like a lordly turn-of-the-century tenor. It's as though he'd broken through to a realm of abstract lyricism that transcends ordinary human emotion.
You Rascal You
from Ultimate Collection [Verve]
by Louis Armstrong
Louis meets Louis in this hard-swinging romp through one of Satchmo's "good ol' good ones" (the phrase with which he introduced his greatest hits on stage). Accompanied to raucous effect by Louis Jordan's Tympany Five -- the combo that bridged the gaps between jazz, R&B and rock 'n' roll -- Armstrong ad-libs with colossal gusto, then tosses off three trumpet choruses full of the old-time pyrotechnics. Amazingly, he was having an off day when this side was cut. "Louis came in town and his lip had busted on him -- had busted all the way down," Jordan recalled. "Finally, he says, 'Let's go,' and we went and played it. He even played those high Cs and things with his lip busted."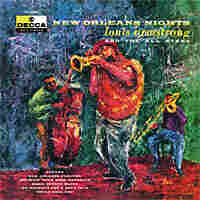 New Orleans Function: Flee as a Bird/Oh Didn't He Ramble/March/Parade a
New Orleans Function
Song: New Orleans Function: Flee as a Bird/Oh Didn't He Ramble/March/Parade a
from New Orleans Nights
by Louis Armstrong
Here's an old-time New Orleans jazz funeral, re-created in the recording studio by the All Stars, the six-piece combo that Armstrong led from 1947 until his death in 1971. The mournful hymn that kicks off the proceedings is "Flee as a Bird," followed by "Oh Didn't He Ramble," and Armstrong's opening narration sets the scene: " 'Course you know there was a funeral march in front of 'Didn't He Ramble,' where they take the body to the cemetery and they lower ol' Brother Gate in the ground. And, uh, dig it!" Earl Hines and Jack Teagarden supply blue-chip support on piano and trombone.
Summer Song
from The Real Ambassadors
by Dave Brubeck
Armstrong claimed to dislike modern jazz, and he usually meant it -- but not always. In 1961, he teamed up with the rhythm section of the Dave Brubeck Quartet to record this Brubeck-penned ballad, in which he sings of the beauty of a summer day and the mystery of passing time. Though he'd turned 60 a month before "Summer Song" was recorded, the pianist's cool jazz harmonies leave him utterly unfazed. Listen to how he makes magic out of Iola Brubeck's hauntingly nostalgic lyric: "Love to me is like a summer's day / If it ends, the memories will stay."
Excerpt: 'Pops'
Note: There is language in this excerpt that some readers may find offensive.
UNTIL THE DAY HE DIED, LOUIS ARMSTRONG CLAIMED that he was born on July 4, 1900. He said so in Satchmo: My Life in New Orleans and Swing That Music, his two published memoirs, and on innumerable other occasions, and while at least one biographer found the date too pat to be plausible, it was only in 1988 that a researcher located an entry in Latin for "Armstrong (niger, illegitimus)" in the handwritten baptismal register of New Orleans' Sacred Heart of Jesus Church. According to that record, Louis Armstrong was born on August 4, 1901, the natural son of William Armstrong (known as Willie), who spent most of his adult life working in a turpentine factory, and Mary Ann Albert (known as Mayann, though her son spelled it different ways over the years), a fifteen-year-old country girl who came to New Orleans to work as a household servant. The event went unremarked by the local papers, which had more important things to cover than the birth of yet another "niger, illegitimus." The front page of the next day's Daily Picayune concerned itself with a lynching in Mississippi and a speech in which a South Carolina senator declared that "the 'niggers' are not fit to vote." (The latter story also made the front page of the New York Times.) Three weeks later Armstrong was baptized a Roman Catholic, the faith of his paternal great-grandmother, though he never practiced it and did not even know that he had gone through the ceremony as an infant. By then his father had left Mayann for another woman. In 1903 Willie and Mayann reconciled for a short time and had a second child, a daughter named Beatrice (known as Mama Lucy), but Armstrong did not live with his father, or spend any amount of time with him, until he was a teenager.
No one knows when or why Armstrong added a year to his age. He never celebrated his birthday as a boy, and it is possible, even likely, that he did not know the true year of his birth. All that can be said with certainty is that the incorrect year became a matter of legal record when he registered for the draft in 1918 and that he stuck to it with unswerving consistency thereafter. We do know, however, that it was Mayann who told him that "the night I was born there was a great big shooting scrape" in the neighborhood where he was born. Later on he claimed that it was "a blasting fourth of July, my mother called it, that I came into this world and they named me the firecracker baby." She was right about the incident but misremembered the date — it took place a month later. It is only because of surviving baptismal and census records that we now know both the date and year to have been wrong. Outside of these records, most of the rest of what we know of Armstrong's childhood is what he tells us in his writings, augmented by our knowledge of New Orleans and the memories of those who knew him as a boy. He wrote at length about his young years, and the picture he paints is often chaotic and sad, though he did not find it so. But he never glossed over the hardships that he faced, or left much doubt as to who he blamed for them.
Beyond describing him as "a sharp man, tall and handsome and well built," Armstrong had little to say about his father, none of it good. In the same breath that he praised Willie's looks, he added that "my father did not have time to teach me anything; he was too busy chasing chippies." That was in Satchmo, in which he often withheld comment about matters he otherwise described frankly, letting them speak for themselves. In later years he was franker still:
The man who May Ann told us was our father left us the day we were born. The next time we heard of him — he had gone into an uptown neighborhood and made several other children by another woman. Whether he married the other woman, we're not sure. One thing -- he did not marry May Ann. She had to struggle all by herself, bringing us up. Mama Lucy + I were bastards from the Start.
From childhood onward he attached himself to older men, and it is reasonable to suppose that he was looking for some small part of what his own father had failed to give him.
Armstrong was born in his parents' home, a wooden shack at 723 Jane Alley, located on the edge of "black Storyville," the separate red-light district three blocks uptown from Storyville where blacks were allowed to purchase sex. When Willie left her, Mayann gave Louis to Josephine Armstrong, Willie's mother, and moved into black Storyville proper. "Whether my mother did any hustling, I cannot say," he wrote in Satchmo. "If she did, she certainly kept it out of sight." In fact she was almost certainly working as a prostitute in a part of town that was rough even by New Orleans standards, and when her son finally rejoined her, that was where he would live as well. For the moment he stayed with his grandmother in Jane Alley, and his memories of life there were mostly happy, though it, too, was in a rough neighborhood known to locals as "the Battlefield." It was, he later wrote, a place full of "churchpeople, gamblers, hustlers, cheap pimps, thieves, prostitutes and lots of children." Josephine kept her grandson as far away from the hustlers and pimps as she could, sending him to Sunday school and kindergarten and whipping him with switches that she made him cut from a tree that grew in the front yard. He sang gospel songs in church, rejoicing in the variegated clouds of sound emitted by a "sanctified" congregation of working-class blacks who took literally the psalmist's command to "make a joyful noise unto the Lord," worshipping loudly, jubilantly, and without any of the self-conscious decorum of their better-off brethren: "That, I guess, is how I acquired my singing tactics... the whole Congregration would be Wailing — Singing like mad and sound so beautiful." On weekdays he played hide-and-seek with the poor white children of the neighborhood and helped deliver the washing his grandmother took in, earning a nickel each time he carried a load.
At some point it must have been made known to Louis that his parents were living together again and that he now had a sister. Yet Willie and Mayann made no effort to reclaim their son, and it was not until 1905 or 1906 that he first saw Mama Lucy. One day Mayann sent a friend to Jane Alley to tell Josephine that Willie had deserted her once again and that she was sick and in desperate need of help. Louis went with his mother's friend to black Storyville, riding on a segregated streetcar for the first time in his life. He found Mayann in bed with Mama Lucy in a one-room flat. "I realize I have not done what I should by you," she told him. "But, son, mama will make it up." Then she sent him to Rampart Street to buy fifty cents' worth of meat, bread, red beans, and rice, the staples of her kitchen and the main ingredients of the southern-style home cooking he would savor all his life. (As an adult he signed many of his letters "Red Beans and Ricely Yours, Louis Armstrong.") On the way he ran into a gang of bullies who called him a mama's boy and threw mud on his treasured white Lord Fauntleroy suit. He punched the ringleader in the mouth and went about his business.
It is close to impossible for anyone not born into poverty to picture such a scene, yet Louis appears to have taken it in stride, save for a moment of panic when he first saw his sick mother. After that he adjusted to his new situation with the resiliency of youth. He looked on as one "stepfather" followed another into Mayann's bed (and remained tactfully silent as he and his sister overheard the sounds of lovemaking in their one-room home). "I couldn't keep track of the stepdaddies, there must have been a dozen or so, 'cause all I had to do was turn my back and a new pappy would appear," he recalled, adding that some of them "liked to beat on little Louis." Whenever his mother "got the urge to go out on the town" and disappeared "for days and days," he went without complaint to stay with an uncle. Though he had only just begun to attend grade school, he took it for granted that he would also work at odd jobs to bring in extra money, and was proud to help pay the bills. But he was not a passive onlooker, recording without thinking: the more he saw, the more he questioned, and his father was not the only man on whom he would someday render judgment.
Louis knew that Mayann, unlike Willie, was doing the best she could to take care of him and his sister, and he loved and admired her for it. All that remains of her is a formally posed family portrait taken around 1920 (in which the nineteen-year-old Louis can be seen to take after his broad-beamed, plump-cheeked mother) and the recollections set down by her son in Satchmo and his other writings. Yet it is more than enough to come away with a sense of what she was like, and why he revered her memory. A plain-spoken woman who liked a drink and knew how to fight, she taught him the simple code to which he hewed ever after: "I had to work and help May Ann, — put bread on the table, since it was just the three of us living in this one big room, which was all that we could afford. But we were happy. My mother had one thing that no matter how much schooling anyone has — and that was Good Common Sense (and respect for human beings). Yea. That's My Diploma — All through my life I remembered it."
Excerpted from Pops: A Life of Louis Armstrong by Terry Teachout, copyright 2009. Reprinted by permission of Houghton Mifflin Harcourt Publishing Co. All rights reserved.