Cultural Judgment, Reissued: Tom Wolfe's First Book And 'New Journalism'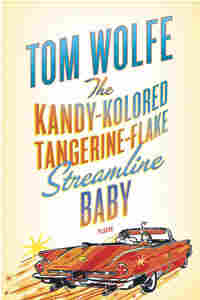 by Martha Woodroof
Many years ago, say in 1966, I ate dinner in the same Rice University college dining room as Muhammad Ali and fell in love with the man's mouth, his attitude, his playfulness, and his ability to make us lily-white, well-mannered, certifiably intelligent college kids a wee bit nervous. We were of one culture; he was of another. Or rather, we were of one culture; he was Muhammad Ali -- a culture unto himself.
It was an evening I'd mostly forgotten about until just now, when I read Tom Wolfe's essay "The Marvelous Mouth," first published by Esquire in October 1963. The piece was subsequently collected, with 21 others, in Mr. Wolfe's debut book, The Kandy-Kolored Tangerine-Flake Streamline Baby, which, just this month, has been reissued by Picador in a spiffy new paperback.
The New Journalism and the eternal "outlander," after the jump.
And there he was again, Cassius Clay/Muhammad Ali, rising up from the page; mouth, attitude et al; discomforting, delighting everyone around him; the quintessential new journalistic subject for the quintessential new journalist. These essays pretty much birthed the 1960s New Journalism -- reportage in which information is embedded in narrative, place, point-of-view, everyday details.
Tom Wolfe revels in chronicling the kind of cultural rub I experienced in that college dining hall all those years ago. The essays in Kandy-Kolored Tangerine-Flake Streamline Baby are his accounts of hanging out with society's outlanders (his term) -- Cassius Clay, Cary Grant (I kid you not), Murray the K, Baby Jane Holzer, Car Customizer Supremo Ed "Big Daddy" Roth. Wolfe chronicles outlanders as a wickedly witty way to examine mainstreamers, as though the clearest view of a society is from beyond its pale.
In 1965, Tom Wolfe, himself, was a journalistic outlander. When Kandy-Kolored came out, Dwight McDonald, a self-described defender of tradition, wrote 4000 words in The New York Review Of Books about how much he hated the whole concept. And I mean hated it.
A new kind of journalism is being born, or spawned. It might be called 'parajournalism,' from the Greek para, 'beside' or 'against': something similar in form but different in function ... Parajournalism seems to be journalism -- 'the collection and dissemination of current news' -- but the appearance is deceptive. It is a bastard form, having it both ways, exploiting the factual authority of journalism and the atmospheric license of fiction. Entertainment rather than information is the aim of its producers, and the hope of its consumers.
Could a writing outlander ask for higher praise from the tired, old, snobbish, writerly establishment? No!
Kandy-Kolored is among a dozen or so Tom Wolfe titles that Picador either has reissued or will reissue, and readers have been happy to buy them. Picador VP and Publisher Frances Coady reports that 50,000 copies of both The Right Stuff and The Electric Kool-Aid Acid Test have sold since being republished in 2008.
Outlanders vs. the establishment; literary entertainment that just keeps on entertaining.
Martha Woodroof is a reporter and producer for WMRA, where she also blogs about all manner of nifty stuff.