Have Yourself A Funky Little Christmas
Though I live in Los Angeles -- a fact I relish roughly 11 months out of the year -- come Christmastime I want nothing more than to be back in New England. I grew up outside of New Haven, Conn., and nothing gives me more yuletide cheer than a pizza from Frank Pepe's, an interesting Riesling from my uncle's "package store," my mother's apple pie and a spin through the record collection that remained behind when I left the Nutmeg State for more temperate climates.
My family's Christmas traditions include, of course, holiday music. The Clancy Brothers' Christmas is as important as a Spanish Black turkey to dear old Dad. I often dig out my mother's autographed copy of David Axelrod's Rock Interpretations of Handel's Messiah and place it on that same, worn turntable that I first tried to "scratch" on as a kid on Christmas Eve.
It's been a while -- about six years, I'd guess -- since we added anything to the Christmas rotation. I suppose it's hard to top Lou Rawls' Axelrod-produced Merry Christmas. Ho! Ho! Ho! and James Brown's Soulful Christmas, a high point in his King Records discography. But this year, I have a few choice selections that I think I can sneak into the lineup.
Have Yourself A Funky Little Christmas
In The Hot Sun Of A Christmas Day
In The Hot Sun Of A Christmas Day
from Caetano Veloso (A Little More Blue)
by Caetano Veloso
Exiled in London in 1970 with fellow Tropicalista Gilberto Gil, Caetano Veloso co-wrote "In the Hot Sun of a Christmas Day," easily interpreted as commentary on Brazil's military dictatorship and the brutal practices it exercised during its regime. A mournful hymn based around string arranger Phil Ryan's weeping take on "God Rest Ye Merry Gentlemen," this song is probably too melancholy to play at most holiday parties. But, damn, do I love to feel Veloso's quirky falsetto working its way into the nooks and crannies of my soul as he exclaims "Machine Gun!" and Ryan responds with deliberate, percussive strings.
Santa's Got A Bag Of Soul
Santa's Got A Bag Of Soul
from Santa's Got A Bag Of Soul
by The Soul Saints Orchestra
In the early '90s, Munich's Poets of Rhythm single-handedly kick-started the "raw soul" movement that later birthed the likes of Desco, Soul Fire and now-ubiquitous Daptone Records. Most of the Poets' early recordings saw release only as limited-edition 45s; occasionally, their "greatest hits" came together on awkwardly packaged CDs (oversized afro? platform shoes? check and check!) that, to this day, contain some of the best "new funk" I've ever heard. This promotional-only 45, released for the label's 1995 Christmas party, was the stuff of lore until Jazzman Records reissued it -- along with its previously unavailable instrumental -- a decade later. Sorry, JB, but this is Christmas at its funkiest.

This song is available on In The Christmas Groove, released by Strut Records.
White Christmas
from Merry Christmas Psychedelic Sound
by He5
South Korea's He 5, in its later incarnation as He 6, offered some of the fuzziest, funkiest music to arise from Seoul's psychedelic '70s. The group's cover of Smokey Robinson's "Get Ready," from its album Beautiful Doll, expands on the blue-eyed soul of the Rare Earth version that inspired it and becomes a 15-minute masterpiece of psych-funk. The band had ample time to prepare, and hinted at greatness in its first offering, the perplexing Merry Christmas Psychedelic Sound. Whatever leads to Korean psych bands sneaking fuzz guitars into their arrangements of Christmas carols -- or sneaking "In-a-Gadda-Da-Vida" freakouts into "covers" of "Jingle Bells" -- is up for debate. But I'm sure you'll never hear a take on "White Christmas" quite like this one.
Gettin' Down For Xmas
from Gettin' Down For Xmas
by Milly & Silly
Were it only for the "plug" side of this novelty 45, the sole release on the obscure Right On Records, you'd pass it in your local record store's dollar bin. "Gettin' Down for Xmas" -- cruise-ship funk if there ever were such a sub-genre -- passes as competent, yet it reached legendary status amongst early-'90s hip-hop producers after Large Professor jacked its introductory sleigh bells for Nas' solo debut, "Halftime." To this day, beat-digging nerds debate which bells ring more true: these or those from the half-bar "break" found on Average White Band's "School Boy Crush."

This song is available on In The Christmas Groove, released by Strut Records.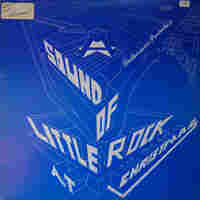 This Christmas I Love You
This Christmas I Love You
from A Sound of Little Rock at Christmas
by Brotherman Production
Though a footnote in the tail end of Little Rock, Arkansas' vibrant '70s recording scene, Joe Nesmith issued two outstanding albums that helped bridge the gap between the hard funk, socking soul, wailing gospel and rough blues of Lee Anthony's True Soul imprint and the boogie-soul that would follow on labels such as Artx and Nesmith's own Brother Man. A Sound of Little Rock at Christmas is an odd choice for any entrepreneur's debut production; songs like "All I Want for Christmas Is an S.S.L." (S.S.L. standing for Solid State Logic; Nesmith's dream mixing board?) further the outsider status of this interesting piece of Christmas cheer. Yet this is a charming album that, due to the roster of True Soul alumni (including Albert Smith, Morris Freeman and William Stuckey) that back Nesmith's tunes, offers soaring examples of late-'70s soul such as "This Christmas I Love You."
Egon is the general manager of the Stones Throw label. He also founded Now-Again Records, which reissues American funk and soul albums, and the Soul-Cal imprint with Peanut Butter Wolf. He DJs funk and psychedelia sets at venues all around the world.

Web Resources