Yes, ABBA Belongs In The Rock And Roll Hall Of Fame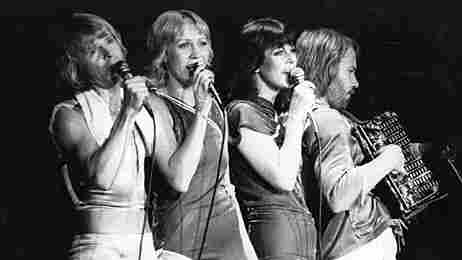 The most interesting thing about the minor dust-up over ABBA's induction into the Rock And Roll Hall Of Fame is that I had no idea anyone still cared about who was inducted into the Rock And Roll Hall Of Fame. But people really do! Which is great.
But let's get serious: Of course they belong.
Let's fight about ABBA! After the jump.
Here's the thing: Of course ABBA isn't rock and roll. What does "rock and roll" really mean? Is that a term that's been used unironically outside of a town council meeting in Footloose in the last 50 years? Do people still play "rock and roll," with the exception of ... I don't know, Brian Setzer?
ABBA has sold hundreds of millions of pop records. And The Rock And Roll Hall Of Fame is not a rock hall, already. It is a pop hall, in the sense that most kinds of music that have been popular within the last 50 or 60 years are represented, even if they have nothing to do with rock and roll.
Other people who did not, strictly speaking, play rock and roll, but who are in the hall anyway: Johnny Cash. Nat "King" Cole. Pete Seeger. (PETE SEEGER, people. Are we talking about the rock and roll classic "Where Have All The Flowers Gone?") James Taylor. Lead Belly. Mahalia Jackson. Billie Holiday.
And -- hello! -- The Bee Gees. If you can put The Bee Gees into the Rock And Roll Hall Of Fame, which is basically like putting Grandpa Hatfield in the McCoy Hall Of Fame, then there is plenty of room for ABBA.
It seems to me that the anti-ABBA argument, deep in its heart, goes like this: They're dweebs, and rock and roll isn't for dweebs. The outfits, the orchestration ... it's just so uncool, and anything labeled "Rock And Roll" is supposed to be cool.
But again, we've popped this bubble long ago. Elton John is in the Hall, and he wore shoes much sillier than anything they wore in ABBA. Billy Joel is in the Hall, and if you ever want to be mocked so hard you feel your teeth rattle, say something nice about Billy Joel in front of people to whom coolness is important.
I also feel obligated to point out that at the same time ABBA gets in, Genesis is getting in. And it's not like they're going to limit it to Old Time Genesis, like The Lamb Lies Down On Broadway Genesis. This is going to go right up to Invisible Touch Genesis. Cooler than ABBA? I think not.
If writing "Dancing Queen" were easy, more people would do it. Here's my challenge: You go off and write something as catchy as "Take A Chance On Me," and come back when you're done. It's harder than it looks, and an institution that has already thrown open its doors to Ricky Nelson has nothing to fear from ABBA.