The Year In Jazz, From WDUQ
Jazz in 2009 is as vibrant and alive as ever. Many younger artists are making a strong case to be the future of the genre — and the future looks bright. All but three musicians on this list are under the age of 40, two are in their 40s and one is in his early 70s. But 70 is the new 30, right?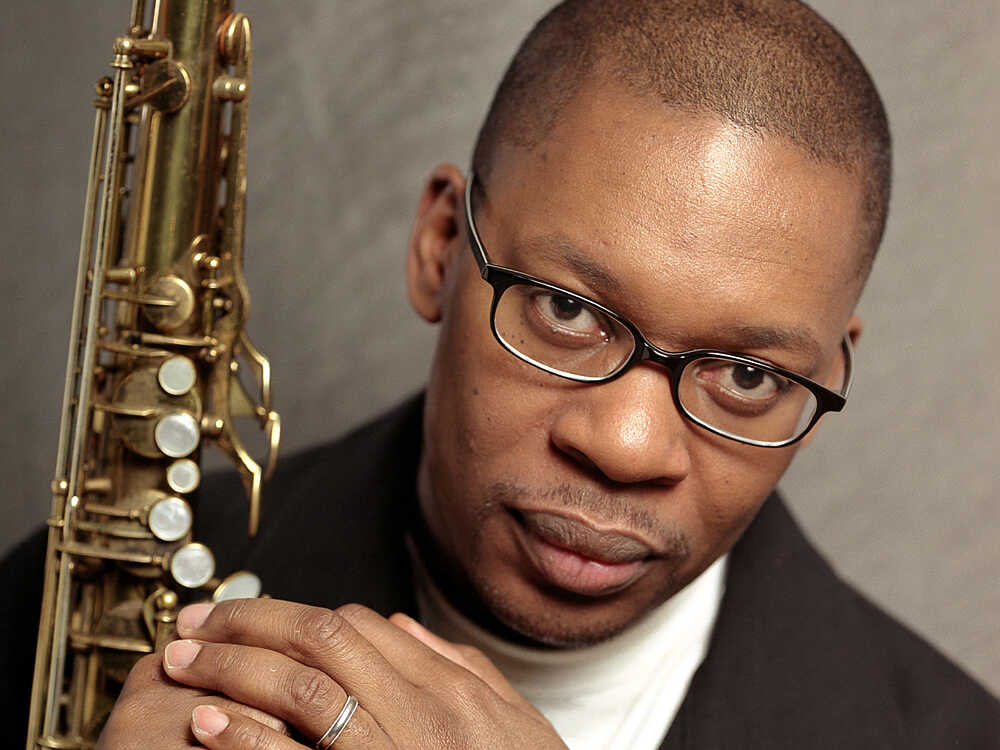 The best jazz albums of the year share similar qualities, even though they're wholly different. All display stellar technique and refreshing original compositions (or standout re-workings of standards), and all brush aside any notion of jazz being in a rut.
In order, here are the best jazz albums of 2009.
Shaunna Morrison Machosky is the Music Director at WDUQ. Click here for more entries in our Best Music of 2009 series.
The Year In Jazz, From WDUQ
1. Vijay Iyer
Song: Somewhere
from Historicity
Two definitions of the word "historicity" are listed in the liner notes of Vijay Iyer's CD of the same title: 1) "the quality of being historically factual, as opposed to fictitious or legendary"; and 2) "a condition of being placed in the stream of history, also: a result of such placement." How can Iyer's Historicity be defined? It is a reflection and re-awakening of jazz past, as well as a push into the future that still lives in the now. Or something like that. With a song like Leonard Bernstein's "Somewhere" (from West Side Story), the melody is here, but it's unlike any version of the song I've heard recorded. It's updated and re-imagined in a modern but totally accessible way. Some say that Iyer's music is too complicated to "understand" or "get," but this song helps serve as a gateway into his aural world. "Somewhere" helps listeners gain an appreciation of the trio's approach and dive into the rest of the album from there. All of the songs on Historicity, from electronic-pop artist M.I.A.'s "Galang" to Stevie Wonder's "Big Brother" to Iyer's original compositions from years past, showcase his formidable talents as an arranger, de-constructionist and re-imaginer. Bassist Stephan Crump and drummer Marcus Gilmore flesh out all of the ideas seamlessly. Enjoy the journey, don't try to "understand" it, and let the trio take you into unfamiliar territory.
2. Ravi Coltrane
Song: Shine
from Blending Times
Now that he's in his 40s, can people finally stop trying to compare Ravi Coltrane to his legendary father? Many artists emulate John Coltrane, with varied results, and his son shakes off that jazz company. On Blending Times, Ravi's own voice shines through, though a particular "sound" might be hard to pin down. He flows between mostly free-form and more structured approaches without a second guess. Most of the tracks on this record are original compositions, but the opening tune, "Shine" (penned by pianist Luis Perdomo), sets an almost ethereal atmosphere that immediately draws you in.
3. Branford Marsalis
Song: Jabberwocky
from Metamorphosen
Saxophonist Branford Marsalis and his decade-old working group have produced yet another fine album. While we've had to wait since 2006's Braggtown, Metamorphosen was worth it. Pianist Joey Calderazzo, bassist Eric Revis and drummer Jeff "Tain" Watts pay tribute to the memory of many jazz mentors who have died, but through original compositions (aside from one Thelonious Monk tune). A bit of everything is explored here, from ballad to free-form to the straight-up hard-bop "Jabberwocky," and not a minute should be missed.
4. Sean Jones
Song: Sean's Jones Comes Down
from Search Within
Trumpeter Sean Jones continues to develop into a formidable player, composer and all-around in-demand guy. The Search Within sounds like a lot of time and love was put into it. There's no telling when Jones found the time to get into the studio to record yet another solid CD -- he's an assistant professor at Duquesne University's Mary Pappert School of Music, the Interim Artistic Director of the Cleveland Jazz Orchestra, and is revitalizing the Pittsburgh Jazz Orchestra -- but we're lucky he did. (He also finds time to play weekly, or more frequent, gigs around Pittsburgh.) Though most of the tunes on Search are original compositions, the Frank Foster-penned "Sean's Jones Comes Down" brings out the best energy and spirit of his group, which includes Orrin Evans on piano, Obed Calvaire on drums, Luques Curtis on bass and Walter Smith on tenor sax.
Yes I'm Country (And That's OK)
5. Robert Glasper
Song: Yes I'm Country (And That's OK)
from Double Booked
Double Booked is conveniently divided between the two sides of Robert Glasper's musical persona -- half is recorded with his trio, half with his Experiment group. Some fans might prefer that he stick with one style or the other, but this disc finds him firmly footed in both, and the approach works well. "Yes I'm Country (And That's OK)" is an acoustic piano-trio piece that follows the light, flowing ups and downs for which Glasper is noted. It's modern, yet straight-ahead. The "Experiment" side is funkier, featuring a bit of turntable here, a little Vocoder there, as well as some electric bass and Fender Rhodes. Mos Def even contributes vocals to a track. If you're in the camp that prefers the acoustic Glasper, it's worth the time to explore the "younger" side, too.
6. Etienne Charles
Song: Douens
from Folklore
Trumpeter Etienne Charles plays a jazz griot on Folklore, reflecting sounds of the past and sounds of place. Mixing jazz with Afro-Cuban and calypso styles, Charles' sophomore album illustrates the crossroads culture of the Caribbean. Folklore tells of the folk characters in his native Trinidad through the 26-year-old's wholly original compositions. According to legend, Douens are the lost souls of young children (they can be seen in the forest with their floppy hats, featureless faces and backwards feet). "Mama D'lo" (Mother of the Water) reflects a Caribbean take on the mermaid as protector of the sea. On Folklore, Charles brings those stories to life with a skill that won him the 2006 National Trumpet Competition.
7. Allen Toussaint
Song: Bright Mississippi
from Bright Mississippi
Allen Toussaint is a longtime New Orleans music mainstay. The pianist, composer and producer is most closely associated with the development of New Orleans R&B, though there was always traditional jazz in his roots. The Bright Mississippi is his first specifically jazz album. Toussaint takes on songs by a number of jazz greats, including Sidney Bechet, Jelly Roll Morton, Duke Ellington and Billy Strayhorn, among others, in a traditional New Orleans style. Toussaint is joined by noted jazz musicians Marc Ribot, Nicholas Payton and Don Byron on the CD.
8. Ola Kvernberg
Song: Mariam
from Folk
by Ola Kvernberg
Norwegian violinist/mandolinist Ola Kvernberg meshes together his folk roots with jazz in his second record for the Jazzland label. Kvernberg began his musical career playing Manouche jazz ("gypsy" swing), but has pushed into a more modern sound with the help of drummer Erik Nylander and double-bassist Steiner Raknes. The violin trio moves through this album of original compositions, ranging from minimalist to lush. Folk hasn't been heard by nearly enough people.

This album is available for purchase here.
9. Hailey Niswanger
Song: Oliloqui Valley
from Confeddie
With her debut album Confeddie, alto saxophonist Hailey Niswanger gives new meaning to the idea of "a sophomore effort." At age 19, and in her second year at the Berklee School of Music in Boston, the mature-beyond-her-years Niswanger takes on Herbie Hancock's "Oliloqui Valley," and compositions by Thelonious Monk and Benny Golson, among others. She also slips in an original piece, the album's title track; with luck, we'll hear more originals on her next effort. Niswanger has already played alongside McCoy Tyner, Christian McBride and Dee Dee Bridgewater, and in 2008, won the saxophone competition at the Mary Lou Williams Women in Jazz Festival. She returned to this year's festival as a featured artist.
10. Gretchen Parlato
Song: Within Me
from In a Dream
On a cursory first listen, it's easy to overlook Gretchen Parlato as a breathy, dreamy singer. Then it hits you: This is the voice of a highly gifted vocalist with a unique lightness about her. "Within Me," featuring just-right piano from Aaron Parks, conveys an air of sensuality with an edge of weariness. The leadoff track, "I Can't Help It," is an uptempo, fun take on a Stevie Wonder tune that weaves together Parlato's playful voice with Lionel Loueke's guitar and an almost Bobby McFerrin-like wordless vocal. We can look forward to a bright future for this up-and-coming singer. It's refreshing to hear a contemporary voice that doesn't just take on the same old standards.