Viking's Choice: Metal And Outer Sound In 2009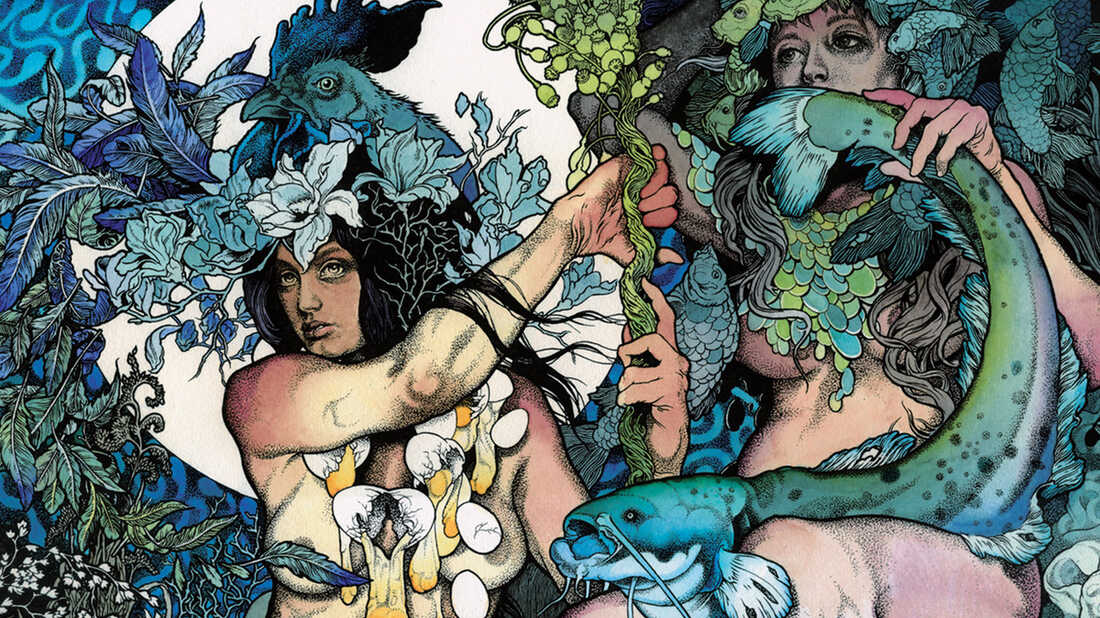 As has become customary in the past few years, NPR Music producer Lars Gotrich's near-OCD list-making habit revealed a certain strain of outer sound that pervaded his headphones in 2009. It was decidedly heavier and louder, a pillaging that galloped with ramming speed. Indeed, 2009 was a phenomenal year for heavy music. Georgia metal reigned supreme, a volatile Sacramento noise-rock band gave the Internet a bloody nose (and you, too, probably), and a bunch of San Francisco-via-Athens redneck punks didn't give a damn if they love the '90s.
But in the swarm of Flying-V guitar-wielding, bearded greatness (not the other kind), there were also many records that touched on sonic explorations that were beautiful, hazy and quiet. Lars Gotrich tells us about both in this episode of All Songs Considered.
See also: Lars Gotrich's Out Of Orbit And Ingest: Best Cassettes Of 2009.
Click here for more entries in our Best Music of 2009 series.
Viking's Choice: Metal And Outer Sound In 2009
1. Krallice
Song: Dimensional Bleedthrough
from Dimensional Bleedthrough
Watching Krallice perform two then-new songs this past summer in a sweaty Richmond gallery space, it was clear that this was Krallice the band and not Kralllice the Mick Barr/Colin Marston black-metal project. Just one year after its incredible self-titled debut, Dimensional Breakthrough has a far more raw immediacy than its predecessor. As always, the production is razor-sharp for a metal genre that revels in grit and treble, but the epic-length songs demand clarity. For all the divisive criticism Barr receives for his robotic, technical guitar prowess in bands like Orthrelm, he and Marston flex a surprising amount of straight-ahead hooks in the midst of noisy blastbeats and pummeling yet melodic bass. In fact, some of the most grounding textures and honest-to-gosh melodies come from Nick McMaster's low-end. Once again, along with Nachtmystium and Wolves in the Throne Room, Krallice is carving out a distinctly American black-metal landscape that's energetic in its forward movement.
2. Jim O'Rourke
Song: Visitor
from Visitor
It almost might be easy to say that there's nothing quite like The Visitor, but Jim O'Rourke's closest followers might argue he's been heading in this direction all along. At 40 minutes, there are distinct movements, but no seamless breaks in this all-instrumental work. He nods to the lush arrangements of Van Dyke Parks often, which he weaves into segments of John Fahey-like acoustic-guitar passages bedded with atonal drones or sparse piano. But around the middle, the pace picks up with a drummed mountain beat, swarmed by banjo, pedal steel, twin guitar leads and reeds. This is all played by O'Rourke, by the way, which is a testament to his meticulous craft and his endless and admirable goal of perfection. In spite of his gift for wry lyric storytelling, the wordless The Visitor is by far O'Rourke's most narrative work yet. [Note: The audio file is an excerpt from the piece.]
3. Richard Youngs
Song: Collapsing Stars
from Beyond the Valley of Ultrahits
If the Internet is to be believed (and we all believe the Internet), Richard Youngs made Beyond the Valley of Ultrahits on a dare: to make a "pop" record. The Glasgow-based musician frolics in just about everything: noise, drone, acid folk, even straight-ahead singer-songwriter fare, which makes for a lively discography. But this extremely limited CDR is the kind of recording that demands a proper release. His coyly danceable pop music is a complicated loner. Over ridiculous guitar squeals and minimal beats perhaps dug out of a lost Arthur Russell sonic treasure trove, Youngs' voice is the unexpected star: vulnerable and imperfect. His Cambridge accent accentuates "wrong" syllables, making the melody just a bit off. Googling will have to do for now, but this unexpected pop gem needs more ears.
4. Baroness
Song: Jake Leg
from Blue Record
This was a banner year for Georgia-based metal. Kylesa, Zoroaster, Blacktusk and Mastodon all put out killer records (the temptation was strong to include all of them here), raising up the South with devil horns and pounding riffs. But from that fertile scene, Baroness came out front with Blue Record. While the Red Album sometimes languished in melodic post-metal, its follow-up finds the missing link between the heavy and the beautiful. Or, perhaps, Baroness realizes that the beautiful is heavy. Hazy psychedelic moods weave in and out of sludgy riffs, anthem-y Skynyrd romps and twin-lead guitars. If Blue Record and Baroness' cohorts are any indication, the future of metal belongs to the South.
5. Converge
Song: Dark Horse
from Axe to Fall
With nearly two decades under its belt, Converge's staying power in hardcore is noteworthy on its own. But unlike many extreme bands still working today, Converge is consistently on top of its game. Axe to Fall is no different, even by this decade's high standards, which were set insanely high by 2001's Jane Doe. The band explores a wider scope of sound that reins in elements of doom metal and desert-swept swagger into its unmistakable hardcore fury, and features a Tom Waits-ian epic sung by Neurosis' Steve Von Till ("Cruel Bloom"). Where the past couple albums lacked the compositional experimentation of Jane Doe, Axe to Fall looks forward to new sonic territories, pitting graceful production against raw anger.
6. Sun Araw
Song: All Night Long
from Heavy Deeds
In the liner notes, Heavy Deeds invokes the spirits directly: "'Wonder-Basking' in the glow, 'Diddley-Speaking' the word, and 'Cherry-Offering' the fruits of thanksgiving." (There's also talk of Brian Eno's Warm Jets and the "Mind Planes" on the back of Talking Heads' Remain in Light.) If you know the references, Sun Araw probably already has your attention. If not, Sun Araw's drone visionary, Cameron Stallones, pulls a hazy California shade over all of it anyway. Yet nowhere in Stallones' steady stream of records has he condensed his psychedelic shaman explorations quite like he does on Heavy Deeds. Summed up perfectly in the closer, "All Night Long," the album is a celebration of spirits, praised in reverberating echoes.
7. Long Legged Woman
Song: Yours Is Mine
from Nobody Knows This is Nowhere
Let's get this full-disclosure business out of the way: I've known the Long Legged Woman guys since day one, released two of the band's CDRs and a 7" on my record label, booked them shows and let them crash at my house. Now that that's done... Before moving cross-country to San Francisco, Long Legged Woman recorded Nobody Knows This Is Nowhere in its original home of Athens, Ga. Self-released on silk-screened chipboard jackets, Nobody Knows is a relentless torrent of noisy, psychedelic punk bathed in Bleach-ed filth. Its '90s touchstones are way out front -- Nirvana, Dinosaur Jr., Unwound -- but Long Legged Woman clearly doesn't give a damn. The band bashes out thunderous riffs jacked on 40s and worn copies of Live Rust (not the only Neil Young reference here; check the album-title nod). Of course, after a string of CDRs and hard touring, this proper introduction to Long Legged Woman is also the band's farewell. That's how it always works, isn't it?
8. Celer
Song: Indentions on Summits of Hands
from Close Proximity And The Unhindered Care-all
There is something woefully personal about Close Proximity and the Unhindered Care-all. It's as if the album title sums up Celer's philosophy toward sound-making: Set a scene and keep the movements close to the heart. Composed of husband and wife Will Long and Dani Baquet-Long, the duo processes strings, piano, field recordings and electronics for the vibrations that pass between two hearts. Close Proximity is a drawn-out conversation, pierced by wandering drones and incidental sound. Sadly, Dani passed away suddenly this past July, but there are still more Celer recordings in the vaults to uncover. [Note: The audio file is an excerpt from the song.]
9. Sunn 0)))
Song: Big Church (Megszentségteleníthetetlenségeskedéseitekért)
from Monoliths & Dimensions
For a minute, let's get past Sunn O)))'s proclivity toward the high-concept: the robes, the jackhammers, the towering stacks of metallic feedback. For Stephen O'Malley and Greg Anderson, it's what's made them figures of curiosity, praise and scorn. But when the core and auxiliary members of Sunn O))) dig into the drone and reveal a new shard of distortion, it's always been revelatory. For Monoliths & Dimensions, members of the modern composition and free jazz communities lend their own contributions to the, ahem, monolithic drones of Sunn O))). Violist Eyvind Kang's string, brass and choral arrangements, in particular, are the record's secret weapons in what could have been an extremely uneven feedback-versus-acoustic affair. Kang's arrangements conjure majesty and grandeur, especially coupled with the bewildering talent of vocalist Attila Csihar. Ultimately, Monoliths & Dimensions accomplishes what it set out to do: find musicality in the midst of droning darkness.
10. Mayyors
This is a plea to Mayyors: If you're going to release one of the ugliest pieces of noise rock this side of The Jesus Lizard, please start issuing your music in editions bigger than David Yow's beer gut. After a couple of ripped 7" singles made the rounds on blogs last year, those seeking the puss-popping skronk of Mayyors scavenged message boards and listservs to get their hands on the next limited affair. (After all, these Sacramento-based dudes don't have a Web site or any known email addresses. Punk rock, I guess.) The Deads 12" EP significantly dirties the rock gene pool with nauseating feedback and power chords dumber than the actual mud driven over the orange covers. Once again, Google is your friend.