What's Skin Color Got To Do With Love, Anyway?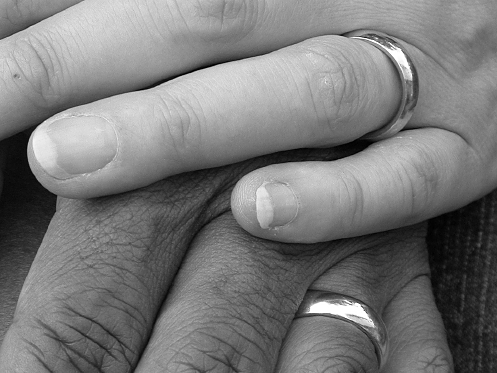 Earlier this week, essayist Tanya Ballard Brown wondered where all the upstanding "Black Brothers" have gone. On the other side of the fence, Sam Sanders calls on black men to step up and start talking.
Monique Fields blogs about raising her biracial children at Honeysmoke.com.
When I was in my late 20s, a dozen black, successful women sat in a circle in my apartment and one by one recounted how black men had eluded them. We, an overly educated lot, wanted to be with them, share our lives with them and have children with them.
Somehow, though, all we could talk about was how they had escaped our grasp. There was a shortage, too few graduating college, too many going to jail. We chatted into the wee hours, the first of many such talks I would have with individuals and in groups.
More than a decade later, some of my girlfriends are married to black men. Others are living the single life. Then, there are the sisters like me, the ones who dated and fell in love with someone who is not black. I am one of those; I married a white guy.
We tied the knot in 2001, some 34 years after the U.S. Supreme Court struck down anti-miscegenation laws. The number of interracial marriages has increased every year since that landmark case, much to the chagrin of one former Louisiana justice of the peace.
Now, as we head into the second decade of the millennium, some are calling on black women to look outside their race for the perfect mate. A new book, Don't Bring Home a White Boy, looks in-depth at how black women may be cutting short their happiness while in pursuit of the elusive black male. Across the country, seminars are being held giving black women tips on how to attract men of other races.
Such thinking is not always welcome, especially when black men date outside of the race. Take Reggie Bush, an NFL football star who, by most standards, is fine enough to grace the love-and-relationship cover of Essence, a black women's magazine. Bush dates Kim Kardashian, an Armenian woman whose claims to fame are a porn tape and a reality TV show.
This is not about sex or a reality TV show. Black women have long held successful black men in contempt for dating outside of the race, and Kardashian is not black.
Why should that matter? Ah, the shortage.
Love, though, does not have a color, nor does having a keen sense of humor, book sense, street smarts or any number of traits men and women look for in the ideal mate. I have conducted my own unscientific research, with hundreds of women across the country. And men, regardless of race, install the toilet tissue backward, don't put things back where they belong, and can't tell the difference between chartreuse and fuchsia.
Don't take my word for it. Find out for yourself. I dare you.