Songs Of The Civil Rights Movement
In 1964, Dr. Martin Luther Jr. delivered the opening address to the Berlin Jazz Festival.
"Jazz speaks for life," King said. "The blues tell the story of life's difficulties — and, if you think for a moment, you realize that they take the hardest realities of life and put them into music, only to come out with some new hope or sense of triumph. This is triumphant music."
King was born in 1929. Thirty-six years later, in 1965, he led a march from Selma to Montgomery, Ala., a march that was instrumental in the passing of the Voting Rights Act five months later. This year, on Jan. 20 — one day after the national observance of King's 80th birthday — we witness the inauguration of the first African-American president of the United States.
What follows are jazz and jazz/blues versions of some of the songs that sustained the civil-rights movement in the 1960s (and beyond) through the setbacks, the hardships, the failures and the many hard-won successes that have moved America ever closer to racial equality. If you feel inspired to sing along, you certainly won't be alone.
This story originally ran Jan. 19, 2009.
For more entries in the Take Five series, click here. And don't forget to subscribe to the Jazz Notes newsletter.
Related NPR Stories
Songs Of The Civil Rights Movement
Nina Simone
Song: I Wish I Knew (How It Would Feel to Be Free)
from Anthology
Of the many musicians who used their music to advance the cause of civil rights, Nina Simone was one of the most passionate, most outspoken and most gifted. Although many of her civil-rights-era songs had their origins earlier in the 20th century, this song was written in 1967 by noted jazz pianist and educator Dr. Billy Taylor (along with Dick Dallas), and was recorded by Simone that same year. It quickly became one of the musical mainstays of the movement.
Grant Green
Song: Selma March
from His Majesty King Funk
The march for voting rights from Selma to Montgomery, Ala., took place in March 1965. Today, some people tend to forget that there were two failed attempts to make the journey earlier that month. The first march ended in bloodshed, while the second was met with a restraining order. That ruling was quickly overturned and, on March 21, Dr. King began the historic four-day march. Five months later, President Lyndon Johnson signed the Voting Rights Act of 1965. This upbeat instrumental by jazz guitarist Grant Green seems to reflect the jubilation surrounding the third Selma march's completion. A 1965 recording, it also features Harold Vick (saxophone), Larry Young (organ), Ben Dixon (drums) and Candido Camero (congas).
Larry Goldings
Song: We Shall Overcome
from Quartet
Many people, when asked to name a song that encapsulates the civil-rights movement, will pick "We Shall Overcome." It was, indeed, the movement's theme song, sung by countless people all over the world. That's how we often think of the song: large groups of people gathered together, singing it as they struggle against mighty odds. Pianist Larry Goldings, however, gives us a different view of this classic. Accompanied only by trumpeter John Sneider, Goldings turns "We Shall Overcome" into a wistful, intimate and moving meditation.
Sam Cooke
Song: This Little Light of Mine
from Sam Cooke at the Copa
Folklorist and activist Zilphia Horton did a wonderful thing when she introduced this children's gospel song to the civil-rights movement in the 1950s. In the mid-'60s, vocalist Sam Cooke did something equally wonderful, and much more amazing. He took this song that people were singing at sit-ins and marches and brought it into America's toniest nightclubs, putting the music of The Movement in front of an audience that probably didn't spend much time at sit-ins and marches. Cooke performed this joyful and uplifting version of "This Little Light of Mine" in 1964 in New York's Copacabana.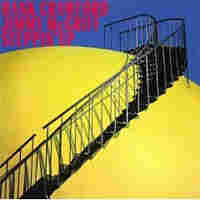 Hank Crawford and Jimmy McGriff
Song: Lift Every Voice and Sing
from Steppin' Up
In 1919, this song (by James and John Johnson) was adopted by the NAACP as "The Negro National Anthem." Its resonance in the civil-rights movement is indisputable and, like all of the songs in this brief overview, it remains an incredibly moving piece of music today. This soulful instrumental version by alto saxophonist Hank Crawford, with his long-time musical partner and organist Jimmy McGriff, is one of the best. Prepare to be taken to the river.