Sacred Songs And DJs: New Classical CDs
Sacred Songs And DJs: New Classical CDs
Classical music is still busy shaking off old stereotypes. But sniff out the right CDs, and one thing is clear -- it's not boring. As these fascinating new releases prove, the music has the power to delight, surprise and overwhelm.
From the melting pot of Istanbul comes 18th-century Ottoman music that swirls with the sound of neys, tanburs and percussion. Contemporary chants from Kiev shimmer with overtone halos. A violin soars amid a haze of electronics, and a bittersweet melody by Schubert becomes sublime in the hands of the perceptive pianist.
Sacred Songs And DJs: New Classical CDs
The Creed
from Valentine Silvestrov: Sacred Works
by Mykola Hobdych
The Ukranian composer Valentin Silvestrov (b. 1937), like his Estonian contemporary Arvo Part, was once a competent avant-gardist but had a sudden change of heart. In the 1970s, he turned more lyrical and spiritual. In the music on this record -- composed largely in 2005 and '06 -- Silvestrov creates amazing effects. Glowing halos of sound hover over the music, and the voices of the excellent Kiev Chamber Choir (with its resonant low end) shimmer like moonlight on black water. Forget that these are liturgical songs (no texts included) and bask in the trembling aura.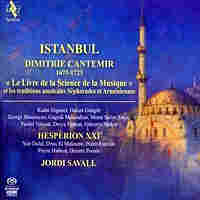 Huseyni Semai-i (from "Book of the Science of Music")
Song: Huseyni Semai-i
from Istanbul - Dimitrie Cantemir
by Jordi Savall
Jordi Savall is primarily known as a player of baroque music on the antiquated instrument called the viola da gamba (a predecessor of the cello), but he goes far beyond that. He's a fearless performer who is fascinated with facilitating musical dialogues between Eastern and Western traditions. And, for his new CD, what better locale to focus on than Istanbul -- a city that literally sits half in Asia, half in Europe? Savall draws from a huge collection of Ottoman music (codified by Dimitrie Cantemir) and from his many friends: superior musicians who hail from Greece, Morocco, Israel and Armenia and play traditional instruments like the tanbur, ney, duduk and santur.
September Canons (excerpt), Todd Reynolds, violin
Song: September Canons
from Ingram Marshall: September Canons
by Ingram Marshall
The four pieces on this new disc span 30 years of composer Ingram Marshall's work, from 1972 to 2002. The title piece, September Canons, is a response to the Sept. 11 attacks. But if you came to the piece without knowing that fact (like I did), it works perfectly and powerfully on its own. Scored for amplified violin (a riveting performance by Todd Reynolds) with electronic processing, the piece is at once rhapsodic, chaotic, searing and haunting, with the violin soaring upward, floating down in shards of sound, and at the end mysteriously quoting the song "Sweet Bye and Bye."
Piano Sonata in G major D. 894 (1. Molto moderato e cantabile)
from Schubert Live, Vol. 2
by Imogen Cooper
Imogen Cooper is a natural Schubert player. She came to the composer through a love for his songs (accompanying a number of great Schubert singers), and it shows in how she makes the piano sing in these bittersweet sonatas and short pieces, largely from late in the composer's career. "I remain convinced," Cooper says, "that Schubert's love for the voice -- the instrument inside the body -- and for poetry, have affected all of his great music, not the least the big piano works from 1823-28." Cooper never overplays the music, making what could be thought of as routine passages in Schubert's expansive G major sonata sound fresh.
Concerto for turntables & orchestra (Largo Pesante, 'Malmo')
from Gabriel Prokofiev: Concerto for Turntables & Orchestra
by DJ Yoda
This is a hip-hop collision with classical music. Gabriel Prokofiev, grandson of Sergei Prokofiev -- you know, the guy who wrote Peter and the Wolf -- has written a piece for orchestra and turntables, for the London-based artist DJ Yoda. Prokofiev loves placing contemporary classical music (his own and that of others) in clubs rather than concert halls. He's a classically trained composer, but he also produces and performs electronic and hip-hop music. His concerto doesn't take itself too seriously: Amid the scratching and beat juggling, you can hear processed coughs, sputters and flights of jazz.