A Taste For Everything: 'Lost' Showrunners Pick DVDs
A Taste For Everything: 'Lost' Showrunners Pick DVDs
Our occasional DVD-recommendations series returns with picks from a pair of Hollywood insiders, and the minds behind one of the most popular dramas on television. Damon Lindelof and Carlton Cuse are what's called "showrunners," and the show they run is called Lost. Its final season premieres next week.
The men joined NPR's Steve Inskeep for a half-hour conversation about their favorite DVDs, and what emerged is that their tastes run from country-music biopics to rock 'n' roll mockumentaries to twisty, surreal sci-fi stories. (Go figure.)
But they don't always agree.
"In fact, we don't make eye contact with each other," Lindelof jokes. "And we only address each other directly when we're being interviewed."
When they really do differ, Cuse says, their disagreements sometimes become plot points.
"Particularly, there's a latent Yankees-Red Sox rivalry that's sort of embedded in the show," Cuse says. "That has a lot to do with our individual rooting interests.
Their DVD picks are below — and at left above, you'll find the full-length audio from their conversation with Steve Inskeep, which just might contain a few hints about how they might tie up the tangled threads of Lost.
Carlton Cuse's picks:
Sweet Dreams (1985) The first movie Cuse worked on in Hollywood, this Patsy Cline biopic stars Jessica Lange as the country singer (the title was one of her signature songs) and Ed Harris as her husband. Cuse was an assistant to the producer and the director, spending five months on location in Tennessee and West Virginia. It was then, he says, that he "actually learned how a movie gets made." The experience made an impression: "I got to see some really interesting behind-the-scenes things. When I rewatched it for this interview, it was amazing how all the memories came back, of witnessing literally every scene of that movie getting filmed."
"Jessica Lange inhabited the role," Cuse says. "When I first met her, she had just done a movie called Country with Sam Shepard, and she was rail-thin ... this was about struggling farmers. And she put on weight, and started speaking in this rolling Virginia accent, and she really became the embodiment of Patsy Cline. One day we were sitting in the barn with Owen Bradley, and she was practicing the [song] tracks, and Hilda Hensley, who was Patsy Cline's mother and who was still alive at the time, came into the studio. And she saw Jessica Lange doing this, and she just burst into tears. It was incredibly emotional."
"I'd actually never heard Carlton talk about this before, but it does explain why he often lip-syncs to Patsy Cline music," Lindelof cracks. "That's one mystery solved."
One more thing about Sweet Dreams: It's Cuse's acting debut. "Literally the first time — I never was in a school play," he says. Director Karel Reisz "thought it was funny to put me in the movie, I think." So look for Cuse as a soldier at an Army post, offering driving directions to Lange's Patsy Cline. "I think I said something very profound like, 'Go down here and take a left.' "
From 'The Prisoner' - 'Rover'
Media no longer available
"And he got that in 15 takes," Lindelof jokes. "If it weren't for you in that movie, Patsy Cline would still be driving around looking for her destination."
The Prisoner (1968) Your excuse to upgrade your home-entertainment setup, if you haven't: "If you buy or rent The Prisoner, get it on Blu-ray, because the transfer on Blu-ray is really tremendous, and there are some other editions out that are really inferior," Cuse says.
The BBC series aired in 1968 in the U.S. "They only made 17 episodes of it, but it still has this incredible, profound legacy," not least because it paved the way for a kind of TV show that didn't feel the need to explain itself.
Patrick McGoohan plays an ex-spy who has been gassed, spirited away to an unfamiliar seaside village and kept prisoner there by shadowy forces.
"It was incredibly mysterious, and very purposely ambiguous, and it had a huge influence on me," Cuse says. "I think it became a cornerstone series that we referred to in creating Lost. ... Creating these really unsettling mysteries was first done in this series really effectively."
From 'Children of Men' - 'Baby Diego'
Media no longer available
Children of Men (2006) "A terrific movie with a terrible title," Cuse says. "I think the title is a Catholic allegory from Psalm 90, the King James Version. Blade Runner — that's a good title for a sci-fi movie." The premise, taken from P.D. James' novel: In a war-torn future where humans have lost the ability to reproduce, a dispirited activist (Clive Owen) escorts a miraculously pregnant woman to a safe haven. It's not an easy trip.
"It's a tremendous action movie, and the director [Alfonso Cuaron] does some incredible things," Cuse says. "There's this action sequence in it — without spoiling the movie — it's basically over 4 minutes, and it's all one continuous shot."
Beyond that: Shot on a tight budget, Children of Men is "a tremendous realization of a future world," and "a wonderful movie with ... wonderful thematics about the possibilities of hope in a bleak future." Plus, it's full of "these amazing little special treats — like Michael Caine is in this movie, and he does this great turn as a futuristic hippie named Jasper Palmer. And this character was supposedly modeled by Caine on his friend John Lennon."
Damon Lindelof's picks:
The Limey (1999) "First off, I love economy in storytelling. The Limey is actually under 90 minutes ... so it just kind of flies right by you. It's basically a revenge story: Terence Stamp plays a career criminal who's just gotten out of prison, and his daughter has died in Los Angeles, supposedly as a result of falling asleep behind the wheel. ... His instincts tell him that this is not the case. ... So it's a very simple story, but the way that it's told is completely out of order."
And as Lost fans know, "we love nonlinear storytelling," says Lindelof, who worked a job as a movie-theater usher in his teens. On his 15-minute break, he'd watch "whatever part of the movie was on. ... I would go and see Pretty Woman, and I'd see the middle of the movie first, and then I'd go, 'How did Julia Roberts and Richard Gere meet here?' ... The Limey sort of purposefully does that."
Bonus greatness on the DVD version? "Lem Dobbs is the guy who wrote the screenplay," Lindelof explains. "He and Steven Soderbergh get into arguments over and over again on the commentary track of this movie, where Lem Dobbs is basically saying 'This is my intent, Steven Soderbergh, and you completely screwed it up.' And Soderbergh is basically saying, 'Well, everybody kinda liked it.'"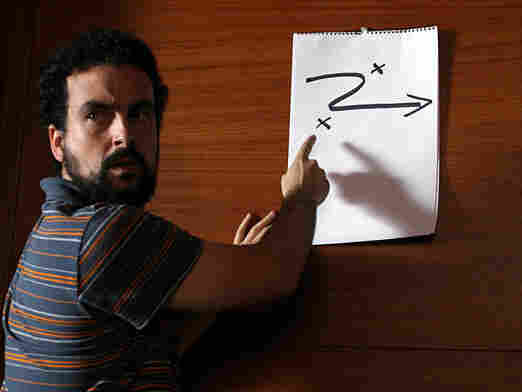 From 'Timecrimes' - 'The Time Machine'
Media no longer available
From 'Timecrimes' - 'The Masked Man'
Media no longer available
Timecrimes (2007) The Lost team "spent an amazing amount of time last year, in the fifth season of the show, doing what we affectionately refer to as 'the time travel season,' and we would be up until the wee hours of the morning bending our brains around the Grandfather Paradox," Lindelof says. So when a friend e-mailed to ask if they'd seen Timecrimes, it got their attention.
"It's the kind of storytelling that we happen to love, which is: You drop into the middle of a story, and you have no idea what's going on until about midway through. It's very simple; there are only about four characters in the entire movie."
The setup: A man, at home with his wife, sees a bloodied, bandaged man in the woods outside and goes in pursuit. The gimmick: The filmmaker himself plays what Lindelof likes to call "the Johnny the Explainer role."
"This is another phrase we use in Lost, which is, 'Every once in a while, Johnny the Explainer needs to come strolling out of the jungle and tell you what the hell is going on.' But in this case — not to spoil too much — what we love is when Johnny the Explainer is completely unreliable." Think The Usual Suspects, another Lindelof favorite. "When the person who's narrating the movie is sometimes lying to you, it can make for a very interesting story. ... But in our opinion, Timecrimes is a movie that, when it ends, it is a perfect ending — it sticks the landing, there are no dangling threads. Every single question you have going through it is answered, and it's tied up in a neat little bow."
From 'This Is Spinal Tap' - 'These Go To 11'
Media no longer available
This Is Spinal Tap (1984) "I was around 11 or 12, I think, when it came out, and ... I had no comprehension of what a 'mockumentary' was," Lindelof confesses. The upshot: "The second time I saw it was, I was in college at NYU, and I was talking about this documentary that I had seen and really liked, and everybody was looking at me like I was the hugest idiot of all time."
What makes the movie work in part, Lindelof says, is that "they don't always go for the joke. ... You're really rooting for these guys to reconcile and get back together, because the fact of the matter is that it's over for the band. ... There's real emotion there, and that's derived from the fact that they're completely committed to the reality of their world."
In fact, Lindelof's favorite thing about the DVD is that "those guys do the commentary in character. ... It's really a monumental achievement in comedy filmmaking, and I think when you look at television shows like The Office — both the U.K. edition and the American version — and now Modern Family, the idea of faux documentary was really invented and catalyzed by This Is Spinal Tap. And no matter when that movie is on, I will watch it, from wherever I flick the channel until it ends. I like it that much."
Related NPR Stories