The Gun Show: A Winter Workout Mix
Have you looked at yourself lately? It's not good. When I came in to work today, I glanced over at your desk and thought someone had left an overstuffed bag of laundry on your chair. (It was you.) I'm telling you this as a friend: People are starting to talk. It seems the holidays' unbridled odyssey of sweet breads, chocolate fudge and grain alcohol has turned your once (let's be honest) barely respectable figure into something more closely resembling a bloated bridge troll.
But don't freak. I'm fairly certain that this workout mix I've put together will get you back down to your fighting weight, assuming there's a boxing class a notch above "Very Heavyweight."
Media no longer available
The Gun Show: A Winter Workout Mix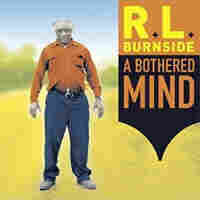 R.L. Burnside
Song: Someday Baby
from A Bothered Mind
Warm Up: I don't want a lawsuit on my hands. Do me a kindness and warm up before getting too deep in this workout. You don't want to pull a hammy or snap your spine or, even worse, look like an idiot. I find a little marching in place can do the trick, or maybe jumping jacks. Just take it easy. This cut, by the late blues artist R.L. Burnside and rapper Lyrics Born, is a perfect way to kick it off. It's just the right tempo -- not too fast, not too slow -- with a killer groove.
Battle Without Honor Or Humanity
Tomoyasu Hotei
Song: Battle Without Honor Or Humanity
from Kill Bill Volume 1 Soundtrack
by Various
Go Time: Okay, Princess. It's time to get the lead out and see what you're made of. Get on the treadmill or elliptical and crank that baby up! As you can gather by the name of this song, from Japanese artist Tomoyasu Hotei, this is going to be a battle without honor or dignity. Oh, wait. Sorry. It says "humanity." A battle without honor or humanity. Well, regardless, it's time to move. If this cut, featured brilliantly in the film Kill Bill Vol. 1, doesn't make you feel like a rock star, then you might as well hang up your flower-printed towel and go home.
Cornelius
Song: Count Five Or Six
from Fantasma
Bring It: What's that, fruit cup? You thought that was the workout? Please. Get back on the treadmill and really wrench it up to "eleven." If "Battle Without Honor or Humanity" was the fat-burner, then this cut from the Japanese producer and multi-instrumentalist Cornelius is your cardio. I want to see you redlining. The relentless energy of "Count Five or Six" should really jack you up. By the way, Cornelius (his real name is Keigo Oyamada) got his stage name from that doctor chimpanzee in Planet of the Apes. True story.
Galactic
Song: I Got It (What You Need)
from From the Corner to the Block
The Pain Train: Climb onboard the pain train, butter bean. It's about to get gruesome. With your cardio behind you, you're now ready for the strength workout. Studies show that fewer reps with higher weights get better results than lots of reps with low weights. If you don't blow out your abdominal organs in a diaphragmatic hernia, then you're probably slacking. Lyrics Born, the rapper who recorded with R.L. Burnside on that warm-up cut, also appears in this track, from the New Orleans-based band Galactic. (I don't know if Lyrics Born has ever had a hernia.) Choo choo!
Tony Tisdale
Song: Catwalkin'
from Little Miss Sunshine [Original Soundtrack]
by Various
Cool Down: Okay, sugarplum. It's time to bring it home. Head back to the floor mats for a little ballistic stretching. Flap your arms around and take a minute to appreciate how special you are. This short tune from Tony Tisdale is usually what I hear in my head after a good workout. I find this is also a good time to challenge anyone in the gym to take a run at you. But feel it out.
Beck
Song: Deadweight
from Odelay [Deluxe Edition]
Recovery: Oh, no. It looks like someone overdid it. You should treat yourself to a handful of antispasmodic muscle relaxers and a protein shake. Remember: Giving your body time to recover from a workout is just as important as the workout itself. Put on this appropriately titled cut by Beck, from the deluxe edition of Odelay, and find a good couch where you can spread out. After an appropriate cooling period, you'll be ready for NPR Music editor Stephen Thompson's "Wistful Workout" (coming soon).