A Twist On Traditional Super Bowl Snacks
Blue 42! Blue 42!
Hut! Hut!
This Super Bowl Sunday, there will be lots of rushing, scrambling and snapping — on the field and at your buffet table. Just hope there's no tackling or horse collars at home.
Football is complicated. There are bootlegs, shotguns, nickel backs and nose tackles. I've been watching it for about five years, and I still sometimes forget which are plays and which are players.
I'm not alone. Millions of Americans will celebrate the Super Bowl this Sunday, many of whom think a "pigskin" refers to something on a nose-to-tail restaurant menu.
It doesn't matter. What does matter is that they know their nachos and beer.
The Super Bowl isn't a national holiday, but that doesn't stop more than 130 million Americans from treating it like one. This year marks only the 44th Super Bowl in American history. Yet, the Super Bowl is the second-biggest food consumption event after Thanksgiving. In the days leading up to the game, Americans spend more than $55 million on football-friendly fare.
For the most part, we're buying fun foods that are usually salty, fatty and fried. In other words, guy food. Munchies like pretzels, popcorn and chips and guacamole. Hand-held foods like chicken wings, barbecued ribs and pizza. Gutbusters like chili, gumbo and jambalaya. And beer. Lots of beer.
About The Author
Susan Russo is a food writer in San Diego. She publishes stories, recipes and photos on her cooking blog, Food Blogga. She is working on two cookbooks (Quirk Books) that will be released in the fall. When she isn't writing about her Italian family back in Rhode Island or life with her husband in Southern California, she can be found milling around a local farmers market buying a lot more food than two people could possibly eat.
In many ways, the Super Bowl traditionally has been a male holiday, a day when men are encouraged to hang out together and eat as much as possible of their favorite foods. It's a day when it is expected you'll eat with your hands. China plates, glass stemware and ornate cutlery are out. Paper plates and huge plastic cups perfect for refills are in. Finger licking is requisite. How else do you get the chicken wing sauce off of your fingertips?
Things are changing, though. More women are watching the Super Bowl, according to Nielsen ratings. They're also participating in planning Super Bowl parties. Their influence, along with that of avid foodies and celebrity chefs such as Todd English and Bobby Flay, has spawned "gourmet" versions of Super Bowl favorites, such as chili made with filet mignon instead of ground beef, and lamb ribs instead of pork ribs. Wine is encroaching on beer's hallowed status.
Our tastes may be more sophisticated than they were 10 or 20 years ago, but where do we draw the line? Lobster chowder instead of clam chowder is upscale without being frou-frou, but does wine-poached salmon belong at a Super Bowl party? That depends on whom you ask. Purists will throw the red challenge flag at just about anything that veers from traditional football grub. Others are open to new interpretations of classic dishes. As for low-fat, low-carb and sugar-free, well, the ruling on the field stands: Keep them away from Super Bowl parties. It's not the kind of event where people want to count carbs and analyze the number of antioxidants in the black bean dip.
No doubt Colts and Saints fans will make regional favorites such as Indy-breaded pork tenderloin sandwiches and New Orleans gumbo. As for the millions of fans whose teams aren't in the big game, they'll most likely choose the usual favorites. I can't blame them. I will, too. But how about a little gourmet play-action pass? Make your guests think you're giving them the old standbys, but fake them out with a few twists.
Guacamole is highly versatile. Add brightness with fruit such as pomegranate seeds, pineapple or mango, or heat things up with chipotle chilies or Cajun seasonings.
For chili, substitute meats such as chicken, turkey or kobe beef for ground beef, or go vegetarian. Play around with unusual ingredients such as chocolate, coffee or beer.
Try new pizza toppings. Replace traditional pepperoni with pancetta, prosciutto, venison or even oysters. Experiment with different cheeses such as Asiago, gorgonzola and smoked Gouda.
Chicken wings are essential. If you're tired of buffalo wings with blue cheese dipping sauce — Can you actually get tired of buffalo wings? — then try Chinese, Thai or Indian spiced wings.
Consider braised short ribs instead of barbecued pork ribs, or nut-encrusted chicken tenders rather than nuggets.
Keep desserts simple. Cookies and brownies are the crowd favorites. Though no one would balk at a modern take on a nostalgic dessert, say a beer float made with coffee ice cream and full-bodied, chocolatey Guinness beer.
With this new playbook, you're guaranteed a victory this Super Bowl Sunday.
More Super Snacks For Football Fans
Roasted Tomatillo Guacamole
More than 50 million pounds of avocados are purchased in the days leading up to the Super Bowl, according to the California Avocado Commission. Nearly all will be transformed into guacamole. For a simple, fresh twist, add roasted tomatillos. Tomatillos, also known as green tomatoes, are a staple in Mexican cuisine, beloved for their tart, citric flavor. They balance the richness of the avocado. Tomatillos are available at Mexican specialty markets as well as most major supermarkets. When selecting, look for smooth, crisp, papery skin and firm, brightly colored green fruit. Serve with blue corn tortilla chips for added color.
Makes 2 to 2 1/4 cups
6 tomatillos, husks removed, rinsed, cut into chunks
1 small yellow onion, cut into chunks
1 serrano chili, stem removed
2 teaspoons olive oil
2 ripe avocados
Juice of 1 small lime
1/2 cup chopped fresh cilantro
Several shakes of salt
Place tomatillos, onion and chili in a 9- to 10-inch baking dish. Drizzle with olive oil. Broil for 12 to 15 minutes, or until brown, charred spots appear on the vegetables. Cool. Place in a food processor with remaining ingredients. Pulse until slightly chunky. Chill before serving.
Tequila-Lime Shrimp Pizza
This Mexican-inspired pizza is topped with sweet-and-sour tequila-and-lime-soaked shrimp, spicy salsa and tangy Jack cheese. It pairs exceptionally well with margaritas and Mexican beer.
Makes a 12-inch round pizza, about 8 slices
Shrimp
12 extra-large or jumbo shrimp, shelled, deveined and cut in half lengthwise
1/2 cup tequila
1/4 cup lime juice
2 garlic cloves, chopped
2 tablespoons fresh chopped cilantro
Zest of 1 lime
1/4 teaspoon cayenne pepper
Pizza
1 pound store-bought dough, at room temperature
2 teaspoons olive oil
1/2 cup hot salsa of your choice (such as habanero-lime, or chipotle-lime if you prefer a smokier flavor)
1 cup shredded Monterey Jack cheese
2 green onions, thinly sliced
2 tablespoons chopped fresh cilantro
Place shrimp with all marinade ingredients in a medium container. Shake well. Marinate in the refrigerator for 30 minutes.
Preheat oven to 500 degrees if using a pizza stone, or 450 if using a baking sheet. Roll out dough on a lightly floured surface. Transfer to a sheet of parchment paper if using a stone or to a parchment-lined baking sheet. Brush with 2 teaspoons olive oil.
Spread salsa over the dough. Top with half the cheese. Transfer shrimp to a colander and strain out garlic and cilantro. Add shrimp to pizza. Add green onions. Sprinkle with remaining cheese.
For a pizza stone, bake at 500 for 10 minutes, or until both the top and bottom of the crust are brown and the cheese is melted. For a baking sheet, bake at 450 for 20 minutes, or until both the top and bottom of the crust are brown and the cheese is melted. Garnish with chopped cilantro before serving. Serve hot.
Chocolate-Chipotle Chili
Smoky chipotle chilies, rich dark chocolate and sweet cinnamon add complexity and depth of flavor to traditional beef chili.
Makes 10 to 12 servings
2 tablespoons olive oil
1 large red onion, diced
1 red bell pepper, chopped
1 green bell pepper, chopped
2 1/2 pounds ground beef (84 to 92 percent lean)
4 chipotle chilies in adobo sauce, minced
1/4 cup light brown sugar
2 tablespoons ancho chili powder
2 teaspoons cumin
1 teaspoon cinnamon
1/2 teaspoon salt
1 (14.5-ounce) can pinto beans, drained
1 (14.5-ounce) can black beans, drained
1 (14.5-ounce) can red beans, drained
2 (28-ounce) cans diced tomatoes with juice
2 ounces bittersweet dark chocolate, chopped
In a large pot over medium-high heat, saute onions and peppers in oil for 5 minutes. Add meat. Cook until browned, about 10 minutes. Stir in remaining ingredients except chocolate. Bring to a boil. Reduce to low and simmer for 20 to 25 minutes, or until thick and soupy. Stir in chocolate, until it melts.
Top servings with any of the following: shredded cheddar cheese, sour cream, diced avocado, sliced green onions or fresh cilantro.
Maple-Beer-Chili Chicken Wings
What makes a great chicken wing? It should be both sweet and spicy, as well as crisp on the outside and tender on the inside. These wings meet those criteria, and they're made with beer, which is always a plus. When buying chicken wings, look for "party wings" or wings that already have the tips removed. They're usually slightly more expensive, but you get more meat for your money and will save time by not having to remove the tips yourself.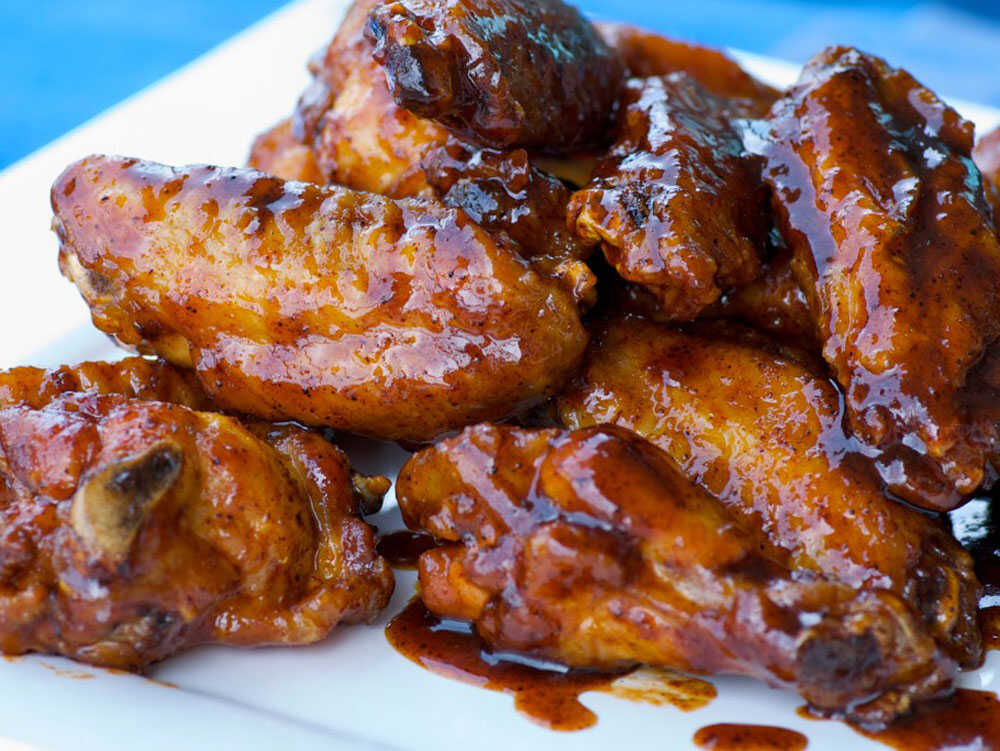 Makes 15 to 17 wings (4 to 6 servings)
1 cup pure maple syrup
1/2 cup dark beer, preferably porter
1/4 cup unsalted butter
1/4 cup ketchup
2 tablespoons grainy mustard
3 tablespoons chili powder
3 to 3 1/2 pounds chicken wings, tips removed (about 15 to 17)
Canola oil
Place ingredients from maple syrup through chili powder in a small saucepan. Bring to a boil. Reduce to a simmer and cook until slightly thickened and syrupy, 5 to 7 minutes. Set aside.
In a medium saucepan, add 3 to 4 inches of canola oil. Heat to 350 degrees. If you don't have a thermometer, test the oil's heat by adding a bit of chicken fat to the hot oil. It should sizzle and float to the top, surrounded by bubbles. Cook wings in batches for about 10 minutes, or until golden brown and crispy, turning occasionally. Transfer to a paper-towel lined plate.
Transfer to a large bowl and cover with sauce. Toss well.